Jamaican housing market growing strongly
June 07, 2016
Jamaica's property market continues to expand strongly, with tourism growing strongly and an improving economic outlook. House prices rose by around 41% from 2010 to 2015, based on government estimates.  Demand continues to rise. Property transfers rose by 9.3% in 2015 to US$665.5 million, according to Integra Realty Resources.
Foreign investors dominate the high -end market, while young Jamaican professionals who are first-time homebuyers fuel demand for mid-income bracket properties.
Demand is strongest for apartments, especially for apartments priced up to J$15 million (US$122,000), according to Marcia Reid Grant of Retail Banking at NCB.
Foreign investors typically seek residential units priced over J$40.3 million (US$350,000) while returning residents look for properties priced up to J$24.6 million (US$200,000), according to Howard Johnson Jr. of RAJ's MLS Committee.
Foreign homebuyers are often attracted to the Montego Bay area, Ocho Rios, and Negril. Recently, there has been growing interest in Port Antonio because of the airport expansion in the area, according to Nicola Delapenha of Coldwell Banker Jamaica.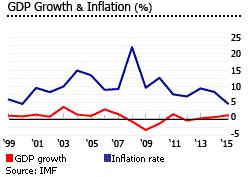 Young professionals tend to buy one-bedroom apartments in the Corporate Area for J$11 million (US$89,479) to J$22 million (US$178,957) and two- to three-bedroom houses outside the Corporate Area for a price range of J$13 million (US$105,747) to J$24 million (US$195,226), according to Carlton Earl Samuels of Jamaica National Building Society.
Low mortgage rates combined with competition among leading mortgage providers have spurred real estate sector performance, according to Carlene Sinclair, President of the Realtors Association of Jamaica and a Property Solutions Limited broker. Sinclair also noted a trend of "downsizing" among buyers from larger homes to town houses, which allow communal living among consumers, for shared maintenance costs.
Jamaica's housing market is expected to continue performing strongly this year, triggered by the hotel construction boom and the surging number of tourist arrivals in the country.
In 2015, the economy grew by 1.1% from a year earlier, an improvement from the meagre growth rates of 0.5% in 2014 and 0.2% in 2013 and a contraction of 0.5% in 2012, according to the International Monetary Fund (IMF).
Big news for the economy - the Jamaican Logistics Hub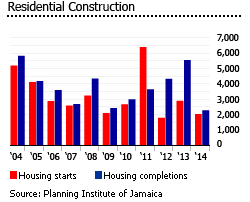 A new a US$15 billion project, the Jamaican Logistics Hub (JLH) was initiated in April 2014, when Jamaica entered an agreement with China.  It aims to place Kingston as the fourth node in the global logistics chain, along with Singapore, Dubai, and Rotterdam.  A contract to develop a trans-shipment hub in Portland Bight was signed in March 2014 with China Harbour Engineering Company (CHEC). Gulfray America's Manufacturing Limited will develop and manage the US$350-million Spanish Town Free Zone. The first phase of the construction is expected to be completed this year.
The logistics hub has a 20-year master development plan proposed by the Jamaica Chamber of Commerce to the government and World Bank (WB) in January 2013, which the WB agreed and granted funding. The Jamaica Observer reported that the plan includes developments in:
Kingston Harbour shoreline — Port Royal to Kingston to Hellshire
Transportation systems for Kingston and Montego Bay
Caymanas logistics hubs
Montego Bay and Falmouth
The development is expected to create around 10,000 new jobs in Jamaica over the next two years.
"Additionally, jobs in the service industry will be generated by business processing outsourcing clients within the zone, as will jobs outsourced to small- and medium-sized enterprises," said Robert Melamede of Masada Jamaica Limited.
Tourist arrivals increasing steadily
In 2015, Jamaica's tourist arrivals rose by 5.4% y-o-y to 3,691,583 people, according to the Bank of Jamaica. About 58% are stay-over visitors while the remaining 42% are cruise passengers.
Stay-over visitors increased 2.1% y-o-y to 2,123,038 in 2015
Cruise passengers rose by 10.2% y-o-y to 1,568,545 in 2015
Most visitors in 2015 came from the United States (1,242,568), Canada (376,048) and Europe (263,471).
In 2016, the tourism sector is poised for a substantial growth, boosted by hotel and resort openings and real estate developments. In addition, the cultural and historic designations and awards received by Jamaica in 2015 are expected to have a positive impact.
New resorts launched and expansions completed in 2015:
Karisma Hotel and Resorts' 138-room Sensatori Jamaica in Negril
Playa Resorts' 621-room Hyatt Zilara/Hyatt Ziva Montego Bay
Palace Resorts' 705-room Moon Palace Jamaica Grande in Ocho Rios
Melia Hotel Group's 226-room Melia Braco Village in the Trelawny district
Marriott Hotel's 129-room Courtyard in the capital city of Kingston
The 850-room Grand Bahia Principle Jamaica resort in Discovery Bay
There's more to come. Over the coming years, Karisma Group plans a $1 billion 4,000 room project on the north shore. Montego Bay's Royalton White Sands is adding 200 new rooms, while Riu Resorts is adding 50 new rooms. Ocean by H10 Hotels is also expected to built additional 800 rooms in Montego Bay's Trelawny district.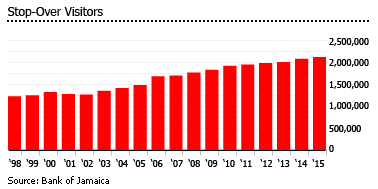 "These works are lifting the level of what Jamaica has to offer," said Tourism Minister Wykeham McNeill.
In 2015, the United Nations Educational, Scientific and Cultural Organization (UNESCO) designated Jamaica's Blue and John Crow mountains as world heritage sites and awarded Kingston membership in its Creative Cities Network in the field of music.
Crime and violence
Petty theft and pick pocketing remain prevalent in some tourist areas, but visitors to the island are largely untouched by violent crime, since much of the criminality occurs in Kingston. Resort areas such as Montego Bay and Negril have been less affected. Most criminal activity is still "Jamaican on Jamaican" violence involving gangs and organized criminal elements, with decline in serious violent crimes according to the Overseas Security Advisory Council's Crime and Safety Report.
Strong mortgage market growth
Jamaica's mortgage market is small, at around 2% of GDP. But it is growing rapidly. The value of mortgage loans outstanding held by the government-owned National Housing Trust (NHT) increased 7.1% y-o-y to J$221 billion (US$1.8 billion) in March 2015. The value of building society mortgages increased 11% to J$111 billion (US$900 million) in 2015. Likewise, new commercial bank mortgages loans were up by 21.6% in December 2015 from the previous quarter and by 34.6% from a year earlier, according to the Bank of Jamaica.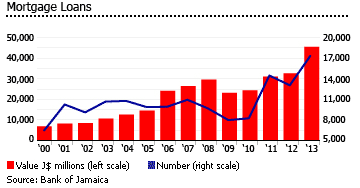 NHT leads the mortgage market with around 50% market share in 2015.
Building societies own about 25% of the mortgage market.
Credit unions, insurance companies, and commercial banks account for the remaining 25% market share.
Aside from external factors, the central bank noted that the weak performance of mortgage loans was due to:
Affordability challenges caused by weak real disposable income
High unemployment levels
In February 2016, the average interest rate for mortgage loans in the country stood at 9.62%, according to the Bank of Jamaica.
For building societies, the average mortgage loan rate dropped to 9.5% in 2015, from 9.7% in 2014, 10% in 2013, 10.2% in 2012, 11.1% in 2011, and 12.5% in 2010.
For commercial banks, the average mortgage loan rate was 9.6% in 2015, from 9.7% in 2014, 9.9% for both 2012 and 2013, 10.5% in 2011, and 8.2% in 2010.
The maximum loan-to-value (LTV) ratio for foreigners is about 70% of the appraised value of the property, with a term period of 20 years.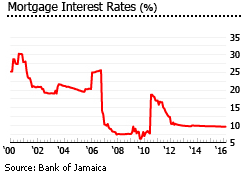 In October 2013, the Jamaican Cabinet finally approved the proposed amendment to the Mortgage Insurance Act, raising the percentage of the appraised value covered by Mortgage Indemnity Insurance to 97%, up from 90%. The amendment could make home mortgages more accessible and reduce costs since home buyers will be required to deposit only 10% of a property's value, including stamp duty and transfer tax, instead of the previous 15%.
Effective November 1, 2015, the National Housing Trust increased its loan ceiling by J$1 million (US$8,134) to J$5.5 million (US$44,739), in an effort to help Jamaicans purchase their own houses. This means that two contributors can together access a maximum loan of J$11 million (US$89,479).
Moreover, NHT's interest rate was also lowered by 100 basis points applicable for all categories of new borrowers.  The said measures are also expected to "help to stimulate construction start-ups and generate employment in the important construction industry," said Senator Sandrea Falconer.
High rental yields
Rental yields on apartments are strong, ranging from 9.34% to 10.08%, according to the Global Property Guide research.
But our understanding of yields in Jamaica is weak, because this data is now rather old, dating back to December 2011. The same goes for data from the UN International Civil Service Commission which shows that in 2012, the rent for five-bedroom houses fell by 12.4% from the previous year, to J$318,511 (US$2,829). Rent for three-bedroom apartments had an even sharper decline of about 27.5%, to J$ 163,271 (US$ 1,450). In contrast, the average rent for a small house with three bedrooms rose by 27.5% to J$ 223,214 (US$ 1,982).
There were small increases in housing rents in Jamaica in recent years. In December 2015, monthly housing rents in the country rose slightly by 1.08% from the same period last year, based on the nationwide consumer price index released by the Bank of Jamaica.
Economy improving gradually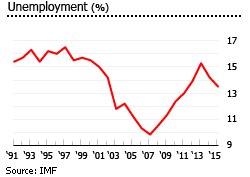 Economic growth is expected to increase to 2.2% this year and to 2.5% in 2017, , according to the International Monetary Fund (IMF).  In 2015, the economy grew by 1.1% from a year earlier.
This is highly welcome, as Jamaica's economy has performed poorly in recent years.  In 2014 growth was a meagre 0.5%, and in 2013 it was 0.2%. GDP rose by an average of only 1.5% from 1999 to 2007, followed by a GDP contraction by 0.8% in 2008, when it was the only Caribbean country aside from the Bahamas to experience recession. GDP fell further by 3.4% in 2009, followed by a 1.4% decline in 2010. After weak growth of 1.4% in 2011, the economy slipped again into recession in 2012, contracting by around 0.5%.
Outgoing Prime Minister Portia Simpson Miller, who assumed office in January 5, 2012, has helped the country create jobs and spur economic growth, while implementing austerity measures and tighter partnerships with its international partners, such as the IMF. Andrew Michael Holness, who won the recent national elections held in March 2016, has pledged to continue strengthen private and international partnerships to help the country to become the "center of the Caribbean."
Jamaica's structural and economic reforms have gained national and international support, including IMF's four-year Extended Fund Facility (EFF) providing a support package amounting to US$932 million; World Bank and Inter-American Development Bank providing US$510 million each; and International Finance Corporation (IFC) and Multilateral Investment Guarantee Agency (MIGA) providing support for the country's private sector development.
Investor confidence has improved remarkably. Jamaica's ranking in the 2015 Doing Business report jumped 27 notches to 58th among 189 countries worldwide. The country's credit rating has also improved. In May 2015, Moody's upgraded Jamaica's government bond rating to Caa2 from Caa3 and maintains a positive outlook. A week after, Standard & Poor's also raised the country's sovereign credit ratings to B from B-.
"We raised the long-term rating on Jamaica to reflect the country's ability to meet its fiscal targets over the past two years, which has led to strengthened fiscal credibility and stabilised its debt trajectory," said S&P.
In February 2016, Fitch Ratings again upgraded Jamaica's credit rating to B with positive outlook, up from B-, citing the country's continued adherence to the fiscal primary surplus targets agreed with the IMF.
Unemployment stood at 13.5% in 2015, the lowest level since 2011. The unemployment rate for youth is dramatically higher, at 30.3%, and the average jobless rate for women (18.5%) is about double that for men (9.3%), according to the Statistical Institute of Jamaica.
In 2015, inflation slowed sharply to 3.7%, from 6.4% in 2014, 9.7% in 2013, 8% in 2012, and 6% in 2011, according to the Bank of Jamaica. The country's inflation rate averaged 12.5% from 2004 to 2010.
Jamaica's debt-to-GDP ratio remains high around 126% in 2015, but this is a sharp improvement from 139% in 2013 from 147% in 2012.
Jamaica - More data and information