Guadeloupe: a paradise subsidized by France
May 17, 2018
Guadeloupe (pop. 400,000), often twinned with nearby Martinique, is a French-Caribbean archipelago with five inhabited islands. It is to mainland France what Hawaii is to the United States of America. As one of France's two Caribbean 'overseas departments' (DOMs), the euro is the only currency, and most citizens, a blend of Europeans, Africans and East Indians, speak only the mother tongue, Antillean Creole, and French.
It is a popular vacation destination among French tourists. More than 80% of visitor arrivals come from metropolitan France. It used to be virtually unvisited by American and other non-French tourists. But this might change with the improving accessibility of the islands. In October 2017, European low-cost carrier Norwegian Airlines resumed non-stop flights to Guadeloupe from New York, Fort Lauderdale, Florida and Providence, Rhode Islands. Then in November 2017, Air France announced the launch of twice-weekly flights between Atlanta and Pointe-à-Pitre.
Guadeloupe is so buzzy that U.S. News & World Report named it the second best place to visit in the Caribbean in 2017. Moreover, National Geographic also listed the islands as one of the world's top three destinations for culture.
Attractions include lush rain forests, dramatic volcano, spectacular cascading waterfalls, crystal clear turquoise waters, charming villages, and French-Caribbean influenced culture and exquisite cuisine.
The territory remains far less crowded and more affordable than most Caribbean islands and real estate in Guadeloupe remains a bargain compared to other Caribbean states. In fact, according to the Caribbean Real Estate Observatory, the average price of residential property was just EUR 161,063 in the second half of 2017. The average selling time for a property was 31.14 weeks over the same period.
During the second half of 2017:
the average price for apartments was EUR 135,319 with average selling time of 34.81 weeks.
the average price for houses was EUR 245,945 with average selling time of 32.32 weeks.
the average price for land stood at EUR 96,605 with average selling time of 24.64 weeks.
In the Baie Mahault and Petit Bourg sector, apartment prices ranged from EUR 1,341 to 3,156 per sq. m., while houses range from EUR 1,394 to 2,917 per sq. m. in H2 2017. Residential lots are sold for just EUR 96 to EUR 153 per sq. m.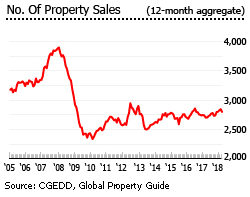 From Goyave to the tip of Malendure on the Basse-Terre's West Coast, homebuyers can buy apartments for EUR 662 to 2,411 per sq. m. while houses sell for EUR 1,414 to 2,629 per sq. m. over the same period. Land prices range from EUR65 to EUR100 per sq. m.
No data is available for apartments in the Basse Terre Nord Sector (from Mahaut to Sainte-Rose), but houses there sell for EUR 1,597 to 2,632 per sq. m. Lots are priced at EUR 44 to EUR 103 per sq. m.
In the South Grande Terre, apartment prices range from EUR 2,484 to 5,818 per sq. m. while house prices range from EUR 1,742 to 3,421 per sq. m. Lots are sold for EUR 65 to EUR 170 per sq. m.
In North Grande Terre, prices of apartments range from EUR 800 to 2,783 per sq. m., while house prices range from EUR 800 to 2,941 per sq. m. Residential lots are priced at EUR 44 to EUR 120 per sq. m.
As in France, there are no restrictions on foreign ownership of properties in Guadeloupe.
Demand continues to rise
In 2017, residential property sales rose by 2.8% to 2,825 units from a year earlier, after a 1.8% rise in 2016 and a 3% decline in 2015, according to Conseil General De L'Environment Et Du Development Durable (CGEDD). Then in February 2018, the number of property sales increased again by 3.7% from a year earlier.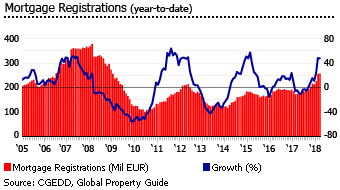 Mortgage registrations have also increased sharply in the past two years, rising by 23.6% in 2016 and by another 11.1% in 2017. Then during the year to end-Q1 2018, the total amount of mortgages registered was about EUR 257 million, up 47.3% from a year earlier, according to CGEDD.
France's overseas department with several dependencies
Guadeloupe effectively became French in 1635, well before Nice, Alsace or Corsica. It has several 'dependencies': La Désirade to the east, Les Saintes to the south and Marie-Galante to the southeast. Guadeloupe used to include the half-island of St. Martin and St. Berthelemy, but the two became overseas territorial collectivities in February 2007, after they seceded.
Guadeloupe is known as the Butterfly Island because of the shape of two of its major islands-Basse-Terre to the west and Grande-Terre to the east-which are separated by a narrow channel, the Rivière-Salée. Grande-Terre is flat and has a dry climate and is popular for its stunning resorts and for the main city Pointes-a-Pitres. On the other hand, Basse-Terre is mountainous and humid, and has an active volcano. Guadeloupe has good beaches, and tourism is increasingly important.
Departments are integral parts of the French Republic. French taxes apply, and French citizenship rights are given. But welfare benefits and a minimum wage have not evened everything out. The Departments send representatives to the National Assembly, the Senate, and elect a member of the European Parliament (Guadeloupe is now represented in the French parliament by four deputies and three senators).
Saint-Barthelemy (St Bart's), now no longer part of Guadeloupe, lies 150 km east of Puerto Rico, near the islands of St Martin, Saba and Anguilla. It is a kind of Monaco in the French Caribbean, and many film-stars and jet-setters own homes there. Tourism explains in a large measure the very high standard of living on the island.
Tourism's total contribution to GDP was estimated at about 13% in 2017. It was forecast to expand to 2.1% per annum to reach about 14.1% of GDP in 2027, according to the World Travel and Tourism Council (WTTC). Tourism also accounts for about 13.5% of total employment in the islands.
Guadeloupe's top tourist attractions
Attractions include:
Guadeloupe National Park, Basse-Terre Island - a UNESCO World Biosphere Reserve, the park has about 300 kilometers of hiking trails, plus the La Soufrière volcano at 1,467 meters, Col de la Matéliane at 1,298 meters, Cascade aux Ecrevisses waterfall and a wide range of flora and fauna.
La Grande Soufrière, Basse-Terre Island - the highest peak in the lesser Antilles, this active volcano has erupted eight times since 1660. Hikers can ascend the volcano along the Chemin des Dames trail. Hot springs, mud pools, fumaroles and waterfalls also add to its enchanting beauty.
Terre-de-Bas Island, the western island of Les Saintes - has small fishing villages, charming beaches and hiking trails. Popular activities include swimming, snorkeling and hiking.
Terre-de-Haut Island, eastern island of Les Saintes - has European-inspired pastel-coloured houses and brightly-painted fishing boats, a 17th-century for (Fort Napoléon) with a museum, and an Exotic Garden.
Zoological and Botanical Park, Basse-Terre - a popular hilltop garden and nature reserve located on the banks of the Rivière aux Hérbes. Visitors love the animals, which include tortoises, raccoons, monkeys, jaguars, and parrots, among others.
Sainte-Anne, Grand-Terre - Sainte Anne boasts one of the finest beaches in Guadeloupe, with its white sand and seaside promenade which invites tourists to stroll under the palms.
La Désirade - once a leper colony, this peaceful island is ringed with beautiful palm-fringed beaches and protected by long coral reefs. Snorkeling, swimming, diving and hiking are all popular activities.
La Pointe des Châteaux, Grande-Terre - a picturesque peninsula at the easternmost point of Grande Terre, the island exudes rugged beauty with its castle-like rock formations.
Plage du Souffleur, Port-Louis, Grande-Terre - considered one of Guadeloupe's most beautiful beaches because of its wide-open stretch of beautiful white sand fringed with flame trees.
Jacques Cousteau's Underwater Reserve, Pigeon Island - some of the territory's best sub-aquatic scenery where turtles, large schools of fish, parrotfish, trumpet fish, and barracuda can be seen. Popular activities include snorkeling, scuba diving, wreck diving, and kayaking.
Construction activity falling
During 2017, the number of both dwellings authorized and started fell by 2.9% and 3.4%, respectively, according to the INSEE. The downward trend continues this year with the number of dwelling units authorized falling by 5.4% y-o-y to 3,500 units during the 12-month ending March 2018. This was in sharp contrast with the 32.1% growth during the same period last year. Over the same period: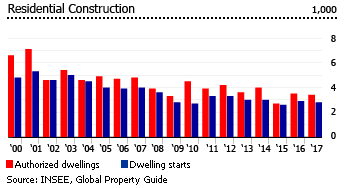 For pure single units, permits fell by 11.1% y-o-y to 1,600 units
For grouped single units, permits were up 42.9% y-o-y to 1,000 units
For multi-units, permits were down 23.1% y-o-y to 1,000 units
Likewise, dwelling starts also fell by 3.4% y-o-y to 2,800 units during the 12-month ending March 2018.
For pure single units, starts were unchanged at 1,400 units
For grouped single units, starts rose by 20% to 600 units
For multi-units, starts were down 10% y-o-y to 900 units
High unemployment
High unemployment is a long-standing problem in Guadeloupe, currently standing at 23.7%, one of the highest in the world, according to the International Labour Organization (ILO). This leads to political and inter-racial tension. In fact, rising crime in Guadeloupe has prompted France to send in police reinforcement - a total of 70 police officers has already reached the territory in late 2016. They are mainly stationed in Pointe-á-Pitre, Abymes and Baie-Mahault.
"The perception of difficulties is higher than in Martinique," says Douglas Rapier of Atout Immobilier. "Guadeloupe has had more of an independence movement. They are more cognizant of the history of slavery, so social unrest is higher."
In an effort to alleviate the situation, France recently introduced a universal healthcare system for people who live within Guadeloupe, with coverage ranging from medical prescriptions to death insurances.
The economy is dependent on tourism and agriculture. In addition, Guadeloupe relies very substantially on French subsidies. Almost all local housing built in the DOMs is subsidized under the Loi Girardin, which allows 40% of a DOM-located property purchase cost to be written off against future tax payments (the parallel incentive in metropolitan France is the Loi De Robien). Such incentives have spurred an entire industry of financial consultants advising on 'defiscalisation'.
Guadeloupe - More data and information