Guadeloupe (pop. 400,000), often twinned with nearby Martinique, is a French-Caribbean archipelago with five inhabited islands. It is to mainland France what Hawaii is to the United States of America. As one of France's two Caribbean 'overseas departments' (DOMs), the euro is the only currency, and most citizens, a blend of Europeans, Africans and East Indians, speak only the mother tongue, Antillean Creole, and French.

It is a popular vacation destination among French tourists. More than 80% of visitor arrivals come from metropolitan France. It used to be virtually unvisited by American and other non-French tourists. But this might change with the improving accessibility of the islands. In October 2017, European low-cost carrier Norwegian Airlines resumed non-stop flights to Guadeloupe from New York, Fort Lauderdale, Florida and Providence, Rhode Islands. Then in November 2017, Air France announced the launch of twice-weekly flights between Atlanta and Pointe-à-Pitre.

Guadeloupe is so buzzy that U.S. News & World Report named it the second best place to visit in the Caribbean in 2017. Moreover, National Geographic also listed the islands as one of the world's top three destinations for culture.

Attractions include lush rain forests, dramatic volcano, spectacular cascading waterfalls, crystal clear turquoise waters, charming villages, and French-Caribbean influenced culture and exquisite cuisine.

The territory remains far less crowded and more affordable than most Caribbean islands and real estate in Guadeloupe remains a bargain compared to other Caribbean states. In fact, according to the Caribbean Real Estate Observatory, the average price of residential property was just EUR 161,063 in the second half of 2017. The average selling time for a property was 31.14 weeks over the same period.

During the second half of 2017:

the average price for apartments was EUR 135,319 with average selling time of 34.81 weeks.
the average price for houses was EUR 245,945 with average selling time of 32.32 weeks.
the average price for land stood at EUR 96,605 with average selling time of 24.64 weeks.

In the Baie Mahault and Petit Bourg sector, apartment prices ranged from EUR 1,341 to 3,156 per sq. m., while houses range from EUR 1,394 to 2,917 per sq. m. in H2 2017. Residential lots are sold for just EUR 96 to EUR 153 per sq. m.

From Goyave to the tip of Malendure on the Basse-Terre's West Coast, homebuyers can buy apartments for EUR 662 to 2,411 per sq. m. while houses sell for EUR 1,414 to 2,629 per sq. m. over the same period. Land prices range from EUR65 to EUR100 per sq. m.

No data is available for apartments in the Basse Terre Nord Sector (from Mahaut to Sainte-Rose), but houses there sell for EUR 1,597 to 2,632 per sq. m. Lots are priced at EUR 44 to EUR 103 per sq. m.

In the South Grande Terre, apartment prices range from EUR 2,484 to 5,818 per sq. m. while house prices range from EUR 1,742 to 3,421 per sq. m. Lots are sold for EUR 65 to EUR 170 per sq. m.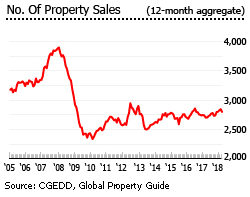 In North Grande Terre, prices of apartments range from EUR 800 to 2,783 per sq. m., while house prices range from EUR 800 to 2,941 per sq. m. Residential lots are priced at EUR 44 to EUR 120 per sq. m.

As in France, there are no restrictions on foreign ownership of properties in Guadeloupe.


Analysis of Guadeloupe Residential Property Market »
Rental incomes in Guadeloupe - rental yields range from 4.94% to 5.59%
Apartments in Guadeloupe earn what we term 'moderate' rental yields with a narrow range of from 4.49% to 5.59%.

Smaller apartments are the most expensive and the most profitable. A 40-sq m apartment sells for about US$4,100 per square metre, and earns rental yields of around 5.59%.

Bigger apartments are more affordable, as 120 sq. m. apartments sell for about US$3,000 per sq.m.; but they are also slightly less profitable in terms of rental returns, earning 4.94% in rental yields.
Rental income tax is surprising low in Guadeloupe
Guadeloupe's tax system exactly mirrors that of France.

Rental Income: Rental income earned by nonresidents is taxed at a flat rate of 20%. Distinction between furnished lettings and unfurnished lettings is important because it has implications for taxation, primarily for deductions allowed.

Capital Gains: EU residents and residents of France now pay 16% on the net gain, after inflation relief, and after deduction of acquisition and improvement costs. Nonresidents of an EU country pay CGT at a rate of 33.3%, subject to any applicable double tax treaty.

Inheritance: French private international law uses the standard double rule on inheritance: the law of the deceased's domicile applies to moveable assets, and the law of the location of the property applies to immoveable assets.

Residents: French residents are taxed on their global income at progressive rates from 5.5% to 40%.
Transaction costs range from
high to very high in Guadeloupe

Round-trip transaction costs in Guadeloupe, as in France, are high. Total costs for old properties (more than 5 years) can range from 16% to 27%. New properties without previous sales have the highest costs at 27.6% to 44% because of the 15.4% VAT. Notary fees for old properties are fixed at 8%, but range from 2% to 5% for new ones.
Guadeloupe's laws are pro-tenant, as in France
Guadeloupe follows French tenancy law, which is very pro-tenant.

Rent: Though the initial rent can be freely agreed, the rent can only be revised once a year, and not more than the increase in the (new) INSEE rental index. In combination with a highly restrictive contract structure, this means that rentals of old apartments have tended to drag well behind new rentals and prices.

Tenant Security: An unfurnished property contract has, as a minimum, a three-year term, though furnished property contracts may be for one year. In both cases, even when the contract ends, the owner can only recover the property if he or a family member intends to live there, or he intends to sell. In addition, eviction through the legal system takes a long time.
High unemployment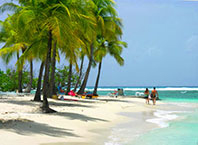 High unemployment is a long-standing problem in Guadeloupe, currently standing at 23.7%, one of the highest in the world, according to the International Labour Organization (ILO). This leads to political and inter-racial tension. In fact, rising crime in Guadeloupe has prompted France to send in police reinforcement - a total of 70 police officers has already reached the territory in late 2016. They are mainly stationed in Pointe-á-Pitre, Abymes and Baie-Mahault.
"The perception of difficulties is higher than in Martinique," says Douglas Rapier of Atout Immobilier. "Guadeloupe has had more of an independence movement. They are more cognizant of the history of slavery, so social unrest is higher."
In an effort to alleviate the situation, France recently introduced a universal healthcare system for people who live within Guadeloupe, with coverage ranging from medical prescriptions to death insurances.
The economy is dependent on tourism and agriculture. In addition, Guadeloupe relies very substantially on French subsidies. Almost all local housing built in the DOMs is subsidized under the Loi Girardin, which allows 40% of a DOM-located property purchase cost to be written off against future tax payments (the parallel incentive in metropolitan France is the Loi De Robien). Such incentives have spurred an entire industry of financial consultants advising on 'defiscalisation'.