The island even pirates love
June 04, 2007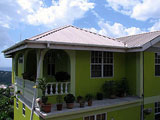 Today, Dominica is well known for the picture-perfect island in Pirates of the Caribbean 2 and 3. Publicity from these blockbuster movies has brought the island's rustic beauty to people's attention worldwide.
Though there are still no direct flights into the country, Dominica's tourism industry blossomed. Businesses like bars, restaurants, and hotels are happy, and the locals look forward to seeing and hearing about the big "Pirates" celebrities like Johnny Depp, Keira Knightley, and Orlando Bloom.
Quiet real estate market
Dominica is the most mountainous and volcanic of the Caribbean nations. While right in the middle of the Caribbean, Dominica is not like its neighboring islands. It boasts not of boundless pristine beaches but of thick rainforests and several potentially active volcanoes. In place of beaches are numerous hot springs, rivers, and waterfalls.
The island is still very low-key. The mild increase in house prices is a response partly to the local economy, and partly to foreign interest.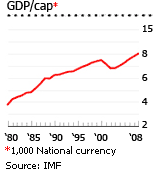 According to Global Property Guide research, property prices in Dominica average US$1,220 per sq. m. The established quality residential areas are Canefield, Morne Daniel, Castle Comfort, and Belfast (north of Roseau).
Aside from having the lowest house prices in the region, Dominica also has one of the lowest GDP per capita growth rates in the Caribbean at 0.88% in five years from 2001. GDP per capita stood at US$4,120 in 2006.
Dominica uses the East Caribbean Dollar, which is pegged to the US Dollar at USD1 = XCD2.7.
A 'Housing Revolution'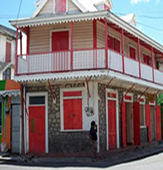 In 2006, Prime Minister Skerrit announced a 'Housing Revolution' starting this year, with a National Shelter Policy. Funding of EC$7.2 million has also been secured from the Caribbean Development Bank.
Skerrit promised to build 500 houses in five years. This housing revolution has been long delayed due to Dominica's financial inability to fund such a project. The Government of Venezuela granted 22 million dollars for Dominica's housing development, and a soft loan of 7.3 million dollars at 2% per annum will follow. The Chinese Government is granting 3 million dollars.
Under the Squatter Regularization Programme, now running successfully, families can buy land in squatter areas for EC$1 per sq. ft.
Additionally, the Shelter Development Programme enables the grant of loans to individuals earning less than $1,000 monthly and couples earning less than $150,000 monthly.
Dominica - More data and information