Bermuda's housing market is stabilizing
March 25, 2017
After several years of falling house prices, Bermuda's housing market is now stabilizing.
"We are beginning to see a recovery," said Sallyann Smith Stratton of Property Group. The America's Cup, which will be held in Bermuda in May 2017, "has invigorated the Bermuda real estate market and has been received very positively," Stratton added.
The average residential price in Bermuda rose 40% between 2003 and 2007, from US$976,000, to around US$1.6 million. The rise halted after the global financial meltdown in 2007. Single-family homes, priced at around US$1.6 million in 2007, fell by 16.9% to US$1.3 million in 2009.
The residential property market has been sluggish since then.In 2016, residential property prices in Bermuda were almost unchanged from a year earlier, at an average price of BMD1.1 million (US$1.1 million) to BMD1.2 million (US$1.2 million).
Yet this year there's been increasing interest both from Bermudians and from international homebuyers and Permanent Resident's Certificate (PRC) holders. "International buyers largely recognize there are current buying opportunities that make Bermuda real estate valuable in the long term," said Penny Maclntyre of Rego Sotheby's International Realty.
There were an estimated 300 property transactions in 2016, at par with the previous year, according to Coldwell Banker Bermuda Realty.
"2016 has seen some interesting shifts in the market. Although prices have not risen significantly overall, we have noted that inventory, priced correctly, is selling more quickly and in some cases, getting multiple offers," according to Coldwell Banker Bermuda Realty.
"In fact, 24% of the property transactions that Coldwell Banker Bermuda Realty was involved in for the calendar year of 2016 sold at or above the asking price," Coldwell Banker added.
By property type:
For single-family homes, the average price was BMD1,207,000 (US$1,207,000) in 2016, according to Coldwell Banker Bermuda Realty.
For condominium units, the average price stood at BMD681,000 (US$681,000) in 2016.
The average price of a vacant land was BMD366,000 (US$366,000) last year.
Politics has been a concern
International sales have been adversely impacted by the U.S. presidential election and by Brexit, while domestic consumer confidence was hit by socio-political unrest in Bermuda, according to Penny MacIntyre of Rego Sotheby's International Realty.
In March 2016, there were mass protests and demonstrations against the government's initiative to reform Bermuda's immigration laws, which was seen as 'anti-Bermudian'. The protest lasted for five days and resulted in the shutting down of the House of Assembly and a disruption in transport and public services.
Recently, there have been protests against the public-private partnership deal to rebuild Bermuda's airport, which had dented consumer confidence again.
"It makes it very difficult for people to enjoy Bermuda. It certainly has that effect. It's not just the effect on the international buying audience, who are put off by it to a lesser extent," said MacIntyre.
Bermudians made up about 50% of luxury demand, while most of the rest consisted of British homebuyers.
"While encouraged by the robust start to 2016, demonstrations and political unrest throughout the calendar year have caused some potential purchasers, both Bermudians and non-Bermudians, to reconsider their desire to make such a huge financial investment in Bermuda," said Coldwell Banker Bermuda Realty.
Residential rents are rising, yields are moderate
Residential rents have risenby about 10% in 2016 from a year earlier, according to Coldwell Banker Bermuda Realty. The rental market has been depressed in the past seven years, due to the adverse impact of the global crisis.
Despite this, gross rental yields continue to fall, i.e., the percentage return on the purchase price of a rental property. The average rental yield of condominiums was around 5.46% in 2014, slightly lower than the previous year's 6.25%, according to a Global Property Guide research. The same downward trend is observable for houses in Bermuda, with average rental yields falling slightly to 4.37%, from 4.87% the previous year.
Surprisingly, two-bedroom condos have the highest rental yields at around 6.41%, while one-bedroom condos earn the lowest rental return at 3.91%.
Demand for rental properties was particularly strong in Hamilton last year, where the average rent for one-bedroom apartments stood at about BMD3,800 (US$3,800) per month. There is an increased rental activity in the west, the focus of the America's Cup, which will be held in May 2017. Devonshire, Pembroke, and Paget remained the top choices for larger-sized apartments, according to Rego Sotheby's International Realty.
In 2016, the islandwide average monthly rent for one-bedroom apartments was BMD2,400 (US$2,400) per month, according to Coldwell Banker Bermuda Realty. On the other hand, two-bedroom apartments have an average monthly rent of BMD3,300 (US$3,300) while three-bedroom apartments rent for an average of BMD5,500 (US$5,500) per month.
Bermuda's two-tier market
Although there's some optimism, Bermuda's market is now sharply two-tiered, with high-end condominiums experiencing price rises, while luxury home prices have declined sharply.
In the luxury home market, prices plunged by about 25% in 2016 from the previous year, to an average of BMD4.4 million (US$4.4 million), in sharp contrast with the robust annual price growth of 9% in 2015, according to the Rego Sotheby's International Realty
The supply of luxury properties for sale surged to 38 units in 2016, sharply up from an average of 24 units during the previous years. These include a four-bedroom home in South Wood, priced at BMD3.6 million (US$3.6 million) and a six-bedroom estate in Warwick Parish, priced at BMD5.65 million (US$5.65 million).
Despite the 50% increase in supply, just 7 luxury residential properties were sold in 2016, sharply down from 12 units a year earlier, according to the Rego Sotheby's International Realty. 
In contrast, high-end condominium units remain very popular, especially those with annual rental value (ARV) of BM25,800 (US$25,800). This is mainly due to the increased availability of high-quality condo units in the island and the relatively high rental yields that they offer.
The average price of high-end condos rose by 7% to BM$910,000 (US$910,000) in 2016 from a year earlier, according to Rego Sotheby's International Realty.
Bermudians made up about 80% of condo buyers while the remaining 20% consisted of foreign homebuyers from the U.S., South Africa, and Switzerland, among others.
In 2011, the government announced that more than 500 condominium units across Bermuda, including The Waterfront and Mizzentop, could be sold to non-Bermudians, according to Bermuda Online. Forty-three of them are on former tourist properties.
These include the following:
50 units at Manor House, Smith's
48 units at Mizzentop, Warwick
44 units at Southdown Farm, Southampton
43 units at Landmark, Southampton
40 units at Mount Wyndham, Hamilton
36 units at Innwood, Paget
30 units at Cloverdale Apartments, Devonshire
30 units at Roxdene Apartments, Pembroke
30 units at The Waterfront, Pembroke
26 units at Warwick Villas, Warwick
21 units at Panorama Apartments, Paget
19 units at Pink Beach/Hidden Cove, Smith's
18 units at Queen's Cove Apartments, Pembroke
18 units at Grosvenor Apartments, Pembroke
16 units at Mount Langton, Pembroke
12 units at St James Village, Flatts, Hamilton
12 units at Grove Apartments, Smith's
12 units at former Mermaid Beach Club/Breakers
6 units at Palmetto Hotel and Cottages
6 units at former Surfside, now Cliffside
4 units at Pomander Gate, Pembroke
Units at Convict Bay, St. George's
Weak economic growth; burgeoning debt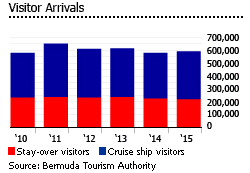 Bermuda has one of the highest GDP per capita incomes in the world, at around BM$96,018 (US$96,018) in 2015, according to the Department of Statistics. Yet growth has been weak since 2009, when GDP contracted by 5.3%, due to the global crisis. GDP dipped by 2.1% in 2010, 3.3% in 2011, 4.8% in 2012, 2.5% in 2013 and 0.3% in 2014. The economy recorded a meagre growth of 0.6% in 2015.
There are still no official figures for 2016, but the economy contracted by 2.2% in Q3 2016, after a growth of 1.3% in Q2 2016 and a decline of 0.6% in Q1 2016.
Another serious problem is the country's burgeoning debt. Bermuda's gross debt outstanding is estimated at about BM$2.44 billion (US$2.44 billion) by end-March 2017 – equivalent to about BM$49,000 (US$49,000) per Bermudian. Debt-servicing costs alone amounted to more than BM$187 million (US$187 million) – almost equivalent to the total spending on health, seniors, and the environment.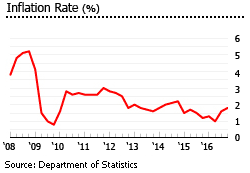 "There is no doubt that the biggest threat to the future prospects of the way of life we enjoy in Bermuda today is the problem of the government deficit and public debt," said Finance Minister Bob Richards.
In 2016, total visitor arrivals in Bermuda increased 7.7% y-o-y to 646,465 people, according to the Bermuda Tourism Authority. The number of regular visitors rose strongly by 11.2% to 244,491 people in 2016 from a year ago while cruise ship visitors increased 5.4% to 397,904 people over the same period.
Inflation remains low. In Q4 2016, the overall inflation rate was 1.8%, up from 1.6% in the previous quarter and 1.2% in the same period last year.
Mortgage market interest rates higher than in the U.S and Europe
Variable mortgage rates in Bermuda have terms ranging from 5 up to a maximum of 30 years.
Based on figures from HSBC Bank Bermuda:
Variable mortgage rates range from 5.99% to 6.5%
Fixed mortgages rates range from 5.74% to 6.25% (with fixed rate period of 5 years)
The Loan to Value Ratio (LVR) is typically 80% (up to 95% at HSBC Bermuda) of the appraised value of the property.
Bermuda does not have a Central Bank. Adjustable-rate mortgages (ARM) are tied to the Bermuda base rate, which usually follows US Fed key rates, as the Bermuda dollar (BMD) is pegged to the US dollar at BMD1 = USD1. Currently, the base rate of HSBC Bank Bermuda is 3.5%.
Foreign and expat buyers get a new break!
In June 2015, the government introduced new threshold requirements covering sales of properties by Bermudians to non-Bermudians and Permanent Residence Certificate holders (PRCs).
For property sales to non-Bermudians and international homebuyers:
The minimum house annual rental value (ARV) was lowered to $153,000, which translates to entry price levels of about $2.5 million to $3 million. 
The ARV threshold for condominiums remains $32,400 or an entry-level price of around $500,000.
PRCs can purchase homes with an ARV of $63,600.
For property sales to PRCs:
PRCs can purchase homes with an ARV of $63,600.
PRCs can purchase any condominium unit that is not government-sponsored.
Foreign spouses of Bermudian nationals are also no longer required to get a license to acquire their first home, but need a license for additional properties.
When acquiring a residential property, a foreign buyer must obtain a license from the Ministry of Labour, Home Affairs and Public Security. The alien license fee is 25% of the purchase price of a house, or 18% for a condominium. For fractional units, the fee is 10% on first-time sale and 18% on the second.
Non-Bermudians may not acquire undeveloped property, unless they are spouses or children of Bermuda nationals.
Generally, a non-Bermudian cannot own more than one residential property. A non-Bermudian will be permitted to purchase a second property only on condition that the original property is sold within a year.
Most international buyers pay in cash, according to local real estate agents.
Modest increases in construction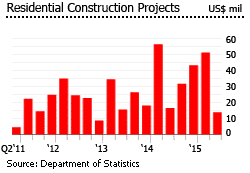 Morgan's Point, located on the west end of the island and a former American Naval base, is now being reinvented to appeal to foreign investors, said Stratton. Caroline Bay, a luxury five-star hotel resort that includes a branded hotel, luxury residences and a mega-yacht marina, is now being developed. The development, which was started last year, is expected to open in 2018.
There are also new hotels and residential condominium developments scheduled to be constructed in Ariel Sands resort in Devonshire, and in the East End located in the historic town of St. George's, according to Karin Sinclair of Sinclair Realty.
In 2014, the value of residential construction projects was US$122.5 million, up from US$85.1 million in 2013 and US$106.8 million in 2012, but sharply down from US$302.8 million in 2012. While there are no figures for 2016, local real estate agents believe that residential construction has increased modestly, primarily buoyed by the America's Cup.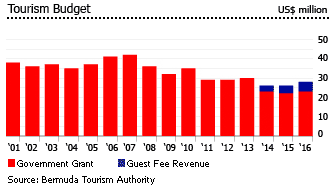 The total housing stock in Bermuda was estimated at about 31,000 units in 2014, according to the Department of Statistics.
Bermuda - More data and information