Barbados property prices continue to fall, but sales now improving
July 26, 2015
Prime property prices in Barbados continue to fall. But the good news is that sales and enquiries are rising again, fuelled by foreign investors.
House prices are still generally 20% below pre-crisis levels, according to local real estate experts.
"A property that in 2007 was worth US$12 million was reduced to US$9.8 million two years ago and again now to US$6.95 million," said Sam Mahon of Knight Frank.
The Four Winds, situated on the West Coast, was listed last year at a selling price of US$55 million. Now, the price has been reduced by about 27% to US$40 million. Likewise, Gardenia, another beachfront property originally valued at US$50 million, was recently reduced by 30% to US$35 million.
Yet optimism prevails among local realtors, due to increasing numbers of foreign homebuyers. Sales volumes are picking up. "Prices had gotten too inflated before but now they're more realistic," says Lee Gooding of Seaside Realty Inc. "That's helping us to encourage people to look again at Barbados."
The resiliency of Barbados' real estate market continues to attract buyers – especially compared to the other parts of the Caribbean which have experienced greater price fluctuations, according to Chesterton Barbados chairman Kieran Kelly.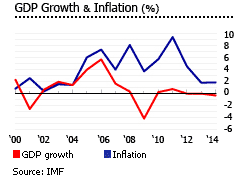 "It´s a very stable place – economically and politically – it has a familiarity to it for British buyers, with low crime, good roads, hospitals and schools and excellent communication from US and Europe. It has a depth of culture which means buyers can winter there without going crazy," says Savills' Caribbean director James Burdess.
In 2014, Barbados saw the highest sales transactions since 2004, according to Richard Young of Sotheby's International. Knight Frank´s luxury properties also saw record sales last year.
Other local real estate agencies also experienced sales increases:
"This year has been extremely good in terms of sales," said Kieran Kelly of property agency Chestertons. "It's a big turnaround from 2010 and 2011, which were tough. Sales began to show a pickup in 2012 and have been increasing. We're currently seeing around 10 new clients per week."
"Buyers are back and we are seeing regeneration in the market with more sales along the premium west coast from Bridgetown to Speightstown," said Christian de Meillac of Knight Frank.
"We're seeing enquiries for newer developments, such as Lantana and Sugar Hill, but also more interest in off-plan projects, with entry prices of between US$250,000 and US$500,000," said Janeace Thompson of local agency Altman.
Royal Westmoreland recorded its best sales in over ten years, with US$60 million of its villa sales coming largely from Brits, according to Kim Goddard of Royal Westmoreland. 


Foreign buyers in Barbados are predominantly British, American and Canadian, with some Russians and East Europeans.
The average luxury residence cost per square foot in Barbados is now US$875, according to a recent Wealth-X report.
Real estate prices in Barbados are typically listed in US dollars.
Foreign investors buoy the property market
"We live on foreign exchange and one of our biggest foreign exchange earners is selling properties to foreigners," said Lee Gooding of Seaside Realty Inc. "Overall it's very significant. I would say 40% of our customers are from overseas," he added.
In 2014, Britons accounted for about 70% of all high-end property transactions in Barbados, followed by Canadians and other European homebuyers, according to local property experts.
In 2012, a new residency permit was introduced, offering indefinite residency to investors who purchase a property worth at least US$2 million and have a net worth in excess of US$5 million.
Tourism - a leading house-price indicator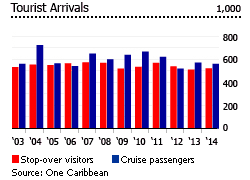 Tourism is one of the main economic drivers of Barbados, accounting for about 12% of the country's GDP. The sector employs 15,000 people, more than 12% of total employment. Tourism also drives home prices, and a strong tourism season is a good indicator that home prices may rise.
There´s now a real surge.  During the first two months of 2015, stop-over visitors rose by 11.1% to 109,186 people from the same period last year. In Q1 2015, arrivals from the UK, USA, Canada, and Caribbean and Latin American grew by 12.9%, 27.7%, 28.4% and 10.6%, respectively, according to William Griffith of Barbados Tourism Management Inc. (BTMI). Arrivals from Germany also grew by 23.6% over the same period.
"This was a very strong winter season. The Caribbean Tourism Organization (CTO) has predicted a five per cent increase in long stay arrivals for the region for the entire year and we believe our performance in this first quarter bodes well for us to comfortably exceed that target" said Alvin Jemmott of BTMI.
Stop-over visitors to Barbados increased 2.2% to 519,598 in 2014, according to One Caribbean. In contrast cruise passengers dropped 2.2% to 557,898 visitors –so total visitor numbers were almost unchanged in 2014.  But the indicators are that the market is now strengthening.
To boost tourism the Barbados Tourism Master Plan (2012- 2021) focused on:
Improvement of transport systems
Infrastructure and product development
Improved regulatory framework for the plan
Physical environment that covers land use patterns
Marketing and promotion
Training for employees
Economic growth remains weak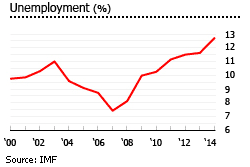 During the first quarter of 2015, real GDP growth was 0.6%, after falling 0.8% a year ago, according to the Central Bank of Barbados.
Barbados´ economy is expected to grow by 1% this year, up from a miniscule 0.2% growth last year and no growth in 2013, according to the International Monetary Fund (IMF), due to increased tourist arrivals, and key markets beginning to grow faster.
The island's current account deficit is likely to fall to 5% this year, down from 8.5% last year, amidst lower oil prices, according to the IMF.
Inflation was 1.9% in 2014, slightly up from 1.8% 2013, but significantly down from an average of 6.1% from 2005-2012, according to the IMF.
Unemployment was 12.7% in Q1 2015, up from 11.7% in the same period last year.
Mortgage market and interest rates
Almost inexistent in 1995, Barbados´ mortgage market has expanded enormously to 27.6% of GDP in 2014.   In April 2015, total outstanding mortgage loans for private dwellings in Barbados rose by 1.2% to BBD2.4 billion (US$ 1.2 billion) from the same period last year, according to the Central Bank of Barbados.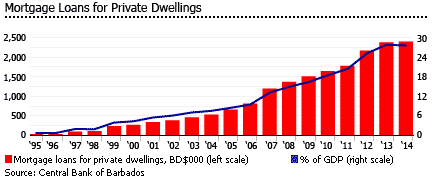 Non-residents can get mortgages with loan-to-value (LTV) ratios ranging from 50% to 70% (minimum loan of US$100,000) of the value of the real property, with maximum terms of up to 15 years:
70% LTV for US dollar mortgages up to US$1.5 million;
60% LTV for mortgages ranging from US$2.5 million to US$5 million; and
 50% LTV for mortgages more than US$5 million.
Only a few mortgage lenders lend to non-residents, including the Royal Bank of Canada, First Caribbean International Bank, Butterfield Bank in Barbados, Barbados National Bank, Scotiabank, and Royal Bank of Trinidad and Tobago (RBTT).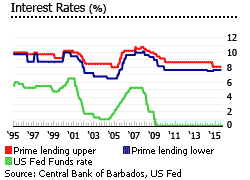 In order to qualify for a local-currency mortgage, borrowers must have been continuously resident for three years, according to Central Bank of Barbados rules. Foreign borrowers who do not qualify can only obtain foreign currency mortgages.  Mortgage interest rates in Barbados range from 6% to 9%.
Foreign buyers often end up obtaining financing externally, because mortgage interest rates in Barbados are often higher than in European and North American countries.  Over the past few years, US dollar loans have been attractive, especially for UK and European nationals. Their interest rate is linked to three-month US LIBOR plus the lender's mark-up.
Since 1975, the Barbados dollar has been pegged to the US dollar at BBD2 = US$1.
Thriving rental market
Barbados has a thriving rental market, due to the significant number of tourists visiting the country every year. Mortgage rates in Barbados are also usually high, which makes renting more attractive than getting a loan.
Rents vary enormously between properties and location—apartments vs. houses vs. villas, furnished vs. unfurnished, inland vs. beachfront, West Coast vs. South Coast vs. East Coast. Rents for beachfront properties are higher than inland properties.
The least expensive long-rentals can be found on the East Coast, while prices are increasing in the South Coast. The most expensive properties are generally on the West Coast.
Long-term rental properties are difficult to find in Barbados during the winter periods from November to April, and rents are much higher than usual.
Currently, monthly rents for two-bedroom houses in the South Coast range from US$2,000 to US$4,000. Three-bedroom houses can be rented from US$4,500 to US$6,000 per month and five-bedroom houses can be rented for over US$6,000 per month.
Luxury villa rentals range from US$2,500 to US$100,000 per week.
The famous West Coast
The West Coast, also called Platinum Coast, extends from the outskirts of Bridgetown (the country's capital) in the south to Harrisons in the parish of St. Lucy in the north. Homes of famous celebrities and super-wealthy foreigners can be found here.
Some of the well-established resorts in Barbados, which continuously attracting business elites, royalties and celebrities, can be found in the West Coast.
"The most popular spot seems to be those properties located along the west coast and priced between US$1 million and US$3 million. Beachfront apartments and stand-alone villas are generating the most interest with a sea view and privacy the two key prerequisites," said de Meillac.
Among the most famous ones is the Sandy Lane hotel and residences, a member of The Leading Hotels of the World (LHW) since 2009. Sandy Lane is known for being one of the most exclusive and finest resorts in Caribbean. It is also known for its associated golf course, and is the home of one of the most expensive golf course ever built designed by Tom Fazio – The Green Monkey. Five-bedroom luxury villas can be fetched at price ranging from US$10 million to US$25 million.
In Port St. Charles, prices of one-bedroom unit start around US$650,000. The Petit Bateau, a five-bedroom apartment with a private pool and a berth, is listed for US$8.95 million.
In newer developments such as the Port Ferdinand, which is being constructed near Port St. Charles, residential properties are priced from US$2.25 million for a 237 sq. m. two-bedroom apartment, to US$7.75 million for a 600 sq. m. five-bedroom penthouse.
At the upper-end of the market, beachfront properties usually command prices in excess of US$20 million. For an instance, The Dream, a five-bedroom house on a plot of 2,064 sq. m. is priced at US$25 million. The Footprints, a new five-bedroom villa on Garden beach is priced at US$12 million. The Platinum Bay, a new ultraprime development of five villas is currently listed in the market for US$25 million.
In St. James, four-bedroom villas are priced from US$2.5 million to US$3 million. On the other hand, the Beach Hut, a six-bedroom luxury villa was offered in the market for US$7.5 million.
In the more secluded Westmoreland Hills, the 35 two- to five-bedroom homes are priced from US$690,000. The Sand Dollar, a 930-sq. m. five-bedroom villa has a selling price of US$4.25 million.
Royal Westmoreland, located in the parish of St James on the west coast of Barbados, is the only completed gated community in Barbados with colonial-style homes and cottages among its 225 properties, a golf course and a beach club. It is now undergoing its most intensive construction with US$30 million of new villas now being built and with another US$30 million of homes in the next six to nine months. The prices of apartments and villas in Royal Westmoreland range from US$395,000 to over US$4 million.
In addition, fractional units, offering part ownership, are also available, starting at US$50,000.
Developments on the South Coast
The South Coast, which begins at Carlisle Bay in Bridgetown and heads towards East Point on the Atlantic east coast, is less busy and has a more local feel. It caters mostly to the mid-market and has seen tremendous growth, with numerous developments already completed and delivered.
Currently, the price of one-bedroom houses in the South Coast usually starts at about US$250,000.
The Crane Resort and Residences, built in 1887, is one of the oldest resorts in Barbados. Its residential component has expanded over the years, and new villa-style residences have been completed in 2009. Full ownership price of a three to four-bedroom residence costs at around US$1.2 million to US$2.5 million.
The Yorkshire Great House, a five-bedroom plantation home in a 3-acre of land in the parish of Christ Church, is priced at US$2.5 million.
East Coast to remain "local"
The East Coast on the Atlantic side of Barbados is better known for its rugged beauty. Because of huge Atlantic waves crashing along the shorelines, swimming is not advisable. However, beaches on the east coast are popular for walking, surfing and beachcombing.
Much of the eastern coastline is protected land and part of a National Park. Hence, though foreign investment interest in the area has significantly increased in the past years, it is difficult to obtain building or planning permission.
Popular East Coast beaches include the Bathsheba beach, Cattlewash beach, and Crane beach.
In St. John, the luxurious Palladian Villa Nova, which comes with its own industrial kitchen and restaurant and set in 15 walled acres of tropical forest and gardens, is now for sale for US$11 million.
Barbados - More data and information