Bahamas property market: Baha Mar and after
March 22, 2016
After several years of a housing slump, the Bahamas´ property market is still subdued. However construction activity is now improving, even though the market suffered last year due to the introduction of VAT on real estate transactions, and the impact of the Baha Mar bankruptcy.
Property sales remain "sluggish", according to Kerry Sullivan of Damianos Sotheby's International Realty. "It is still a buyer's market," she added, "but we have already hit bottom and the prices are starting to go up."
Local agents say house prices dropped by 30% to 40% from 2007 to 2010, mainly due to the global financial meltdown (there are no official house price figures).
The property market started to pick up in 2012, thanks to improved tourism and a stronger economy, though prices continued to fall in some locations, albeit at a slower rate. But activity has remained weak during the past three years, due to low investor confidence.
Most foreign homebuyers come from the United States, Canada, France, Britain, and Italy.
Currently, ocean front units in the Royal Ocean Club, situated on Grand Bahama, are priced at US$156,070. In the Bahamas Rum Cay, the price of one and two-bedroom beach cottages start at US$128,095.
In the Lyford Cay, a private gated community on the New Providence, a six-bedroom colonial-style home, Cuckoo's Nest, is priced at US$6.5 million
In the Elbow Cay, an eight-mile-long cay in the Abaco Islands, houses are priced from US$300,000 at the lower-end of the market while beachfront properties are valued from US$1 million to US$8 million.
In the other Family Islands, prices range from US$395,000 to US$595,000 for condominium units while house prices range from US$439,000 to US$4.5 million. Oceanfront properties are priced from US$1.8 million.
In the Honeycomb, a new property development being developed by Tavistock Group, prices range from US$3 million to US$12.5 million. Honeycomb is a 34-unit scheme where each new home will have a private terrace and a pool. Honeycomb is expected to open this year.
The Bahamas enjoyed GDP growth of 3% p.a. from 1997 to 2007.  Growth halted in 2008 (-2.3% GDP) and 2009 (-4.9% GDP), due to the global financial crisis. The Bahamas has experienced only meagre growth since then, with 1.5% growth in 2010, 0.6% in 2011, 2.2% in 2012, 0.02% in 2013, and 1% in both 2014 and 2015.
The economy is expected to expand by 1.5% this year, sharply down from the earlier projections of 2.8% growth, according to the International Monetary Fund (IMF).
Foreign property ownership is easy, and can bring residency and tax benefits
There are no restrictions on foreigners buying property in the Bahamas, except that a permit from the Government is required before the transaction, if the property is on undeveloped land with an area greater than five acres (20,234 sq. m.).

Foreigners who own properties in the Bahamas are eligible for a homeowner's residence card (renewable annually) and those who purchase properties valued at least US$500,000 are given priority in permanent residence applications. However, neither permanent nor annual residence gives a foreigner the right to work in the country.

There are many tax advantages and incentives for foreign real estate buyers in the Bahamas. There are no income, sales, and estates taxes. The only direct tax is real property tax.

Taxes
The Bahamas' tax situation is very attractive to foreigners, many of whom choose to become residents. There are no taxes on income, sales, estates or inheritances. There is no capital gains tax on real estate.
The only direct tax is a real property tax. Real estate taxes are around 1% annually, according to the Global Property Guide.
The Baha Mar bankruptcy has hit the Bahamas´ economy
The impact of the recent bankruptcy of much-hyped Baha Mar resort has been significant.  Valued at US$3.5 billion, Baha Mar is perhaps the largest and priciest resort development in the Caribbean. Its 1,000-acre Nassau site includes 284 condominium units, more than 1,000 hotel rooms, three spas, retail and entertainment facilities, a casino and a Jack Nicklaus-designed golf course. Property prices in the  development range from US$1.1 million for one-bedroom residences, to US$10 million for beachfront villas.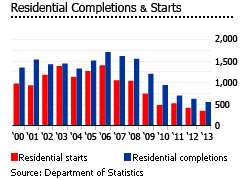 But last year it filed for bankruptcy protection, and remains un-open. The developer, Sarkis Izmirlian, is in dispute with the contractor, China State Construction.
"Baha Mar Ltd.'s decision to file for bankruptcy is the direct result of its failure to secure adequate financing and its mismanagement," said China State Construction.
Baha Mar´s problems have hit the economy. After 2.3% growth was forecast for 2015, the Bahamas´ actual growth was just 1%, according to estimates by the International Monetary Fund (IMF).
The IMF also cut its 2016 Bahamas growth forecast from 2.8% to 1.5%. 
Bond downgrades have followed. "We believe the Baha Mar bankruptcy filing and subsequent legal disputes will depress growth and possibly affect the fiscal and external accounts," said Standard & Poor's. "As a result, we are lowering our foreign and local currency sovereign credit ratings on The Bahamas to 'BBB-/A-3' from 'BBB/A-2'."
Despite this, Prime Minister Perry Christie remains optimistic that Baha Mar will open in the near future. Potential investors interested in taking over the development include Guo Guangchang, the chairman of a non-state Chinese conglomerate Fosun Group.
Residential construction rising a little
Tourism and increased foreign investment caused a construction boom in the private sector from 2004 to 2008 - but then in 2009 the global recession caused a significant construction drop.
In 2009, residential construction permits dropped 26% y-o-y to 2,009
In 2010, permits dropped 22% y-o-y to 1,578
In 2011, permits fell slightly by 1.6% y-o-y to 1,552
In 2012, permits dropped 7.4% y-o-y to 1,437
In 2013, permits dropped 27% y-o-y to 1,055
In 2014, permits fell by just 1.3% y-o-y to 1,041
From 2009 to 2013, residential starts fell by an average of 18.8% every year, while completions dropped by an annual 18.6%.
However residential construction activity is now rising.
In the third quarter of 2015, the number of residential permits issued surged by 19% y-o-y to 318 units while the value of residential construction permits issued also rose by 5% over the same period, to BSD114.68 million (US$114.68 million), according to the Department of Statistics of The Bahamas.
About 77% of the residential construction permits issued in Q3 2015 were located in New Providence, 17% in Grand Bahama and the remaining 6% in other Family Islands.
Declining interest rates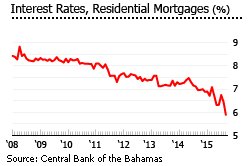 Local banks lend largely to Bahamian households, in local currency (BSD1 = USD1).  Real estate purchases by wealthy foreign buyers are mostly paid in cash. Mortgage loans denominated in domestic currency made up more than 97% of all outstanding mortgage loans in January 2016.
Bank residential mortgage interest rates fell to 5.89% in September 2015, from 6.95% in September 2014 and 7.14% in September 2013, according to the CBOB.  However, declining interest rates have not been enough to spur demand. From 38.6% of GDP in 2011, outstanding residential mortgages fell  to 34.6% of GDP in 2015.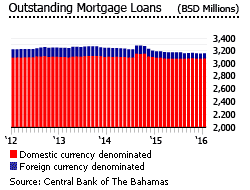 In January 2016, outstanding mortgages declined by 1% to BSD3.16 billion (US$3.16 billion) from the same period last year, according to the CBOB.
The introduction of VAT has caused confusion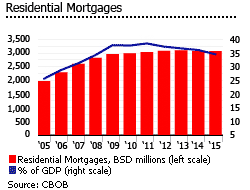 In January 2015, 7.5% value added tax (VAT) on real estate transactions was implemented, in an effort to improve the government's finances. Based on the new rule, VAT is chargeable on all conveyances of real property valued at more than US$100,000.
Real properties subject to VAT include (but are not limited to):
Vacant land
Dwellings for first time owner-occupiers, whether or not valued over US$100,000
Commercial buildings
Condominiums
Tenements or any other structures attached to a land
Timeshares, and
Any buildings constructed for sale by contractors who are also the owners
Prior to the introduction of VAT, stamp duties were charged on the value of the real property (excluding first time home buyers, who are exempted from paying stamp duty on homes worth less than $500,000):
Properties between $0 and $20,000: - 4%
Properties between $20,000 and $50,000: - 6%
Properties between $50,000 and $100,000: - 8% 
Properties $100,001 upwards: - 10%



Following the implementation of VAT, stamp duty was changed to a flat rate of 2.5%, with 7.5% VAT charged in lieu of the former stamp duty rate on real estate transactions above US$100,000. However first time homeowners who are exempt from stamp duty, will also be exempt from VAT.

A sample computation is as follows:
| | | |
| --- | --- | --- |
| Property Value | Tax Payable Pre-Vat | Tax Payable Post-Vat |
| $70,000 | 8% stamp duty | 2.5% (2.5% stamp duty + 0% VAT) |
| $120,000 | 10% stamp duty | 10% (2.5% stamp duty + 7.5% VAT) |
| $500,000 (first time homeowner) | 0% | 0% (0% stamp duty + 7.0% VAT) |
Although the sums are almost the same for real properties valued above $100,000, the new rule is causing confusion between homebuyer and seller.
It puts more burden on the buyer, and caused more confusion, because the seller thinks they're just going to pay 2.5 per cent, not 5 per cent," says Mario Carey of Mario Carey Realty.
"They should have got rid of Stamp Duty altogether," adds Mr. Carey.
Rental market yields are good
Property rental yields in Bahamas are moderate to good, based on Global Property Guide research (based only on long-term rentals).
Nassau tends to have the highest average gross rental yields, with inland condominiums yielding around 8%, while waterfront condominiums yield an average of around 7%. Smaller waterfront condominiums have higher yields. Condos of around 120 sq. m. yield around 8.16% p.a., while 300 sq. m. condominiums yield less, at 5.70% p.a.  Yields in Abaco and Grand Bahama waterfront are moderate, ranging from 3.57% to 4.45%.
Monthly rents for waterfront condominiums in Nassau range from US$2,000 to US$ 5,000 per month. In Abaco and Grand Bahama, rents for waterfront condominiums were at US$ 1,100 to US$ 1,500 per month.
The Rent Control Act applies only to dwellings with a total value of US$75,000 or below, stipulating that rents shall not exceed 15% (p.a.) of the assessed value of the property, and 20% for furnished residences. The luxury vacation rental industry is not covered by this act.
Tourism continues to grow, albeit at a slower pace
In 2014, visitor arrivals rose by 2.8% to 6.32 million, after growing by 3.5% in 2013, 6.3% both in 2012 and 2011, and 13.1% in 2010, based on figures from the Ministry of Tourism.
Visitor arrivals by sea rose by 2.2% in 2014, to 4,977,095
Visitor arrivals by air rose by 4.9% in 2014, to 1,343,093
In August 2015 around 452,642 visitors arrived to the Bahamas. The sea segment accounted for about 74% of the total arrivals, the air segment 26%.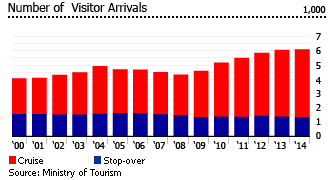 However, hotel occupancy levels were down in 2014.  In New Providence, hotel occupancy rate declined to 56.1% in 2014, from 57.8% in 2013 and 66% in 2012, according to the Ministry of Tourism. Likewise, hotel occupancy rates were also down in Grand Bahama at 41.4% in 2014 (from 42.7% in 2013 and 47.1% in 2012) and in the other Family Islands at 35.9% (from 37% in 2013 and 38.3% in 2012). Over the same period, the average daily room rate in New Providence fell by 5.7% to US$212.40 per night.
Tourism accounts for around 60% of Bahamas' GDP, and 50% of employment. Bahamas' second-largest industry is financial services, which accounts for 20% of GDP.
Economic growth remains sluggish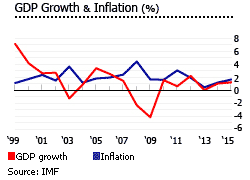 The economy expanded by just 1% last year, after growth of 1% in 2014, 0.02% in 2013, 2.2% in 2012, 0.6% in 2011 and 1.5% in 2010, due to modest gains in the high value-added stopover segment of the tourism sector, and the controversy surrounding the Baha Mar real estate development.
The economy is expected to grow by 1.5% this year, sharply down from an earlier projections of 2.8%, due to the uncertainties posed by the Baha Mar impasse, according to the IMF.
The government's overall deficit for the fiscal year 2015/16 was 2.2% of GDP, down from 2.8% of GDP last year.
National debt was estimated at 51% of GDP in 2015, up from 49.6% of GDP in 2014 and less than 20% of GDP prior to 2008.
Inflation remains low at 1.7% in 2015, after 1.2% in 2014, 0.4% in 2013, according to the IMF. Consumer prices are projected increase by 1.3% this year and by another 1.2% in 2017.
Bahamas - More data and information