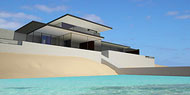 INDIVIDUAL TAXATION
The Bahamas lacks any form of taxation on income, sales, estates or inheritances. The only direct tax is a real property tax.
RENTAL INCOME
Business License
Business licenses are required when leasing property in the Bahamas. Renewed annually, license fees may cost anywhere from US$250 to US$1,250 or even more as the applicable rates depend on the profits.
Stamp Duty on Leasing
Stamp duties are due when leasing real properties in the Bahamas. The duty is levied on the annual rent and the rates vary depending on the duration of the lease.
STAMP DUTY ON LEASING

DURATION OF THE LEASE

TAX RATE

Up to 7 years

1%

7 years - 35 years

2%

35 years - 100 years

5%

Over 100 years

12%

Source: Global Property Guide
CAPITAL GAINS
There are no capital gains taxes in the Bahamas.
PROPERTY TAX
Real Property Tax
Real property taxes are imposed on the assessed market value of the property. The tax rates vary depending on the property´s classification and value.
TAX ON OWNER-OCCUPIED PROPERTIES

TAX BASE, US$
TAX RATE
Up to US$250,000
0%
US$250,000 - US$500,000
0.0625% on band over US$250,000
Over US$500,000
1% on all value over US$500,000
Source: Global Property Guide
TAX ON VACANT LAND OWNED BY NON-RESIDENTS

TAX BASE, US$
TAX RATE
Up to US$7,000
US$100
Over US$7,000
1.50% on all value over US$7,000
Source: Global Property Guide
TAX ON VACANT LAND OWNED BY NON-BAHAMIAN

TAX BASE, US$
TAX RATE
Up to US$7,000
US$100
US$7,000
1.50% on all value over US$7,000
Source: Global Property Guide
Bahamas - More data and information