Unsold apartments in Malaysia's major cities are currently valued at MYR 8.3 billion (US$ 1.9 billion), the result of a serious overbuilding of top-end properties during the recent boom.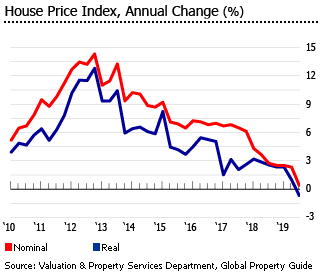 To combat this over-building, the government has introduced multiple measures to control speculation and discourage developers from over-building. Stamp duty was increased from 3% to 4% on properties worth above MYR 1 million (US$ 229,384). The government also introduced an additional 5% in real property gains tax (RPGT) on sales of properties owned from 6 years and beyond.
Partly as a result, Malaysia's house price index rose a minuscule 0.41% to Q3 2019, according to the Valuation and Property Services Department (JPPH). This is a sharp slowdown from an annual price growth of 8.3% from 2010 to 2018.
When adjusted for inflation, house prices actually fell 0.66% y-o-y in Q3 2019.On a quarterly basis, the house price index fell by 0.76% (-1.09% inflation-adjusted) in Q3 2019. The COVID-19 outbreak is making things even worse.
Malaysia's average house price stood at MYR 423,179 (US$ 97,070).
Performance by property type:
Terraced house average prices rose slightly by 0.79% (fell 0.29% inflation-adjusted) to MYR 387,532 (US$88,894) during the year to Q3 2019.
High-rise residential properties' average price increased 0.56% y-o-y (-0.52% inflation-adjusted) to MYR 341,660 (US$78,371).
Detached house average prices were down slightly by 0.14% y-o-y (-1.21% inflation-adjusted) to MYR 660,760 (US$151,568).
Semi-detached house average prices fell by 0.51% y-o-y (-1.57% inflation-adjusted) to MYR 658,241 (US$ 150,990).
Kuala Lumpur has Malaysia's most expensive housing, with an average price of MYR 763,935 (US$ 175,235), followed by Selangor, at MYR 486,604 (US$ 111,619); Sabah, at MYR 460,221 (US$ 105,567); and Sarawak, at MYR 455,169 (US$ 104,409).
The cheapest housing in Malaysia can be found in Melaka and Kelantan, with average prices of just less than MYR 200,000 (US$45,877).
The Malaysian economy expanded by 4.3% in 2019, notably lower than the expansions of 4.7% in 2018 and 5.9% growth in 2017, mainly due to a decline in output of crude oil, natural gas, and palm oil and a fall in exports due to the US-China trade tension.
The economy is widely expected to slow further this year. Bank Negara Malaysia (BNM) projects that the economy will see a contraction of 2% at its worst and growth of 0.5% as its best in 2020, due to the imposition of global and domestic measures to contain the COVID-19 pandemic.
House prices still below Asian crisis levels
Amazingly, house prices in Malaysia are still below pre-Asian Crisis 1997 levels, in inflation-adjusted terms, despite the recent housing boom.
Since the Asian crisis Kuala Lumpur's house prices have significantly outperformed the rest of the country. After the downturn of 2008-2009the property market was revitalized with the help of the Greater Kuala Lumpur Plan whichincluded "The MRT Project". From 2005 to 2015, Kuala Lumpur house prices surged by almost 122% (73% inflation-adjusted).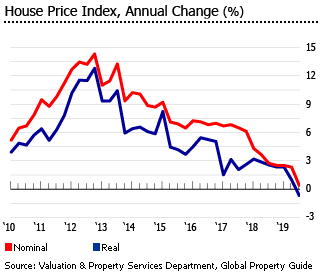 In contrast national price rises have been more muted. From 2005 to 2015, Malaysia's house prices rose by 96.1% (52.4% inflation-adjusted).
From 2016 to 2018, nationwide house prices rose by an annual average of 5.2% (3.3% inflation-adjusted). However, the housing market finally lost steam last year, as the government's market cooling measures took effect.
Residential construction depressed
Housing starts have recently plunged - down by no less than 20.4% in the first half of 2019 from a year earlier, according to the JPPH. Selangor and Johor saw declines of 30% and 18.7%, respectively, while Kuala Lumpur recorded an increase of 55.7%.
The weakness in residential construction is partly attributable to the government's decision to freeze approvals for high-end property developments. Effective November 2017, the restriction covers properties costing over MYR 1 million (US$ 229,384).
"This will be temporary until we can clear all the excess supply," said former Second Finance Minister Datuk Seri Johari Abdul Ghani. "There is a stark imbalance between supply and demand and we have to review the strategy in real estate development as we do not want such a situation to adversely affect the economy."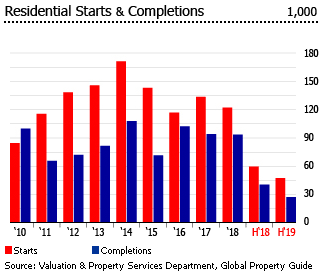 Meanwhile, the government continues to promote the development of affordable homes, particularly those priced below MYR 300,000 (US$ 68,766), to meet the strong demand in this segment.
"In this sector, there is a disparity between the 48% demand for affordable homes and the supply that only meets 28% of that. This is the area that needs to be addressed swiftly," Johari added.
Three years ago total loan coverageunder the Malaysia People's Housing (PR1MA) Bill 2011was increased to 100%. Borrowers with a monthly income up to MYR 7,000 (US$ 1,605) per month qualify for the scheme. The stamp duty exemption was also raised from 50% to 100% on instruments of transfer and housing loan instruments for houses worth below MYR 300,000 (US$ 68,766).
Demand continues to rise
Despite these measures, residential property transactions rose by 6.1% in the first half of 2019 from a year earlier, according to JPPH. In terms of value, transactions were up 9.5% to MYR 34.65 billion (US$ 7.95 billion).
W.P. Putrajaya registered the biggest y-o-y rise in residential property transactions at 37.6% y-o-y in H1 2019, followed by Perlis (26.9%), Pahang (23.2%), Melaka (19.3%), Sarawak (13.3%), Terengganu (11.4%) and Sabah (10.7%). In contrast, W.P. Labuan and Perak recorded declines of 6.1% and 4.6%, respectively.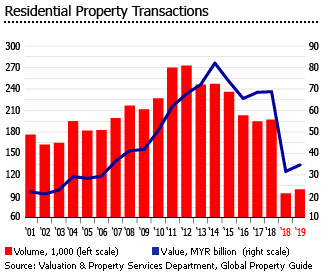 Selangor dominated the market, accounting for more than 24% of total residential property transactions in Malaysia in H1 2019, followed by Johor with 14.1% market share and Perak, with 9.9% share.
Mortgage market continues to expand
The size of the mortgage market was about 37.5% of GDP in 2019, up from 22.3% in 2008 and 13.1% in 1996, despite stricter lending guidelines in recent years.Housing loans outstanding increased 7.5% y-o-y to MYR 575.63 billion (US$ 131.95 billion) to March 2020, according to BNM.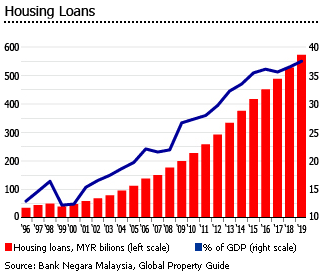 However the rate of growth is slowing. The value of housing loans rose by an annual average of 8.2% from 2016 to 2019, down from annual average growth of 13.1% in 2007-2015 and 19.3% in 2000-2006.
Tighter lending and anti-speculation measures
The government's anti-speculation measure date back nearly a decade, and it is surprising that they have till recently had so little effect.
It was in 2012 that Bank Negara Malaysia (BNM) introduced stricter lending guidelines, requiring mortgage eligibility assessments to be based on net income.  In July 2013, BNM reinforced responsible lending practices, reducing the maximum home loan period to 35 years, shortened the maximum personal loan period to 10 years; and forbidding pre-approved financing products.
Some other anti-speculation measures introduced by the government:
Fly-by-night developers targeted. Housing license project deposits of 3% of total estimated project cost were recently introduced. A MYR 500,000 fine, plus maximum of three-year jail term for developers who abandon projects, has been proposed by the Housing and Local Government Ministry.
Capital gains tax rises. On January 1, 2014, the Real Property Gains Tax (RPGT) rose from 15% to 30% on properties sold within three years from purchase.Taxes on gains on properties sold after four to five years rose to 20% and 15%, respectively. No RPGT will be imposed on citizens for properties sold after six or more years, while companies will be taxed at 5%.
For non-citizens, RPGT on properties sold within a holding period of up to five years is 30%, while RPGT on properties sold within six years or more from purchase is 5%.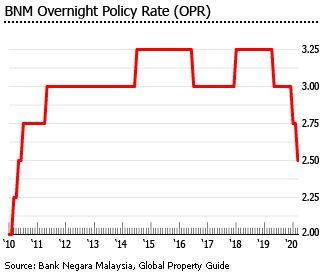 The end of the Developer's Interest Bearing Scheme (DIBS). The government has forbidden banks from offering financing via the DIBS, introduced in 2009 to boost condominium sales, where the developer paid the interest on buyers' loans during construction of a project.
Bulk sales. The Malaysian government also requires property developers to obtain permission before making bulk sales of more than four units.
Threshold for foreign buyers lowered
In its recent 2020 Budget, the government announced that it will lower the threshold for foreign property ownership in 2020, in a bid to reduce the supply overhang of condominiums and apartments urban areas.
In effect, foreigners can now purchase a property with a minimum value of MYR 600,000 (US$137,630) from the original requirement of MYR 1 million (US$ 229,384). The new rule includes high-rise stratified units in George Town (Penang), Kuala Lumpur, Johor Bahru and some cities in Selangor.
"We have to get rid of this overhang so that the market for property becomes healthy again," said former Prime Minister Mahathir Mohamad. "We need to sell them or the developers will get into trouble."
Foreigners are allowed to purchase up to two residential properties - two condominiums (max. 50% foreign ownership within a block) OR one condominium and one of the following:
Terrace or linked houses above two storeys, but limited to 10% of the total number of units built of this type
Lands/bungalows and semi-detached houses, but limited to 10% of units built of these types
Aside from this, there are no other restrictions that hinder non-resident foreign buyers in Malaysia.
MM2H Scheme boosts foreign demand
In fact, there has been an upward trend in "Malaysia My Second Home" (MM2H) applications in recent years. From an annual average of 1,700 approvals from 2002 to 2011, the number of approved applications increased to an average of 3,500 annually in the past eight years, thanks to the surge of Chinese visitors as the Malaysian government raised its efforts to attract the Chinese tourists after the MH370 tragedy in 2014.
From its inception in 2002 to 2019, around 50,000 applications have been approved from 131 countries. China dominated the market, accounting for about 30% of all approvals, followed by Japan, Bangladesh, the UK and Korea.
"The introduction of Malaysia My Second Home Scheme has positioned the country as one of the most foreign-friendly countries in Southeast Asia for real estate investors," said Juwai IQI group executive director Kashif Ansari.
MM2H is a programme promoted by the Ministry of Tourism, Arts and Culture (MOTAC) which permits foreigners to live in Malaysia for a period of 10 years, provided that they meet certain criteria. Successful applicants are also allowed to bring their spouse, an unmarried child under the age of 21, and parents who are over 60 years old.
The government is also increasing support for low-end buyers.
To defuse political tensions, the government is also expanding its MYR 1 billion (US$ 229.2 million) fund for affordable homes for first-time homebuyers.
It offers financing capped at 3.5% and a repayment period of 40 years, on newly-built property.In August 2019, BNM upped the maximum monthly household income to MYR 4,360 (US$ 999) from MYR 2,300 (US$ 527), and increased the property price to MYR 300,000 (US$ 68,766), from MYR 150,000 (US$ 34,383) previously. 
In the 10 months following its inception in January 2019 the fund approved 3,100 applications for a total of MYR 596.3 million (US$ 136.7 million).
Kuala Lumpur's rental yields have fallen; small rental market
Malaysia has a small rental market. Only 6% of the housing stock is in the private rental sector. About 85% of total stock is owner-occupied, while government-provided housing accounts for 7% of the stock.
Gross rental yields of apartments and condominiums in Kuala Lumpur generally range from a little above 2% to 5%. Bungalows have lower rental yields at around 2.5%, according to Global Property Guide research.
Rents have not kept pace with prices. The 120 sq. m. condominium category has average gross returns of 4.5%, but three years ago, rental yields for this size averaged over 8%.Kuala Lumpur recorded the highest annual increase with rental rates rising by 3.2% during the year to Q2 2019, according to JPPH. It was followed by Klang Valley (2.8%), George Town (2.8%), Selangor (2.7%), and Johor Bahru (1%).
Kuala Lumpur and Klang Valley have the highest rental rates last year of MYR 53.64 (US$12.3) per sq. m. and MYR 48.48 (US$11.11) per sq. m., respectively.
A 50% tax exemption on residential rental income of individuals up to MYR 2,000 (US$ 482) per month was introduced in 2018 and will be effective until 2020. This is expected to boost demand for rental properties. In order to protect both tenants and landlords, the Malaysian government also proposes to formulate a Residential Rental Act.
The government's Economic Transformation Programme (ETP) has helped to increase the demand for luxury condominiums in Klang Valley, which caters mainly to foreigners, according to C.H. Williams Talhar & Wong.
Malaysia's economy to slow sharply in 2020
The Malaysian economy expanded by 4.3% in 2019 - the slowest growth in a decade, given that 2011 to 2019 the annual average growth rate was 5.1%. The slowdown was mainly attributed to a decline in output of crude oil, natural gas, and palm oil, and a fall in exports due to the US-China trade tension.
This year, the economy is widely expected to slow further. "Tourism-related sectors are expected to be affected by broad-based travel restrictions and travel risk aversion, while production disruptions in the global supply chain will weigh on the manufacturing sector and exports," the BNM said.
In March 2020, Malaysia's inflation was -0.2%, the first decline since February 2019, as fuel costs dropped in line with the plunge in global oil prices, according to the Department of Statistics Malaysia. Malaysia's inflation in 2019 was 0.7%, down from 1% in 2018 and 3.8% in 2017.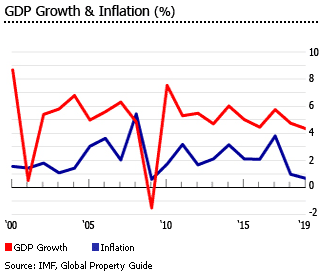 In March 2020, the BNM's Monetary Policy Committee (MPC) reduced its Overnight Policy Rate (OPR) to a decade-low of 2.5%, following a 25-basis point rate cut in January, to buoy the slowing economy. In addition, the statutory reserve requirement ratio for banks was also reduced by 100 basis points to provide additional liquidity into the banking system.
Unemployment was at 3.3% in February 2020, unchanged from a year earlier, based on the figures from the Department of Statistics Malaysia. However, this figure was still unaffected by the internal shock brought by the coronavirus outbreak and the jobless rate is expected to rise sharply beginning March 2020.
Fiscal deficit to widen
Malaysia's budget deficit stood at 3.4% of GDP in 2019, following shortfalls equivalent to 3.7% of GDP in 2018 and 3% in 2017, according to the Ministry of Finance.
However, the shortfall is projected to increase sharply to around 4.5% to 5.6% of GDP this year, following the introduction of two stimulus packages in the first three months of 2020 in a bid to cushion the economic impact of the coronavirus pandemic. The combined value of the stimulus packages is MYR 250 billion (US$ 57.35 billion) – equivalent to 15.5% of the country's GDP.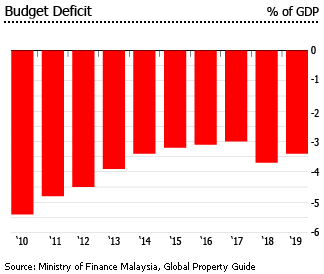 Likewise, government debt is expected to exceed the self-imposed limit of 55% of GDP in 2020, up from 52.5% in 2019, 51.8% in 2018, 50.7% in 2017, and 52.7% in 2016.
The Malaysian ringgit slides against the US dollar
The Malaysian ringgit (MYR) was one of Asia's worst-performing currencies this year after it fell by as much as 10.7% in the past two years to reach a monthly average exchange rate of MYR 4.3542 = USD 1 in April 2020. The weakness of the domestic currency is mainly attributed to the slump in crude prices and concerns over the economic impact of the COVID-19 outbreak.
The domestic currency was also weighed down by political volatility after the surprise collapse of Mahathir Mohamad's coalition, only two years after it overturned the United Malays National Organisation (UMNO), a party which has been in power for more than 60 years.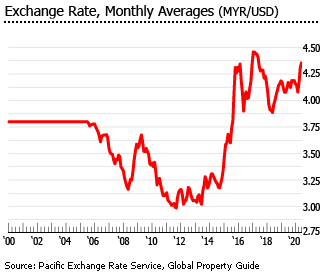 The decline partially offsets the almost 15% gain of the ringgit against the dollar from December 2016 to April 2018, mainly due to the country's improved balance of payments.
Malaysia recorded a current account surplus of MYR 49.74 billion (US$ 11.38 billion) in 2019, the largest since 2012.
UMNO is back in power
In July 2018, former Prime Minister Najib Tun Razak was arrested over his role in the multi-billion dollar 1MDB corruption scandal that triggered international outcry and brought down his UMNO-led government during last year's general elections. The United Malays National Organisation (UMNO) is the political party that governed Malaysia since its independence.
Najib denied the allegations. While in office, the Malaysian authorities cleared him of all wrongdoings. But the case was reopened after UMNO's surprise defeat in the 2018 general elections. At least 42 charges are currently filed against him for alleged corruption, money laundering and abuse of power.
Mahathir Mohamad capitalized on public mistrust of Najib to win the general elections last May 2018. A former UMNO leader and mentor to Najib, Mahathir vowed to bring his former protégé to justice.
A multi-party, multi-ethnic coalition called Pakatan Harapan (PH) was formed. PH brought together Anwar Ibrahim's reformist Keadilan party, the main ethnic Chinese party, the DAP, and two anti-UMNO Malay parties, Amanah and Bersatu. Anwar and Mahathir agreed that if they won, the former would be prime minister, but hand over to Anwar after two years. Though the process on how they will accomplish this was unclear.
The crisis broke over the succession. Since the start of the year, there had been growing tension within the coalition and this persuaded Muhyiddin Yassin, another key HP leader, to defect with more than 30 MPs and form an alliance with his old party, UMNO.
In February 2020, Mahathir tendered his resignation, causing the collapse of the coalition. To avoid a political crisis, Malaysia's constitutional monarch, King Abdullah, appointed Muhyiddin Yassin as the new Prime Minister, and an UMNO-led government was formed.
Mahathir has challenged the appointment and could try to bring the new government down once parliament meets again.
"The King cannot make political decisions," said Mustafa Izzuddin at the National University of Singapore. "But Malaysian politics are in uncharted waters, so revolutionary methods may have been necessary. And the King may have seen Muhyiddin as the most trustworthy and steady of the candidates."
Since UMNO is back in power, there is now growing concerns that the investigations and trials of Najib will be shelved.
Sources:
Malaysia - More data and information