Vietnam: hot, hot, hot! New apartments, new villas, and rising house prices everywhere!
December 14, 2016
Vietnam is flooded with new construction, and its real estate market is sizzling hot.  Boosted by recovery from the housing bust of 2009-2013, by a booming economy, and by the Housing Law and the Law on Real Estate Business (effective July 1, 2015), which allows foreigners and overseas Vietnamese to legally own, sell and transfer real properties (subsequently fleshed out by Decree No 99 (effective December 10, 2015) and by Circular 19 (effective August 15, 2016)), real estate prices in Vietnam have been rising rapidly.
The law - and the subsequent liberal decrees - are hugely important.  And the result has been a boom.
In Q3 2016, total dwelling sales in HCMC surged by 49% from the previous quarter, and by 193% from the same quarter last year, according to Savills World Research.  Most of the sales were of townhouses, which accounted for 71% of total transactions.
In Ho Chi Minh City (HCMC) primary market apartment prices rose by 7.4% during the year to Q3 2016, according to Jones Lang LaSalle.
HCMC secondary market apartment prices rose 7.5% y-o-y
Villas and townhouses in HCMC also had strong annual price hikes in Q3 2016.
The average asking price of villas and townhouses in the primary market rose by 6.8% y-o-y.
In the secondary market, asking prices of villas and townhouses increased by 8.5% y-o-y.
HCMC´s affordable newbuild segment prices rose most q-o-q (2.2%), but the secondary market has slowed, due to the massive new supply.
Condominium sales transactions in HCMC rose by 33% q-o-q in Q3 2016, according to Colliers International. The mid-end segment accounted for 55.8% of total sales, followed by the high-end segment with 29.8%.
In Hanoi, the country´s capital, apartment prices also saw robust y-o-y growth in Q3 2016, according to Jones Lang LaSalle:
Hanoi´s primary market apartment prices rose by 8% during the year to Q3 2016.
Hanoi´s secondary market apartment prices rose 5.3% y-o-y.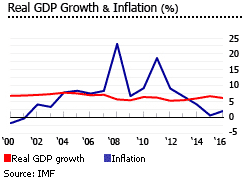 Hanoi´s Premium segment had the highest q-o-q price growth of 3.6% in Q3 2016.  Condominium transactions in Hanoi rose by 10.1% from the previous quarter, to around 5,450 transactions across all segments, according to Colliers. The mid-end and high-end segments had respectively 51.4% and 36.7%  of sales in Q3 2016.   Although secondary apartment prices are still rising, their growth is slower than in previous quarters, at 1.1% q-o-q, down from the 1.5% quarterly average since Q1 2015.
The average asking price of apartments in the primary market was around US$ 1,500 per sq. m., while it was a little over US$1,000 per sq. m. for secondary apartments. Apartments in the affordable segment can be bought at less than US$1,000 per sq. m. Mid-end apartments are at U$ 1,500 per sq. m., while Premium apartments cost more than US$ 2,000 per sq. m. Luxury apartments could cost more than US$ 4,000 per sq. m., according to Jones Lang LaSalle.
Jones Lang LaSalle predicts a continued property price hike in both HCMC and Hanoi. In HCMC, stronger investment is expected in the succeeding quarters especially in the villa and townhouse sector. In Hanoi, sales are seen to rise due to the expected supply increase, which in turn, is also backed by homebuyers.
Guidelines for implementation of the Housing Law
On July 1, 2015, the new Housing Law (Law on Housing No. 65/2014/QH13) became effective. It has enormous significance.
First, foreigners who have been granted a Vietnamese visa, plus foreign investment funds, banks, Vietnamese branches and representative offices of overseas companies can now purchase residential property. Foreigners can now own all types of properties, including condominiums and landed property such as villas and townhouses. Properties owned by foreigners can be sub-leased, inherited and collateralized.
Second, overseas Vietnamese who have maintained their Vietnamese citizenship will be treated like locals and are permitted to own unlimited property in their own names. It is estimated that about 70% of the 4 million overseas Vietnamese around the world still maintain their original citizenship.
For foreign individuals the house ownership period is 30 years, but it can be extended.  The new law also limits foreigners from owning more than 30% of a single apartment building, or more than 350 houses and apartments in a ward, a subdistrict-level administrative area. The Ho Chi Minh City Real Estate Association has objected to this, because of the concentration of foreigners in key districts.
Until now, Viet kieu (overseas Vietnamese) and foreigners could only buy one apartment in Vietnam each. The conditions were strict, favouring only those married to Vietnamese nationals, holding managerial positions, or having contributed to the country. These criteria enabled only around 130 foreigners, out of around 80,000, to buy an apartment in Vietnam.
The revised housing law has revitalized the property market and sent a broader message that Vietnam is open for business. "The government is looking at ensuring that Vietnam continues to be competitive, continues to be attractive to foreign investors, and to create an environment where business can thrive," said David Lim of  ZICOLaw Vietnam.
Detailed guidelines in implementing the new Housing Law (Decree 99) became effective on December 10, 2015.   According to Decree 99, foreigners are allowed to own houses in Vietnam as long as they were able to meet these conditions:
The foreigner´s valid passport should have an entry stamp affixed to it from Vietnam´s immigration authority.
They should not be in the category of people entitled to preferential treatment or diplomatic immunity in accordance with the Ordinance on Preferential Treatment Rights and Immunities Applicable to Representative Diplomatic Offices, Foreign Consulates and Representative Offices of International Organisations in Vietnam.
Decree 99 also outlined the procedures of particular government agencies in delineating national and security areas in each locality, listing investment projects in areas where foreigners are not allowed to own residential properties, drafting guidelines on the number of houses foreign organization or individuals are allowed to purchase, and publishing the collected information on their website.
On August 15, 2016 the Ministry of Construction Circular 19/2016/TT-BXD (Circular 19) which contains guidelines on the Law on Housing, and on Decree No. 99/2015/ND-CP, became effective.
Foreigners can only own up to 30% of the total residential apartments of a particular condominium; in a condominium that has multiple units or wherein building blocks share the same podium, foreigners are allowed to own units not exceeding 30% of the residential apartments of each unit or building block.
As for individual houses under commercial housing projects (including villas and semi-detached housings), foreigners are allowed to own 10% of the total individual houses of a particular project (or 10% share of total individual houses in each project), and a maximum of 250% in all projects.
Perpetual Lease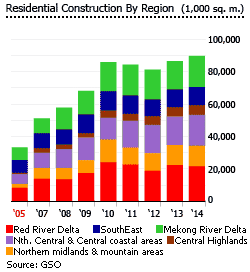 In theory, freehold land does not exist in Vietnam. Land can only be leased, even by Vietnamese; though in reality many leases seem to be for indefinite terms. "Buying" land is technically a transfer of leasing rights. The creation of a perpetually renewable lease means that Vietnam now has one of the most open property markets in Asia.
Robust economic growth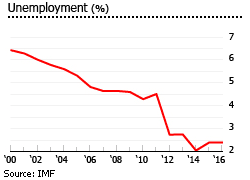 Vietnam´s economy has continued its robust growth in Q3 2016, expanding by 6.4% from the same quarter last year, according to the country´s General Statistics Office (GSO).
"The jump comes from a rebound of the agriculture sector after a drought suppressed growth," according to Natixis SA´s senior economist Trinh Nguyen. Nguyen added that industrial sector continues to be a "key bright spot", while the construction, manufacturing, and electricity sectors are recovering.
Vietnam has experienced three decades of uninterrupted growth, according to the International Monetary Fund (IMF).
1981-1990 – average real GDP growth of 5.9% per year
1991-2000 – average real GDP growth rate of  7.6% annually
2001-2010 – average real GDP growth rate of 6.8% annually
The Vietnamese government is now in the process of easing business regulations and pursuing a long-running privatization drive, to boost growth further.
Unemployment remains low. In Q2 2016, the unemployment rate was 2.3%, down from 6.42% in 2000, according to the International Monetary Fund (IMF).
The country´s annual inflation rate was 4.52% in November 2016. Inflation is predicted to be 2% in 2016, lower than the government's initial target of 5%. 
The memory of a housing bust (2009-2013)
Vietnam witnessed a prolonged housing catastrophe in recent years, mainly due to the impact of the global crisis. Property prices plunged by double-digit figures. The government was embarrassed, the banks were bankrupt, and the economy slowed sharply.
There were a staggering number of unsold housing units in Vietnam's two biggest cities.  Residential projects stalled in mid-construction (an example being the Saigon Residence, a high-end residential building in Ho Chi Minh's centre). Many property developers delayed launching projects.
The banking system effectively collapsed. One out of every ten loans in the banking system had stopped paying, according to the central bank, but Fitch Ratings believes the percentage of bad loans was higher.
To bolster demand, the government provided the real estate market with a US$1.4 billion stimulus package in 2013, subjected developers to placed stricter financial requirements, and bought US$8 billion of non-performing loans, especially from the real estate sector.  The State Bank of Vietnam (SBV), the country's central bank, slashed the refinance rate and discount rate several times, and a VND5 trillion (US$222 million) credit package was given to homebuyers by the Vietnam Bank for Industry and Trade (Vietinbank). These measures were, over time, successful.
Expansion of housing supply
In HCMC, the supply of new villas and townhouses in Q3 was around 3,800 dwellings, up 19% from the previous quarter and by 128% from the previous year, according to Savills. Most of this is in District 2 and District 9.
"Infrastructure has a significant impact on new launches as well as decisions of homebuyers and investors," says Colliers, citing two newly launched projects (Lavilla and Jamona Golden Silk) in District 7 which are located in an eco-friendly environment, and are well-connected to the CBD through the Thu Thiem bridge. According to Colliers, the Eastern part of HCMC is becoming popular with developers due to its infrastructure and urban planning.
Overall, there were about 40,300 apartment units available in Q3 2016, up by more than 30% from around more than 30,500 available units in Q3 2015, according to Savills. Over 50,000 apartment units are expected to penetrate the market from Q4 2016 to 2018. 
The supply of newly launched condominium units in HCMC in Q3 was 7,400 units, down by 15.6% from the previous quarter, according to Colliers, with 77% of them in the mid-segment, followed by the high-end segment, which accounted for 23% of new launches.
Most recently launched HCMC condo units come from the following developments:
Aqua Luxury in District 4
The Pegasuite in District 8
Feliz En Vista in District 2
Richmond City in Binh Thanh
Ha Do Centrosa in District 10
In Q4 2016, more than 7,000 units across all segments will be launched.
In Hanoi, the stock of villas and townhouses rose 10% y-o-y to 33,500 units in Q3 2015 according to Savills World Research. 2,300 units of the total stock were newly-built, while 31,200 units were existing houses.
The total number of newly-built apartments released onto the market rose by 16% during the year to Q3 2016 to 17,000 units in Hanoi, according to Savills World Research. During Q3 2016, there were around ten newly launched projects and thirteen current projects with fresh launches that contributed 5,700 units of apartment supply. In the upcoming quarter, Savills expects that more than 13,000 units will enter the market, mostly Grade B, coming from Hai Ba Trung, Tay Ho, Thanh Xuan, and Tu Liem.
Hanoi´s condominium market also expanded strongly in Q3 2016. Newly launched supply in Q3 2016 rose by 17.8% from the previous quarter, adding around 7,657 condominium units, according to Colliers International. Newly launched projects included Vinhomes D' Capitale, The Golden Palm, Thanh Xuan Complex - 24T3, Sunshine Center, The Legend Tower, and Rivera Park.
"It is anticipated that the supply pipeline would remain strong in the rest of the year, spreading over various areas of the city," according to Colliers.
Local house price variations
Ho Chi Minh City condo prices:
District 4 Q3 2016 prices range from US$ 1,150 to U$ 2,600 per sq. m., according to Colliers.
Binh Thanh prices range from US$ 1,100 to US$ 2,000.
District 10´s newly-launched condo Ha Do Centrosa has average asking prices of US$ 1,700 per sq. m.
Other new condo projects can be found in District 2 (US$ 1,200 per sq. m.), Thu Duc (US$ 1,000 per sq. m.), District 7 (US$ 1,000 per sq. m.), District 8 (US$ 900 to US$ 950 per sq. m.), and Tan Phu (US$ 940 per sq. m.). 
Newly-launched HCMC villa and townhouse prices:
Victoria Vinhomes Golden River, a high-end District 1 development: villa prices average US$ 20,000 per sq. m.
Jamona Golden Silk, in District 7: villas and townhouses average US$ 2,500 per sq. m.
Palm Residence, in District 9: villas and townhouses average US$ 1,500 per sq. m.
Senturia Vuon Lai, in District 12: villa prices average US$ 1,400 per sq. m.
Lavila, in District 7: prices average US$1,000 per sq. m.
The Pegasuite, in District 8: townhouses have an average price of US$ 1,000 per sq. m.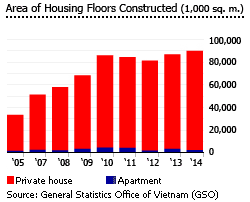 In Hanoi, the highest sales price was achieved by Cau Giay District, while the districts of Tu Liem and Long Bien had strong price increases on the secondary market in Q3 2016, according to Colliers International´s quarterly report.  Newly launched villas and townhouses in Hanoi range from US$ 1,700 to US$ 9,000 per sq. m.
Cau Giay District´s Vinhomes D' Capitale has the highest asking price at US$ 2,000 per sq. m.
Thanh Xuan District had 7 newly launched projects in Q3 2016, with asking prices ranging from US$ 1,000 to US$ 1,600 per sq. m.
Hoai Duc (US$ 500 per sq. m.), Ha Dong (US$ 600 to US$ 1,200 per sq. m.) and Thanh Tri (US$ 700) have relatively low asking prices for their newly launched condominiums. 
High rental yields in HCMC
The serviced apartment market has been expanding recently. In HCMC, the occupancy rate was 92% in Q3 2016.
This high occupancy rate is due to a scarcity of new supply in HCMC. According to Colliers, the current stock in HCMC is around 3,500 serviced apartments, 1,000 units of which are in Grade A and around 2,500 units are Grade B.  No new serviced apartment supply came on the market in HCMC in Q3 2016, according to Colliers.
In 2018, the stock is expected to sharply increase as new projects are expected to launch around 1,300 new serviced apartments.
SERVICED APARTMENTS UNDER CONSTRUCTION, HCMC

Project
District
Total units
Expected completion
Oakwood Residence
3
68
Q4 2016
Ascott Waterfront
1
222
Q4 2016
Saigon South Complex
7
480
Q4 2017
Saigon Center (phase 2)
1
200
Q3 2017
Berkley Serviced Residence
2
85
Q4 2017
Citadines Regency Saigon
1
85
Q4 2017
Lavenue Crown
1
186
Q4 2018
Source: Colliers International
Rental yields remain high. Apartment yields are around 5.7% during the first half of 2016, according to Jones Lang LaSalle´s recent report.
Mortgage market still underdeveloped
The Vietnamese mortgage market is still relatively underdeveloped, with majority of homebuyers paying in cash. Developers are now starting to work with banks to offer mortgages to buyers, but high interest rates and strict loan procedures still hinder the local mortgage market. The loan-to-value (LTV) ratio rarely exceeds 50% of the appraised value of the property. The term period is usually 15 years.
As of November 11, 2016, lending rates for short-term loans were around 6.8% to 9%, while rates for medium- and long-term loans range from 9.3% to 11%, according to the State Bank of Vietnam (SBV). In 2014, the average lending rate had stood at 10%, down from 10.5% in 20 13, 14% in 2012, and 17% in 2011.
Under-served low-end market
According to RNCOS, a global market research company, many Vietnamese do not have their own houses and more than 70% of households live in temporary wooden houses. RNCOS estimates that Vietnam is deficient of about 20 million permanent housing units.
The demand for affordable houses is now outstripping supply, as residential development has largely focused on high-end customers.
Decision 996/QD-TTg
Prime Minister Nguyen Tan Dung signed Decision 996/QD-TTg in June 2014 to increase the number of social housing projects in Hanoi, while ending construction of commercial housing projects in the city centre, especially the four downtown districts of Dong Da, Hoan Kiem, Ba Dinh, Hai Ba Trung and part of the southern Tay Ho District. Priorities will be given to construction of urban areas and residential areas in the city´s outskirts.
In 2015, the government allocated more than VND6.7 trillion (US$321 million) to construct about 1.8 million sq. m. of floor space (20,000 apartments) for retired civil servants, and  another 2 million sq. m. of floor space for workers and students.
By 2020, the number of apartments built under social housing projects is expected to increase to 32,000 units. Towards 2030, the construction of residential and urban areas in the outskirts of the city will be prioritized.
Vietnamese dong moving to a market-based mechanism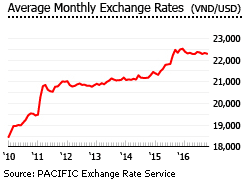 In January 2016, the central bank announced a move to a market-based exchange rate mechanism, setting a daily reference exchange rates, to discourage hoarding of US dollars.   The dong has been pegged to the US dollar for several decades, within a limited band of 1% to 2%.  But because of sudden devaluations, many prefer to hold dollars. The State Bank of Vietnam (SBV), the country's central bank, has devalued the dong five times since 2014, three times in 2015, to buoy slowing exports. The latest devaluation happened in January 2016.
However the new rate is not "free".  The central bank will set a reference rate daily, and local and foreign banks in Vietnam can trade within a band of plus or minus 3%. The rate will depend on three factors: (i) the inter-bank rate, (ii) macroeconomic balances, (iii) currency movements in the country´s key trade and investment partner countries.
Vietnam - More data and information