INDIVIDUAL TAXATION
Residents pay tax on their worldwide income. Married couples are assessed separately and there is no provision for joint taxation.
INCOME TAX
Taxable income includes: (1) employment income; (2) business income; (3) income from capital investments; (4) income from capital transfers; (5) income from real property transfers; (6) income from winnings or prizes; (7) royalties; (8) income from franchises; (9) income from inheritance and gifts; (10) other income.
Income earned by residents is taxed at progressive rates, from 5% to 35%.
INCOME TAX

TAXABLE INCOME, VND (US$)

TAX RATE

Up to 60 million (US$2,634)
5%
60 million - 120 million (US$5,268)
10% on band over US$2,634
120 million - 216 million (US$9,482)
15% on band over US$5,268
216 million - 384 million (US$16,857)
20% on band over US$9,482
384 million - 624 million (US$27,392)
25% on band over US$16,857
624 million - 960 million (US$42,142)
30% on band over US$27,392
Over 960 million (US$42,142)
35% on all income over US$42,142
Source: Global Property Guide
Residents are entitled to the following annual allowances:
Single personal allowance - VND48 million (US$2,107)
Additional allowance for each dependent - VND43.2 million(US$1,896)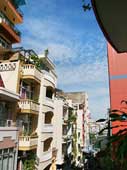 CAPITAL GAINS TAX
Income from transfer of real estate is taxed at a flat rate of 20%. Taxable capital gains are computed by deducting the acquisition costs and incidental expenses from the gross sales proceeds.
If the acquisition costs cannot be determined or are not evidenced by supporting documents, the taxable gains will be the gross sales proceeds and will be taxed at a special rate of 2%.
PROPERTY TAX
Land Tax
Non-agricultural land is subject to land tax at progressive rates, from 0.03% to 0.15%. The tax base is the land area used based on the prescribed price per square meter.
CORPORATE TAXATION
INCOME TAX
Income and capital gainsearned by companies is subject to corporate income tax at a flat rate of 20%.Income-generating expenses are deductible when calculating taxable income.