Murderous authoritarian regime
Sep 27, 2007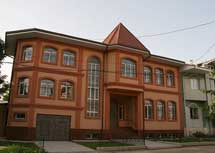 Uzbekistan (pop. 26,928,000; GDP/cap US$452), Afghanistan's neighbor, is Central Asia's most populous country.

The extreme authoritarianism of Uzbekistan's Islam Abduganiyevich Karimov, and his imposition of diverse controls in 2002, make investment difficult. There is growing civil unrest and a subdued Muslim insurgency.

Land can be leased by foreigners
Despite a 1998 Land Code and Law on Land, the Uzbek Constitution is ambiguous about the legality of both private ownership, and foreign ownership. This introduces much uncertainty, because the president could suddenly interpret the constitution the other way around, and confiscate lands.

Uzbekistan allows leasing, for any period.


Analysis of Uzbekistan Residential Property Market »
Income tax is high for nonresidents
Rental Income: Rental income earned by nonresidents is taxed at a flat rate of 20%.

Capital Gains: Capital gains are taxed at the standard income tax rate, 20% for nonresidents.

Inheritance: There are no inheritance taxes in Uzbekistan.

Residents: Residents are taxed on their worldwide income, from 8% to 22%.