Surprisingly, Thai house prices continue to rise modestly, despite falling demand. The average price of single-detached houses in Thailand rose by 3.6% in Q3 2022 from a year earlier, following year-on-year growth of 5.2% in Q2 2022, 4.2% in Q1 2022, 2.4% in Q4 2021, and 2% in Q3 2021, according to the Bank of Thailand (BoT). However when adjusted for inflation, prices actually declined 2.6% over the same period.

On a quarterly basis, nationwide house prices were more or less steady, in both nominal and real terms, in Q3 2022.

In Bangkok and vicinities, the prices of single-detached houses rose by 3.2% during the year to Q3 2022 but declined by 3% when adjusted for inflation. In other regions, house prices increased 4.5% (but dropped 1.8% in real terms).

By property type, in Bangkok and vicinities:

Condominium prices fell by 2% (-8% in real terms) in Q3 2022 from a year earlier, in stark contrast to the y-o-y rise of 11.4% seen in Q3 2021.
Townhouse prices rose by 4.3% (but declined 2% in real terms) during the year to Q3 2022, following the previous year's 3.2% y-o-y increase.

Land prices are now falling. The land price index dropped slightly by 0.7% (-6.7% in real terms) in Q3 2022 from a year earlier, following y-o-y growth of 4.3% in Q2 2022, 4.6% in Q1 2022, 12.7% in Q4 2021 and 8.5% in Q3 2021.

Property transactions are falling sharply. In the first three quarters of 2022, the total value of land and building transactions recorded nationwide fell by nearly 35% y-o-y to THB560.65 billion (US$15.96 billion), based on figures from the BoT. All regions registered falling transactions.

Yet with the strong rebound in tourism, demand, particularly from foreigners, is expected to improve in the coming months. Effective October 1, 2022, the government removed all Covid-related restrictions and offered a longer length of stay from 30 days to 45 days for tourists from countries entitled for visa exemption, and from 15 days to 30 days for those eligible for a visa on arrival (VOA).

From January to October 2022, there were a total of 7.16 million foreign tourist arrivals in Thailand, based on figures from the Ministry of Tourism and Sports, after an almost nonexistent tourism sector in the past two years. The government targets about 7 to 10 million visitor arrivals this year.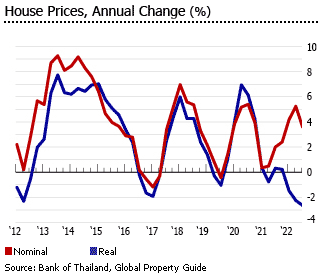 Investors from Mainland China and Hong Kong make up almost half foreign demand for residential condos in the country. People from the US, Singapore, Taiwan, Japan and the UK are also big investors.

The overall economy continues to improve. In the third quarter of 2022, Thailand's tourism-reliant economy grew by 4.5% from a year earlier, accelerating from y-o-y expansions of 2.5% in Q2 and 2.3% in Q1, mainly driven by robust domestic spending, a rebound in tourism, and strong international trade, according to the Office of the National Economic and Social Development Council (NESDC). Because of this, the NESDB recently revised upwards it 2022 GDP growth forecast for Thailand from 2.7% to 3.2% to at least 3.2% - a huge improvement from the 1.5% growth in 2021 and 6.2% contraction in 2020.