Thai property market weak
January 07, 2011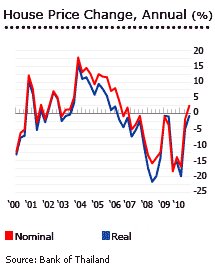 The residential real estate market in Thailand remains weak, the tax breaks enacted in 2009 having expired. The political environment has improved, but the situation remains volatile leading to significant uncertainty for the housing market.
The price index for single-detached houses rose 2.4% y-o-y to Q3, according to the Bank of Thailand (BOT), the first y-o-y rise in four years. Adjusted for inflation, however, the index was down -0.8%.  Nevertheless, it was a significant improvement from the 16% y-o-y price fall (17% in real terms) which was the average from Q3 2009 to Q1 2010.
Thailand's economic recovery has been strong. In the first half of 2010, the Thai economy expanded by 10.6% y-o-y. Overall GDP growth of 7.6% is expected for 2010, but growth is expected to slow to 4.5% in 2011.
Given this, Thailand's house prices were less vibrant than might have been expected:
The price index for townhouses fell 0.7% (0.8% real) y-o-y to Q3 2010.
The residential land price index rose 2% over the same period.
The index for single-detached houses was up 2.2%
There are two reasons for this.  In 2009, the government implemented tax breaks for homebuyers to boost the housing market, in response to the adverse effects of the global financial meltdown. The tax breaks expired in June 2010.
Second, although the political situation seems quiet, the potential for instability persists. The army ended the May 2010 protest movement by a crack-down on the Thaksin protest camp, leading to the death of 11 protesters and one Italian journalist. Several protest leaders were arrested. Elections are expected in 2011, but the underlying political tensions remain unresolved.
Condominium glut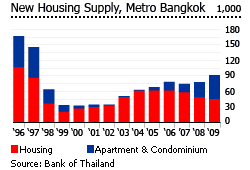 In the third quarter of 2010, there was a sharp drop in housing transfers in Greater Bangkok, because of the expiry of property tax incentives in June, according to the Real Estate Information Centre (REIC). Transfers fell 42% from the previous quarter, with a large number of transfers rushed through before the tax incentives ended.
In the same quarter, developers launched more than 23,000 condominium units onto the market to release pent-up supplies, according to the Colliers International Thailand. The launches were mainly in the low to medium end market, with reduced unit sizes, compensating to some degree for increasing land prices throughout the city.
The take-up, however, has been low, with buyers are increasingly likely to shop around before making a decision, notes Colliers. In Bangkok, take-up rate in Q3 plunged by to 51% from 77% in Q2, and 67% in Q1.
Nevetherless new condominium units near mass-transit routes will see price spikes of at least 5% in 2011, accprding to the real estate development firm Supalai Plc, due to higher construction costs and land prices. Customers will have to accept price increases as land for new condominiums in areas close to mass transit is very scarce. On the other hand, stable prices are expected for low-rise units.
Decreasing yields
The average rental yield in Bangkok is now around 6.2% in May 2010, down from around 7.2% in 2009, according to the Global Property Guide research. Higher yields are realized from condominiums measuring between 45 and 80 sq. m., with yields of around 7%. 
In Pattaya, foreigners are shifting from buying residences to renting, at monthly rentals ranging from THB 50,000 to THB 90,000, according to Clayton Wade of Premier Homes Real Estate. Demand for rentals in Pattaya grew strongly when the baht began strengthening against the US dollar.
Interest rate hikes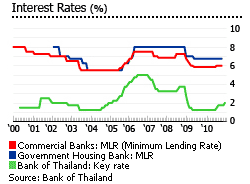 In July 2010, the BOT raised its key interest rate to 1.5% after maintaining it at 1.25% since April 2009. The rate was further increased by 25 basis points to 1.75% in August, and to 2% in December.
There were concerns, however, about the BOT's timing, given the weak economy in October. Baht appreciation may occur as interest differentials with the US widen, while higher costs will hit borrowers when banks follow the rates increase. However so far, the Government Housing Bank (GHB) interest rate has been constant since May 2009, at 6.75%.
The BOT explained that a negative real interest rate is inappropriate when the economy is expanding.  With the key rate at 2% and inflation around 3.4%, the real interest rate is -1.4%, suggesting that further interest rate rises may occur.
BOT's preventive measures
The BOT has released new rules in response to public anxiety that Thailand faces the risk of another property bubble, particularly in the condominium sector. 
The BOT's new rules take effect in 2011 and 2012.
for condominium units under THB 10 million (USD330,300), bank loans must be limited to 90% of a home's value, from January 1 2011
low-rise housing loan-to-value (LTV) ratios are capped at 95%, starting January 1, 2012.
for larger loans, banks must increase risk weighting to between 75% and 100% of the loan value. At present, the risk weighting is set by the BOT for the property sector at 35%.
Risk weightings are used to calculate the minimum amount of capital required to support lending. The higher the risk, the greater capital is required by banks leading to increased overall costs in the form of higher interest rates.
Still no property bubble
In fact, a bubble is unlikely in the Thai property market as prices have risen naturally in the past three years, according to the Government Housing Bank (GHB), a state-owned lending agency.  GHB's president Khan Prachuabmoh insists that there is nothing unusual in the present situation, despite the substantial recent increases in low-end supply.
Real demand, not speculative demand, exists for low-rise housing below THB 3 million (USD99,100), which accounts for 70% of the market, according to Housing Business Association (HBA) president Issara Boonyong.  The remaining 30% of demand comes from investors, who buy homes to generate rental income. The 23,000 registrations of new condo units in the first nine months of 2010, compares with 29,000 registrations of low-rise residences, adds Boonyong.
Demand for residential projects is expected to grow by at least 7% in 2011 despite the BOT´s measures to control the property sector, says Thongma Vijitphongpun, chief executive officer of Pruksa Real Estate.
The new rules are unlikely to affect demand, he adds, as down payments on residential projects are usually at least 10%. This is true for both condominiums and low-rise residences.
The low-rise residence market is expected to recover after the mass transit system expands to Bangkok's neighboring provinces including Nonthaburi, Samut Prakan and Pathum Thani, according to deputy-governor Teerachon Manomaipibul of the Bangkok Metropolitan Administration.
Demand for rental units in city condominiums continues to grow from both local and foreign tenants as returns are higher (6-10% per annum) compared to saving in a bank, since interest rates for saving deposits linger below 2%, according to Asian Property Development's senior vice-president Poompat Sinacharoen.
Mortgage lending up!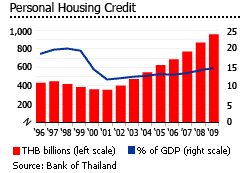 Somewhat confirming this, the preliminary figures for personal housing credit in Q3 2010 stood at THB 1.058 trillion (USD35 billion), up by 14.7% y-o-y, according to the BOT. The strong growth may be due to the special mortgage campaign launched by the Siam Commercial Bank, the biggest mortgage lender in Thailand.
The campaign allows borrowers to pay monthly installments as low as THB 1,000 (USD33) in the first year for each THB 1 million (USD33,000) taken out, tied with a special interest rate of 1% during the period. The campaign was offered until the end of December 2010.
Outstanding mortgages were 11% percent of GDP in 2009, only a percentage point up from 2008.
Despite Thailand's rapid GDP growth, a slowdown is expected in 2011
Thailand's economy expanded by 10.7% in the first half of 2010 due to strong exports, but faltered in the second half, to due weak global demand, and lower manufacturing and agricultural output.  GDP was up by 7.6% over the full year of 2010 - lower than government's target, but welcome after the 2.3% GDP contraction during 2009.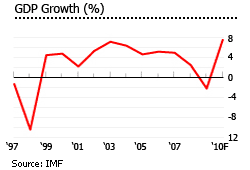 Tourism saw a 10-15% drop in 2910 both in the number of tourists and in revenue, according to Prakit Chinamourphong, president of the Thai Hotels Association (THA).  Tourism, which makes up about 6.5% of Gross Domestic Product (GDP), was hit by the March "red shirt" protests, but recovered somewhat in the third quarter, despite heavy flooding in many provinces.
Economic growth is expected to slow further in 2011, in a forecast range from 3.5% - 4.5%, according to Arkhom Termpittayapasith, secretary-general of the National Economic and Social Development Board (NESDB), due to the fragile nature of the global economic recovery, the baht´s appreciation, political instability, and the risk of natural disasters.
Thailand - More data and information