Tajikistan: Overview
Oct 02, 2007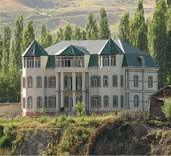 Tajikistan (pop. 6,419,000; GDP/cap US$400) is the poorest and least stable country in Central Asia. Its five year civil war forced over one-tenth of the population to leave the country, ended in 1997, leaving Tajikistan's economy in ruins. Its economy is now growing rapidly due to cotton exports. But sharing a border with similarly war-torn Afghanistan poses huge security risk. It is often accused of tolerating extremist rebel camps in its territories.

No private ownership of land
This war-torn and poor country doesn't allow private ownership of land even to its citizens. It allows leases up to ten years only. Most of the available rental space is occupied by foreign journalists covering the war in neighboring Afghanistan. Security and safety is always an issue.