Taiwan's house price growth continues to accelerate, amidst robust demand buoyed by the ultra-low interest rate environment.

Taiwan's Lutheran home price index rose strongly by 14.77% (10.79% inflation-adjusted) in during the year to Q2 2022, up from the previous year's 10.48% increase and the biggest y-o-y growth recorded since Q4 2013, based on figures from Sinyi Real Estate Planning and Research. On a quarterly basis, nationwide house prices increased 2.19% (0.78% inflation-adjusted) in Q2.

In Taipei, the capital, house prices were up 8.33% (4.57% inflation-adjusted) during the year to Q2 2022, at par with the prior year's 8.69% increase. It was one of the capital city's best performance in the past decade. On a quarterly basis, house prices in Taipei increased 2.2% (0.79% inflation-adjusted) during the latest quarter.

All of the country's other major cities saw strong house price rises during the year to Q2 2022.

Xinbei house prices rose by 14.64% (10.66% inflation-adjusted) y-o-y in Q2 2022, up from the prior year's 8.4% rise and its strongest performance since Q1 2014.
Taoyuan house prices rose strongly by 18.09% (13.99% inflation-adjusted), following a y-o-y growth of 14.46% in Q2 2021. It was the city's second biggest annual increase in nine years.
Hsinchu house prices surged 36.04% (31.32% inflation-adjusted) y-o-y in Q2 2022 – sharply up from the previous year's 19.27% rise and its second biggest annual expansion recorded since the series started to be published in Q1 2001.
Taichung house prices also increased strongly by 19.52% (15.38% inflation-adjusted), up from a y-o-y rise of 11.92% in Q2 2021 and the biggest growth since Q1 2010.
Kaohsiung house prices soared 24.49% (20.17% inflation-adjusted), about four times the 6.03% y-o-y rise seen in Q2 2021 and its best showing in nine years.

Demand remains stable, despite the introduction of market-cooling measures. In August 2022, property transactions in Taiwan's six major cities totaled about 19,000 units – up by 3.7% from the previous month and by 14.4% from a year earlier. Overall, in the first eight months of 2022, housing transactions in the six major cities increased slightly by 0.2% to reach 169,137 units as compared to the same period last year.

Residential construction activity continues to rise. In the first half of 2022, the total number of residential construction licenses rose by 3.6% to 85,725 as compared to a year ago, following annual increases of 6.5% in 2021 and 7.7% in 2020, according to figures from the Ministry of Interior.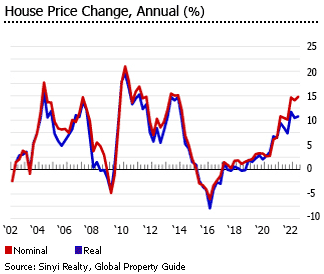 Yet the overall economy seems slowing. Taiwan's economy grew by 3.05% year-on-year in Q2 2022, following annual expansions of 3.72% and 5.32% in the previous two quarters, according to the country's national statistics agency. It was the lowest growth since Q2 2020, amidst supply chain woes, a surge in domestic Covid-19 cases, and slowing global demand for electronics.

As such, the government recently downgraded its 2022 growth projections for Taiwan for the second time to 3.76%, from its earlier estimates of 3.91% and 4.42%. During 2021, the Taiwanese economy grew by 6.28%, its fastest pace in more than a decade, mainly driven by strong tech exports during the Covid-19 pandemic to support people working and studying from home as well as improved consumer confidence.