Taiwanese house prices continue to fall due to harsh taxes
September 16, 2016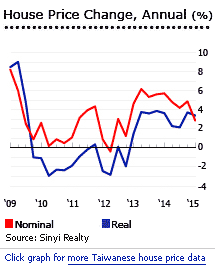 House prices continue to fall in Taiwan after dramatic government measures to curb speculative house purchases, and a sharply slowing economy.
Taiwan's Lutheran home price index fell by 3.3% (-4.6% inflation-adjusted) during the year to Q2 2016, its fifth consecutive quarter of house price falls, according to Sinyi Real Estate Planning and Research.  
All Taiwanese cities saw falling house prices during the year to Q2 2016:
In Taipei, the capital, house prices fell by 4.43% (-5.69% inflation-adjusted), after y-o-y declines of 6.64% in Q2 2015.
In Xinbei, house prices fell by 4.09% (-5.36% inflation-adjusted), after an annual decline of 1.37% in Q2 2015. This was the sixth consecutive quarter of y-o-y declines.
In Taoyuan, house prices dropped 4.59% (-5.84% inflation-adjusted), after an annual decline of 2.35% in Q2 2015 and also its sixth consecutive quarter of y-o-y falls.
In Hsinchu, house prices fell slightly by 0.45% (-1.77 % inflation-adjusted), in contrast with an annual rise of 2.01% in Q2 2015.
In Taichung, house prices fell by 3.16% (-4.43% inflation-adjusted), down from annual increases of 1.27% in Q2 2015, 4.49% in Q2 2014, 18.29% in Q2 2013, and 11.68% in Q2 2012.
In Kaohsiung, house prices dropped 2.5% (-3.78% inflation-adjusted), after annual increases of 9.2% in Q2 2015, 2.87% in Q2 2014, 26.34% in Q2 2013, and 16.27% in Q2 2012.
Demand continues to fall, amidst a weakening economy. In 2015, the number of property transactions in Taiwan dropped 8% to 294,000 units, while transaction value plummeted by around 24% y-o-y to just NT$2.92 trillion (US$86.9 billion).
The weakness of the local property market continued this year, after the government introduced a new property-related tax measures that took effect on January 1. The new tax burden aims to curb speculation by imposing a capital gains tax of up to 45% on homeowners who sell second homes within six years from the date of purchase.
In July 2016, property transactions in the country's six metropolitan areas were almost unchanged from a year earlier, at 18,259 units, according to latest government figures.
Residential construction licenses fell by more than 35% to 36,573 units in the first half of 2016, after falling by 14% in 2015 and by 6.7% in 2014, according to the Ministry of Interior.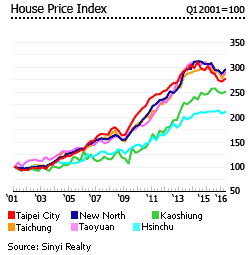 Residential property prices in Taiwan are likely to fall by about 10% this year, according to Lin Tai-lung of Yung Ching Realty Group. The luxury market, which is the target of the new tax measure, is likely to see the biggest price declines.
In addition, property transactions are expected to fall below 2015 levels, according to Tseng Ching-der of Sinyi Realty Inc.
The economy grew by just 0.65% in 2015, its weakest annual growth since 2009. The economy is expected to expand by 1.06% this year.
Housing affordability remains a major problem in the capital city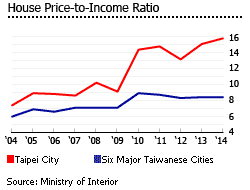 Taipei remains one of the most expensive cities in the world to buy a house. Taipei's house price-to-income ratio stood between 15 and 17 in 2015, higher than London (8.5x), New York (5.9x), or Sydney (12.2x). Hong Kong scored 19, according to the research group Demographia. Taipei City´s house price-to-income ratio has risen from just 7.4 in 2004, according to the country's Ministry of Interior.
In 2009, the government cut inheritance tax rates from 50% to 10%.  This increases housing demand, especially for high-end properties.  A three-bedroom apartment, which cost just TWD6 million to TWD7 million in 1995, was sold for about TWD20 million last year. Unmonitored speculation, low housing supply, and a long tradition of homeownership have pushed house prices in the capital city to current levels.
On the other hand, in six other major Taiwanese cities, the house price-to-income ratio has risen more moderately - from 6.0 in 2004, to 8.4 in 2015.
Based on figures from Sinyi Realty, from 2001 to 2015:
In Taipei City, the house price index rose by 190% (151% inflation-adjusted)
In Xinbei, the house price index rose by 203% (162% inflation-adjusted)
In Taoyuan, the house price index rose by 171% (135% inflation-adjusted)
In Hsinchu, the house price index rose by 120% (90% inflation-adjusted)
In Taichung, the house price index rose by 215% (173% inflation-adjusted)
In Kaohsiung, the house price index rose by 156% (121% inflation-adjusted)
"Taiwan's property market has cooled in the past year," said Emily Dabbs of Moody's Analytics. "Unfortunately, buying a home remains unaffordable for most young Taiwanese, a situation we don't expect to change in the medium term."  An average household in Taipei needs to pay two-thirds of income for a mortgage loan, far above the affordable limit of 30%.
Dramatic steps to hit owners of luxury properties
The most dramatic change has been the new property gains tax of as much as 45% which took effect on January 1, 2016. Property sellers will be required to pay between 15% and 45% of gains based on market prices, instead of the previously used government-assessed values. Qualified property sellers with gains of less than TWD4 million (US$120,000) will be exempt from the tax.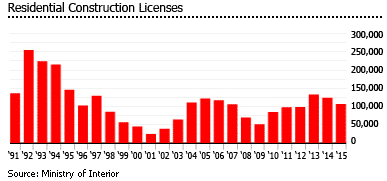 The new tax measure "will make the system and real estate market healthier as the transaction tax has previously been very low in Taiwan with minimal CGT," said Joseph Lin of CBRE Taiwan.
These measures follow many others. In March 2014, property taxes on non-owner-occupied residential properties were raised to between 1.5% and 3.6%, from the current range of 1.2% to 2%. Inspections of pre-sale house transactions was tightened. State-owned bank lowered loan-to-value ratios for first-time buyers from 80% to 70%, and to 50% to 60% for people owning more than one property.
Worries about mainland speculators peaked in early 2008 when residential property prices rose by more than 10% y-o-y during the first quarter. Chinese banks based in Taiwan have been able to offer mortgages since the signing of an MOU in November 2009.
A luxury tax scheme resulted in July 2011, with second homes not occupied by the owner and sold within one year of purchase taxed at 15%, and those sold within two years of purchase taxed at 10%.
Interest rates and the mortgage market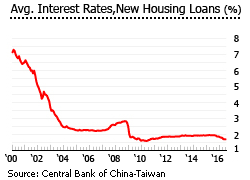 Most residential mortgages in Taiwan are variable rate, with an average maturity of 25 years.
Taiwan's central bank lowered its benchmark interest rate by 12.5 basis points to 1.375% in June 2016, following rate cuts in March, and December and September last year.
In June 2016, the average interest rate for housing loans stood at 1.724%, down from 1.983% a year earlier. Interest rates for housing loans in Taiwan are among the lowest in the region.
Despite the low interest rate environment, housing loans have decreased since 2009 as a result of macro-prudential measures adopted by the Central Bank of the Republic of China (Taiwan). That's because since October 2009, the CBC has actively urged banks to closely monitor mortgage-lending risks, asking banks to reduce loan-to-value ratios, raise interest rates, and remove grace periods related to loans for investment properties. The Central Bank also conducted a round of targeted examinations related to real estate lending.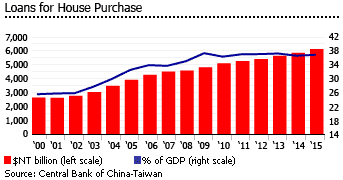 A major macro-prudential measure was to assign a 100% risk weighting to non-owner occupied residential mortgages. Risk weightings for other home mortgage portfolios range from 50% to 80%, compared with 10%-20% for banks in developed markets in the Asia-Pacific that practice the Internal Ratings-Based Approach to credit risk.  Because of these measures, the size of the mortgage market declined to 36.7% of GDP in 2015, from 37.2% of GDP in 2009.
All the same, loans for house purchase amounted to TWD6.13 trillion in 2015 (US$193.4 billion), and grew by an average of 5.3% annually from 2005 to 2015.
Taiwan's vanishingly low rental yields
Taipei now vies with Monaco for the lowest yields in the world.  Taipei is not a happy place to be a landlord. Buying prices per square metre average a stellar US$7,200 to US$9,200, depending on size, while rents are still affordable.
The owner of an apartment in Taipei will be lucky to realize 2% yields, except on the very smallest apartments.  Currently, the average rental yields in Taiwan hover around 1.5%.
Such low yields are often a sign of an overvalued market. Given that the Global Property Guide's figures are for gross rental yields, i.e., do not make any allowance for vacant periods, for legal costs, administration costs, cleaning and repairs, rental taxes, property taxes, and other taxes, it is safe to say that landlords in Taiwan earn nothing on their apartments.
Paradoxically Taiwan has one of the highest home ownership rates in the world at 87%, while social housing accounts for about 5% of households. And the trend towards home ownership is increasing. Because of this, Taiwan's rental market is quite small, around 8% of around seven million households.
Tensions between mainland China and Taiwan have risen since Tsai Ing-wen took power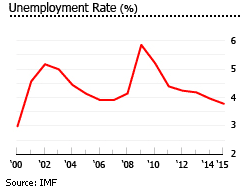 In the January 2016 presidential elections, Tsai Ing-wen led the Democratic Progressive Party (DPP) to landslide victory and became Taiwan's first female president. However, Taiwan's ties with mainland China have been strained, since independence-leaning party took power in May 2016.
In contrast to former president Ma, one of Tsai's key economic policies is to reduce Taiwan's reliance on mainland China, which accounts for around 40% of the island's exports. Tsai plans to form closer ties with the ASEAN.
As such, mainland China has become highly suspicious of Tsai, and has warned her against any attempt at a formal breakaway. Recently, the Chinese government announced that it had cut off official contact with Taipei.
Relations between mainland China and Taiwan had thawed after President Ma of the Kuomintang Party (KMT) assumed office in May 2008. He vowed greater cooperation with mainland China and denounced independence for Taiwan, a sharp contrast to his nationalist but corrupt predecessor, Chen Shui-bian. In November 2009, several memorandums of agreement between Taiwan and China on financial cooperation were signed. These gestures reassured investors and home buyers alike.  In June 2010, an Economic Cooperation Framework Agreement (ECFA) was signed by Taiwan and China. President Ma also accepted the 1992 consensus, which played a crucial role in lowering tensions with China and boosting cross-strait economic ties.
Ma was reelected in the 2012 presidential elections.  Cross-straits trade nearly doubled during Ma's term, reaching US$198 billion in 2014. Tourism flourished, with nearly three million Chinese tourists a year.
Since her election in January, Tsai has been faced with several challenges - criticisms of indecisiveness, a weak economy, labour protests and rows over personnel appointments, and a missile mistakenly fired towards mainland China.
Taiwan's economy remains weak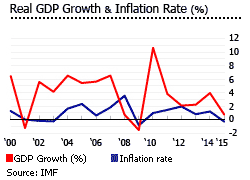 The Taiwanese government recently cut its GDP growth forecast to 1.06%, as weakness in external demand for the island´s products and components continued. In the second quarter of 2016, the economy grew by 0.7% from the previous year, a turnaround after three consecutive quarters of contraction, according to the country's National Statistics.
Taiwan, heavily dependent on exports, was seriously affected by the US economic recession in 2008. The key interest rate was reduced from a five-year peak of 3.625% in August 2008 to the historic low of 1.25% in February 2009. The economy bounced back sharply in 2010 with spectacular growth of 10.6%, but since then growth has been modest. The Taiwanese economy grew by a meagre 0.75% last year, down from annual growth rates of 3.9% in 2014, 2.2% in 2013, 2.1% in 2012, 3.8% in 2011, and 10.6% in 2010, according to the International Monetary Fund (IMF).
Taiwan's exports rose by 1.2% y-o-y to US$24.1 billion in July 2016, in contrast with a 2.1% decline a year earlier and its first expansion since January 2015. During the twelve months to July 2016, trade surplus totaled US$48.2 billion.
In July 2016, inflation stood at 1.23%, according to the National Statistics. Taiwan expects to see an inflation rate of 0.7% this year, from -0.3% in 2015, according to the IMF.
Unemployment is expected to average 3.78% this year, unchanged from last year, according to the IMF.
Taiwan - More data and information