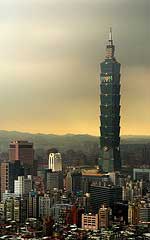 INDIVIDUAL TAXATION
Residents are individuals who are either domiciled in Taiwan or (are not domiciled in Taiwan but) resides in Taiwan for at least 183 days in a tax year.
Married couples are generally taxed jointly but a couple can opt for separate taxation. A taxpayer, his spouse and dependents are generally considered as a single tax unit and their incomes are generally consolidated on a single tax return.
An individual who is considered as a resident in the previous tax year and who remains continuously in Taiwan in the current tax year may claim resident status for the current tax year even though the length of stay in the current year.
INCOME TAX
Individuals are subject to national consolidated income tax. Income tax is levied on income from the following sources: (1) income from profit-seeking operations (including dividends), (2) income from professional practice, (3) salaries and wages, (4) interest income, (5) income from leasing and royalties, (6) income from undertakings in farming, fishing, animal husbandry, forestry, and mining, (7) income from transactions in property and property rights, (8) income from prizes or awards in contests or lotteries, (9) payment for retirement , severance, resignation or pensions which are not paid by insurance, and (10) other income.
Income is taxed at progressive rates. Residents can claim personal exemptions and deductions.
INCOME TAX 2018-2020

TAXABLE INCOME, TWD (US$)
TAX RATE
Up to 540,000 (US$18,000) 

5%

540,000 – 1,210,000 (US$40,333)  

12%

1, 210,000 – 2,420,000 (US$80,667)

20%

2,420,000 – 4,530,000 (US$151,000)

30%

Over 4,530,000 (US$151,000)

40%

Source: Global Property Guide
Resident taxpayers are entitled to deductions and personal exemptions. A taxpayer may choose the optional standard deduction or the itemized deductions. For 2020, the standard deduction is TWD88,000 (US$2,933) for single taxpayers and TWD132,000 (US$4,400) fortaxpayers over 70 years of age.
Taxpayers are entitled to personal exemptions, annually prescribed by the government. The personal exemption is TWD82,000 (US$2,750) each for the taxpayer, his spouse, and dependents. The amount rises to TWD123,000 (US$4,126) for dependents aged 70 years or older.
A taxpayer who elects itemized deductions may deduct the following:
Contributions and donations to educational, cultural, public welfare or charitable organizations; up to 20% of gross consolidated income
Premiums for life or labor insurance; up to TWD24,000 (US$800) for employees, their spouses, and dependents
Unreimbursed medical and maternity expenses incurred by employees, their spouses, and dependents
Losses from disaster and calamities
Mortgage interest paid to financial institutions for purchasing a principal residence; up to TWD300,000 (US$10,000)
Rental expense for lease of self-use residence in Taiwan; up to TWD120,000 (US$4,000)
Resident taxpayers can deduct the following special deductions:
Losses from property transactions
Deductions for salary and wage earners; the actual salary or TWD104,000 (US$3,488), whichever is lesser
Deductions for savings and investments; up to TWD270,000 (US$9,056)
Deduction for the disabled and handicapped; TWD104,000 (US$3,488)
Special education fees if the taxpayer has dependent children studying in college or university (except in the case of government subsidies and scholarships); up to TWD25,000 (US$839) annually
RENTAL INCOME
Rental income is taxed at the standard income tax rates. Residents earning rental income are allowed to deduct income-generating expenses when calculating the taxable income.
Rental income is also liable for either Value Added Tax (VAT) or Business Turnover Tax.
VALUE ADDED TAX (VAT)
Value Added Tax (VAT) is 5% of gross rental income.
Business Turnover Tax of 1% may be charged for small scale enterprises in lieu of VAT if rent is paid directly to an individual, not a company.
CAPITAL GAINS
Capital gains on sale of properties are subject to income tax at progressive rates. The taxable gain is the difference between the selling price and the property cost (acquisition costs, improvement costs, transfer costs).
Gains for the sale of land are exempt from income tax but are taxed under the Land Value Increment Tax (LVIT).
Land Value Increment Tax
Gains for the sale of land are exempt from income tax but are taxed under the Land Value Increment Tax (LVIT). Tax is computed based on incremental increase in assessed value of the land from the last transfer. Tax rate varies from 20% to 40%.
Once Land Value Increment Tax is paid, capital gain will not be subject to income tax again. Loss from sale of land cannot be reserved nor utilized to offset against Land Value Increment Tax on other properties. For owner-occupied residential land, this tax is levied at a flat rate of 10% under certain conditions.
PROPERTY TAX
Building Tax
Building tax is levied on all buildings in Taiwan at varying rates, from 1.2% to 5%, depending on the building classification.
Residential properties are taxed annually at a rate of 1.2% to 2% of its current assessed value. The tax rate is determined by the county (province) or city government as approved by the local people´s assembly.
Land Value Tax
This tax is levied annually for holding land in Taiwan. Tax is assessed by the government taking into account total value of land owned by a person or an entity in a district. Land for residential use is taxed at a flat rate of 0.2%, if certain prescribed conditions can be met. Land used for other purposes is taxed at progressive rates, ranging from 1% to 5.5%.
CORPORATE TAXATION
INCOME TAX
Income and capital gains earned by companies exceeding 120,000 (US$4,000) are taxed at a flat rate of 20%. Income-generating expenses are deductible when calculating taxable income.
INCOME TAX 2020

TAXABLE INCOME, TWD (US$)
TAX RATE
Up to 120,000 (US$4,000)   
0%
Over 120,000 (US$4,000)
20%
Source: Global Property Guide
Taiwan - More data and information