Singapore's housing market remains healthy, despite a struggling economy caused by the COVID-19 pandemic. The private residential property index rose by 2.21% during 2020, following y-o-y rises of 2.67% in 2019, 7.85% in 2018, and 1.09% in 2017, according to the Urban Redevelopment Authority (URA). When adjusted for inflation, house prices rose by 2.16% y-o-y last year.

During the latest quarter (i.e. q-o-q in Q4 2020), residential property prices increased 2.08% (1.67% inflation-adjusted).

The Outside Central Region is still rising fastest:

In Core Central Region (CCR), prices of non-landed private residential properties fell slightly by 0.37% (-0.43% inflation-adjusted) during 2020, following a 1.7% decline in 2019, according to URA. Yet quarter-on-quarter, prices increased 3.17% (2.76% inflation-adjusted) during the latest quarter.
In the Rest of Central Region (RCR), property prices were up by 4.69% (4.64% inflation-adjusted) during 2020, an improvement from the prior year's 2.8% growth. Quarter-on-quarter, prices rose by 4.42% (4.01% inflation-adjusted) in Q4 2020.
In Outside Central Region (OCR), property prices rose by 3.2% (3.15% inflation-adjusted) during 2020, following a y-o-y increase of 4.2% in the previous year. During the latest quarter, prices increased 1.77% (1.37% inflation-adjusted).

The continued increase in house prices was mainly due to strong demand, coupled with weak residential construction activity. There were 10,833 uncompleted private residential units launched in Singapore in 2020, down from 11,345 units in 2019, according to figures released by URA. On the other hand, residential property transactions, including new sales, sub-sales and resales, rose strongly by 9.2% y-o-y to 20,909 units in 2020, following annual declines of 13.5% in 2019 and 11.5% in 2018, according to URA.

Yet due to the imposition of pandemic-related travel restrictions and lockdown measures, foreign demand plunged last year, with the total number of private houses purchased by foreigners in the country falling to a 17-year low of just 742 units in 2020, according to real estate consultancy firms ERA Realty Network and Orange Tee & Tie.

Overall, market sentiment remains positive, with many hopes on the successful rollout of COVID-19 vaccines and improving economic conditions. The volume of resale homes could increase by around 5% to 10% in 2021, while new home sales are expected to remain more or less steady, according to Chistine Sun, the head of research and consultancy at OrangeTee& Tie. Private home prices will continue rising between 1% and 4% this year.

Singapore's economy contracted by 5.8% in 2020 from a year earlier, following a y-o-y growth of 0.7% in 2019, according to advance estimates released by the Ministry of Trade and Industry (MTI). The economy grew by an average of 5.3% annually from 2010 to 2018.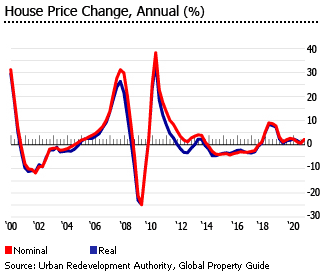 The economy is expected to grow by 5% this year and by another 2.6% in 2022, according to the International Monetary Fund (IMF).

Foreigners have been able to buy any apartment without prior government approval since the Residential Property Act of July 19, 2005. However, foreigners still cannot purchase vacant land and landed properties without permission from the Singapore Land Authority. Non-residential property is not subject to these ownership restrictions.