After four years of house price falls, Singapore's housing market is expanding again buoyed by strong economic growth. Demand is rising strongly. Residential construction activity is also rising again, amidst improving homebuilder sentiment.

The private residential property index rose by 5.41% during the year to Q1 2018, its second consecutive quarter of y-o-y price increases and the biggest growth in more than six years, according to the Urban Redevelopment Authority (URA). When adjusted for inflation, house prices actually increased 5.2% during this period.

During the latest quarter (i.e. q-o-q in Q1 2018), residential prices rose by 3.89% (3.79%% inflation-adjusted) - the steepest q-o-q rise since Q2 2010.

Some major developments that saw significant quarterly price growth in Q1 2018 (according to Jones Lang LaSalle national director Ong Teck Hui):

In the Gramercy Park in Grange Road, CCR, prices rose by 9.1% q-o-q in Q1 2018
In Martin Modern, off River Valley Road, CCR, prices climbed 14.5% q-o-q
In the Reflections at Keppel Bay, CCR, prices rose by 5.7% q-o-q
In The Interlace, located in CCR, prices were up 11.8% q-o-q
In the Grandeur Park Residences in Bedok, OCR, prices increased 7.8% q-o-q
In the Symphony Suites, in Yishun, OCR, prices rose by 3.9% q

All regions also saw rising house prices:

In Core Central Region (CCR), prices of non-landed private residential properties rose by 6.6% (6.3% inflation-adjusted) y-o-y to Q1 2018, according to URA.
In the Rest of Central Region (RCR), property prices were up by 2.8% (2.6% inflation-adjusted) over the same period.
In Outside Central Region (OCR), property prices rose by 6.9% (6.7% inflation-adjusted) during the year to Q1 2018.

Demand remains strong. In 2017, total home sales, which include new sales, sub-sales and resales, surged 52.7% y-o-y to 25,010 units, the biggest increase since 2009, according to URA. Then in Q1 2018, total transactions rose again by 2.4% y-o-y, to 5,328 units.

Singapore's housing market is expected to improve further in the coming months, as many investors are being lured back into the market, according to some local property experts.

"Supported by better-than expected economic growth, the outlook for the Singapore private residential market in 2018 is promising," said Savills. "Prices have started to recover from a slump which has lasted since late 2013 and will continue their upward trend in 2018, driven by bullish prices paid by developers for both private residential sites and GLS sites."
"Singapore's prime residential market has appeared to be more attractive relative to other global cities. It is still in the early stages of recovery while Hong Kong, Sydney, Melbourne and Tokyo are nearer the top end of their market cycles or peaking, while the prime London market is in decline," said Jones Lang LaSalle national director Ong Teck Hui. "That could divert more investor demand to Singapore, thereby supporting further prices increases," said JLL's Q1 2018 report.
Singapore's home prices will increase by around 4% to 8% this year, without any external shocks, according to Edmund Tie & Company.

Singapore's economy grew by 3.6% in 2017, faster than the 2.4% growth in 2016, according to the Ministry of Trade and Industry. Recently, the central bank raised its economic growth forecast for 2018 to 3.2%, from 3% last December.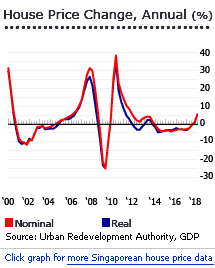 Since July 19, 2005, under the Residential Property Act, foreigners can now buy apartments in buildings of less than six stories without prior government approval. However, foreigners still cannot purchase vacant land and landed properties without permission from the Singapore Land Authority. Non-residential property is not subject to these ownership restrictions.

Aside from these restrictions, foreigners can buy condominiums freely. There are few foreign exchange restrictions, and non-residents can now borrow up to 80% of the property cost locally, in Singapore Dollars.


Analysis of Singapore Residential Property Market »