The Philippines' decade-long housing market boom is over, with a severe  coronavirus-induced economic recession. The government's failed pandemic response has made things even worse.

The average price of a luxury 3-bedroom condominium unit in Makati central business district (CBD) plummeted by a whopping 20.2%  during the year to Q1 2021 to PHP 196,410 (US$4,042) per square metre (sq. m.), according to Colliers International. This was in sharp contrast to a 0.8% rise in Q1 2020 and its biggest y-o-y fall ever recorded. In fact, when adjusted for inflation, prices declined even more by 23.6% y-o-y in Q1 2021.

On a quarterly basis, condominium prices in Makati CBD fell by 2.5% (3.8% inflation-adjusted) in Q1 2021.

The Philippines experienced a house price boom from 2010 to 2018, with Makati CBD prices rising by 125% (77% inflation-adjusted). But with a slowing domestic economy, coupled with the US-China trade war, the housing market slowed sharply in 2019, with house prices rising by a meagre 0.9% and falling by 1% when adjusted for inflation. In 2020 the COVID-19 pandemic aggravated the situation, sending the housing market to its knees. In fact the Philippines has been ranked as the worst performing housing market in the Global Property Guide's 2020 Global House Price Survey, with Makati CBD house prices plunging by 13.2% (-16.1% inflation-adjusted) last year.

Nationwide, the house price decline is less severe. During the year to Q1 2021, the nationwide residential real estate price index fell by 4.2% (-8.3% inflation-adjusted), according to the BangkoSentral ng Pilipinas (BSP), the country's central bank. Quarter-on-quarter, the index dropped 1.6% (-2.9% inflation-adjusted) in Q1 2021. The residential real estate price index, published every quarter, is based on bank reports on residential real estate loans.

By property type:


For condominium units, prices fell by 1o.7% (-14.5% inflation-adjusted) in Q1 2021 from a year earlier
Duplex houses saw the biggest y-o-y price fall of 20.7% (-24.2% inflation-adjusted) in Q1 2021
For single detached/attached houses, prices rose byThe Philippines' housing market is in free-fall, amidst a minuscule 0.2% (but fell by 4.1% inflation-adjusted) during the year to Q1 2021
Townhouse prices rose by 8.3% (3.7% inflation-adjusted) over the same period

With continued global uncertainties brought by the COVID-19 crisis and rising political instability associated with the 2022 national elections, the housing market is expected to remain depressed this year, as potential homebuyers are expected to take a "wait-and-see" approach in the short term.

"Pandemic-induced disruptions have altered the Philippine economy and the property sector," said Colliers International.

"The pandemic continues to hamper residential demand in both the pre-sale and secondary markets," Colliers added. "We expect this to result in further price and rental correction."

The Philippine economy continues to struggle in Q1 2021, with real GDP shrinking by 4.2%, marking its fifth consecutive quarter of y-o-y economic decline, according to the Philippine Statistics Authority (PSA). The reimposition of quarantine restrictions amidst the surge in infections hampered business and consumer activity.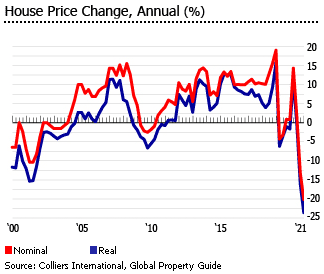 Despite this, the government remains hopeful that it will achieve its 6.5% to 7.5% economic growth target this year, following a huge 9.5% contraction in 2020 – the biggest contraction since PSA started collecting data in 1946. Yet recently, the World Bank downgraded its 2021 economic growth forecast for the Philippines to 4.7%, from its initial projection of a 5.5% expansion.

The Philippines has the second highest number of COVID-19 cases and deaths in the Southeast Asian region.