Philippine's real<br> estate boom is weakening
October 03, 2008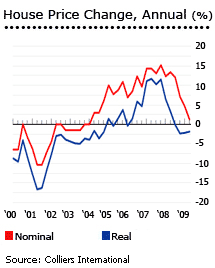 The global financial turmoil and high inflation have slowed down the Philippines raging real estate boom. Although luxury condominium prices continue to rise, the residential sector is definitely slowing.
The average price of a luxury 3 bedroom condominium in Metro Manila rose 13.35% to Q2 2008 from a year earlier. Adjusted for inflation, residential prices increased only 3.3% over the year.
The slowdown comes on the heels of a recovery from the Asian Crisis. Condo prices rose by an average of 14.2% (11.2% in real terms) in 2007, following a rise of 9.3% in 2005 and 2006, (around 2% in real terms), according to data from Colliers International.
Demand from Overseas Filipinos, which contributed strongly to the rise in residential real estate prices, is now weakening due to exchange rate movements and the global financial turmoil. A slight slowdown in economic growth and higher interest rates are also pulling housing demand down.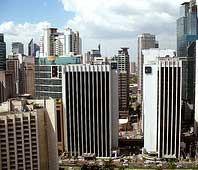 It was in 2004 that the Philippine real estate sector started recovering from the slump brought on by the 1997 Asian Crisis. But condominium projects are now rising all over Manila, so prices and rents will likely stabilize in the second half of 2008, and inflation-adjusted prices are likely to fall.
If the global financial situation continues to deteriorate, nominal price falls in 2009 can be expected.
Memories of the Asian Crisis
Among all the economies affected by the 1997 Asian Crisis, it was the Philippines which experienced the biggest property price falls. A speculative bubble had formed in the 1990s after financial liberalization and economic reforms had attracted capital inflows. Luxury condominium prices rose 63% (46% in real terms) between 1995 and 1997.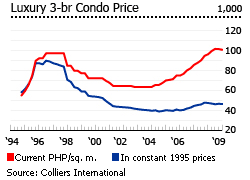 During the Asian crisis, Philippine luxury condominium prices dropped 18% (25.3% in real terms) from 1997 to 1998. Between 1997 and 2004, luxury condominium prices dropped 56.2% in real terms (34.36% nominal). Despite gains from 2005 to 2007, property prices are now still 50% below their 1995 peak, in real terms.
Demand for office space for information and communications technology (ICT) related firms such as call centers and other business process outsourcing (BPO) firms have provided the spark to revive the slumbering real estate sector. BPO employees have boosted the demand for rental housing and other products, creating a ripple effect on the construction, retail, and telecommunications industries.
Overseas Filipino demand down
A law passed in 2003 allowed Filipinos who have acquired foreign citizenship to become dual citizens, in turn permitting them to acquire land in the Philippines. The new law also affected the mix between foreign and local ownership allowed in condominiums.
More Global Property Guide pages:
From 2006 to 2007, most real estate developers reported that demand from Overseas Filipinos (OFs) comprised the bulk of their buyers. Around 70 to 80% of new condominiums in Metro Manila and subdivisions in Cavite, Laguna, Rizal and Bulacan were bought or reserved by an Overseas Filipino or their family.
However demand from OFs is now starting to wane. Developers have recently revealed that only about 20 to 30% of their buyers are now OFs.
Foreign exchange movements have played a significant role. Against the dollar, the peso has appreciated from around PHP55 (2003-2005), to an average of PhP51 in 2006 and PHP46 in 2007. Because of this, Overseas Filipinos' foreign earnings buy less and less in the Philippines.
Although the peso has depreciated to around PHP46 in September from PHP40.67 in Feb 2008, the change is barely enough to cover the increase in the cost food and fuel prices in the Philippines.
Around 70% of Permanent Overseas Filipinos are in the US, 11% are in Canada with some in Australia (6%), Europe (6%) and Japan (3%). These countries are seriously affected by the global economic slowdown, with recession looming in the US and much of Europe. The financial meltdown has seriously affected the desire for more investments, especially as property plays such a significant role in the crisis.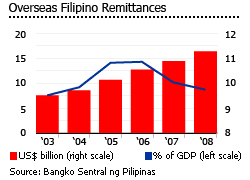 Overseas Filipino Workers (OFWs) are also experiencing problems. About half the OFWs work in the Middle East, where soaring house rents and food prices are fuelling runaway inflation.
About 30% of the OFW's income is spent on housing, whether to buy a new house, fix present homes, or pay rent. OFW remittances reached US$14.45 billion in 2007 and are expected to reach US$16 billion in 2008. A squeeze on OFW resources could have a significant impact on the Philippine property market.
Limited mortgage options
For the real estate mortgage market to grow, demand from local buyers needs to strengthen. In other countries, a housing market boom is usually accompanied by a mortgage boom, i.e. most property purchases are financed by loans. In the Philippines, most buyers pay cash, or finance by pre-selling.
The ratio of real estate loans to GDP has dropped continuously since 1999. In 2007, real estate loans from the banking system were only 4.3% of GDP, down from 7.5% of GDP in 1999, though in nominal terms real estate loans have risen from PHP240 (US$ 5.6) billion in 2004, to PHP 281 (US$6.5) billion in 2007.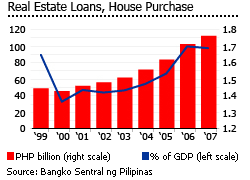 In December 2007, the BSP relaxed rules on real estate lending to support the property industry, following mortgage loan growth of a mere 1.4% in 2007, significantly down on the 10.45% increase in 2006.
Housing loan rates charged by banks remain high, despite falling base interest rates. Mortgage rates from major commercial banks are around 9.75% for loans fixed for one year and 11% or more for mortgages with rates fixed for five years or more. Developers charge yet higher mortgage interest rates, ranging from 12% to 18%.
While the government-owned Pag-ibig Fund (Home Development Mutual Fund) offers a much lower interest rate, at 6% to 7%, and better loan conditions (longer payment periods and higher loan-to-value ratios), the amount that can be borrowed is much lower and there are certain membership requirements. The coverage of government housing loan programs is extremely limited.
Oversupply looms
Condominiums are now rising all over Metro Manila. In contrast, the impact of the previous pre-Asian Crisis boom was only visible in the central business districts of Makati and Ortigas. Currently, instead of just pockets of developments, condominiums are being planned and built along the entire stretch of EDSA, along major highways and the different lines of the mass transport system. Several subdivisions are also being developed in nearby provinces such as Rizal, Bulacan, Cavite and Laguna.
With demand waning and the economy weakening, the market could see significant oversupply when these projects are completed. Around 10,500 new residential condo units are expected to be completed in 2009-2010, according to Collier International. This is on top of the more than 6,300 units to be completed in 2008.
Potential buyers should also be wary of the problems involved in buying in the Philippines. Potential problems include fraudulent titles, inconsistent property valuation, cumbersome land administration and lengthy property registration processes. High transaction costs and the lack of information also hamper the real estate market.
Economic slowdown
The recent real estate boom was supported by strong economic growth. After growing by an average of 5.2% from 2002 to 2005, the economy expanded by 5.45% in 2006 and 7.2% in 2007, its highest growth rate in more than two decades.
GDP growth in 2008 is expected to slow to just 4.2% - 4.5%, pushed down by a combination of higher interest rates and inflation, slower remittance growth and falling business and consumer confidence.
In August 2008, inflation reached 12.5%, the highest rate in 17 years. Overall inflation in 2008 is expected to be around 9.7%, in sharp contrast to the 2.7% inflation in 2007.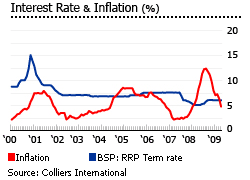 Rising prices of steel and cement in the world market have also pushed construction costs. In mid-2008, property developers raised the selling price of their projects by 10% to 20%.
The Bangko Sentral ng Pilipinas, the central bank, raised key policy rates in 2008 to rein in inflation. The overnight borrowing rate was raised by a total of 100 basis points in just three months, to 6.1% in August 2008.
With the economy slowing down combined with higher interest rates and a looming housing oversupply, the housing market is expected to slow down further in the future. While a repeat of house price falls similar to that of Asian Crisis is highly unlikely, the Philippines housing market remains fragile, as ever.
Philippines - More data and information