Nepal's property market has revived
July 30, 2014
After four years of slowdown, Nepal's property market is now gaining momentum. Property transactions and house prices are rising again, as homebuyers return into the market.
"Compared to the period when the real estate market crashed, the price of properties has corrected by around 50-60 per cent. This has motivated buyers," said Green Hill City managing director Bhesh Raj Lohani. Real property prices have remained stable in the past three years, Lohani added.
Currently, the price of an apartment unit in a new residential development project starts at NPR2 million (US$20,735).
One of the best locations to own property in Nepal is Bhaktapur, an ancient Newar town in the east corner of the Kathmandu Valley which is considered as a "cultural gem" filled with Hindu and Buddhist religious sites and art. Other potential investment options include Bijeshwari, Nilbarahi, Balkot and Katanju, which are the favorite locations for Kathmandu people.
The recovery in the property market was aided by falling interest rates. Interest rates on home loans fell to 9.5% to 12% from 16% to 18% few years ago.
From April 2005 to March 2013, about 65 apartment projects with 6,330 units were implemented. In addition, there are around 1,200 stand-alone housing projects under construction. The real estate sector currently has a total investment of around NPR200 billion (US$2.07 billion).
In July 2013, total residential personal home loans amounted to NPR47.26 billion (US$490 million), according to Nepal Rastra Bank, the country's central bank.
The Nepalese housing market is expected to continue expanding in the near future. "The real estate business has completed its transition phase. As the major concern of buyers, that is prices, being corrected, the future is certainly good," said Lohani.
Nepal's economic growth is expected to be a healthy 4.5% in 2014, slightly higher than the average real GDP growth rate of 4.2% from 2003 to 2013, according to the World Bank. Nepal's robust economic growth is mainly driven by increased agricultural output and improved execution of the budget.
The country's current account balance is projected to be 3.6% of GDP in 2014 and 3.7% of GDP in 2015, according to the Asian Development Bank.
Inflation in Nepal is expected to remain high, at 9.8% in 2014, mainly due to increased food prices.

Analysis of Nepal Residential Property Market »
Income taxes are moderate to high in Nepal
Rental Income: Rental income earned by nonresidents is subject to 25% withholding tax.

Capital Gains: Capital gains realized from selling real property are considered ordinary income and taxed at the standard income tax rateof 25%.

Inheritance: There are no inheritance taxes in Nepal.

Residents: Residents are taxed on their worldwide income at progressive rates, from 1% to 36%.
Roundtrip transaction costs are moderate in Nepal
Total transaction costs for buying property is around 1.01% to 4.51%. Registration fees are around 1% to 4.50%, depending on the property value and the location of the property.
Foreigners can buy through a company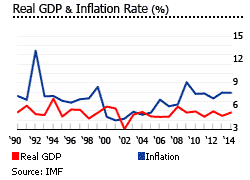 All real estate transactions are subject to controls. Foreign investors are permitted to acquire real estate in the name of the business entity they own, but are not allowed to acquire real estate as personal property. Foreign investors constantly complain about complex and opaque government procedures.