Laos is in the midst of a construction boom
August 07, 2017
"There have been a lot of changes in the city, most of them positive," said HoumphanSaiyalath, the managing director of real estate portal RentsBuy.com. "Outside investment is visibly [improving] the standard of living and the government is making progress in improving infrastructure."

Property prices and the cost of living in Laosremain very low. Asking prices for apartments in Vientiane range from US$1,000 to US$4,000 per square metre (sq. m.) in 2016, according to Savills, lower than in Yangon, Ho Chi Minh, and Hanoi. Asking prices for villas and townhouses in the capital city may vary from US$500 per sq. m.

Despite the fact that foreigners are not allowed to own land in Laos, the number of foreign investors from China, Vietnam and Thailand has been continuously increasing in recent years.

"Lao people make up only about 40 percent of my clients," claimed NakadejInvihan of Saiawardz Real Estate. "The rest are foreigners, maybe 20 percent Chinese, 10 percent Korean, Vietnamese, and Westerners."

Now Vientiane and the 12 economic zones are experiencing a building frenzy, buoyed by the country's three-decade long economic growth and by a surge in foreign investment.

Most construction is happening in the economic zones which were introduced by the government since 2003 to attract both local and foreign investors.For instance in That LuangMarsch Special Economic Zone, 18 condominium towers are currently under construction. Two more 45-storey condominiums are set for construction in the Thakhek Specific Economic Zone as part of the ThakhaekDreamworldCity project.

Other notable mixed-use property developments:

Vientiane New World - Right at the centre of Vientiane, on the MekongRiver, Vientiane New World covers 420,000 square metres. The development includes the ASEM villa, a five-star hotel, a commercial street, shopping mall, office buildings, service apartments, and garden residences.
VientianeCenter - Located on Khouvieng Road, the project has three phases. The first, completed in 2014, consists of a high-end shopping complex and an office building. The second phase will include hotels, clubs and lakefront businesses while the last phase will involve residential apartments.
LatsavongPlaza- Located on a 150,000 square meter site in Vientiane, this mixed-use development covers a 34-storey five-star hotel, 168 units of hotel-style apartments, a 20-storey office building, healthcare center and a world-class shopping center. The apartments are currently priced at US$2,000 per square metre (sq. m.).
SkyCity- The complex, in Chanthabouly District of Vientiane, offers residential and commercial properties, as well as a hotel, a shopping center, a recreational park and business facilities. The project is expected to be fully completed in 2020.

Property demand is expected to continue rising in coming years, amidst strong economic growth, and the continued flow of foreign direct investments into the country.The construction of the Laos-China railway, the first high-speed railway linking Vientiane to China's Yunnan province, is expected to boost the property market and the overall economy.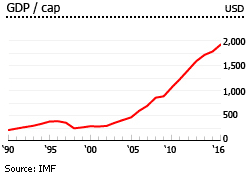 Economic growth averaged 7.3% per year from 2000 to 2016, making the country one of the fastest growing economies in the region, according to the International Monetary Fund (IMF). The economy is expected to expand by 6.8% this year and by another 6.7% in 2018.

Foreigners can lease land from the state for up to 50 years, but may be extended upon government approval. In designated economic zones, the maximum period for land lease is 75 years. Foreign investors are entitled to own buildings and other structures that they build or purchase on leased land. Land can also be sub-leased with approval from the state.

Under the Investment Law, foreigners that invest at least USD500,000 in Laos are permitted to hold land use rights for residential, office, or other business purposes.


Analysis of Laos Residential Property Market »
Income tax is moderate in Laos
Rental Income: Rental income from leases of houses, lands and other assets is taxed at a flat rate of 10%.

Capital Gains: Capital gains derived from selling real property are considered as ordinary income and taxed at progressive rates, from 0% to 24% as of 2012.

Inheritance: There are no inheritance tax in Laos.

Residents: Individuals are taxed on their income from sources in Laos at progressive rates, from 0% to 25%.
Unbroken economic growth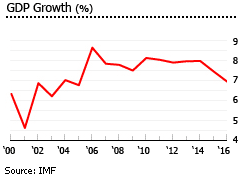 Laos has experienced uninterrupted economic growth in the past 27 years, with the real GDP growth rate averaging 7.3% from 2000 to 2016 - making the country one of the fastest growing economies in the region. The economy has doubled in size from 2007 to 2016 and GDP per capita surged from just US$292 in 2000 to US$1,925 in 2016. This can be primarily attributed to the government's move during the 1990s to finally open up its economy and implement economic and business reforms during the later years.
Since 2003, the government has designated various sites as economic zones to speed development. In 2011, Laos opened a stock market in Vientiane. Laos became a member of the World Trade Organization (WTO) in 2013 and joined the ASEAN Economic Community (AEC) in 2015.
Laos has been one of the major sources of electricity in the region over the past decade, supplying the energy needs of its neighboring countries. In 2016, there were 42 hydroelectric and heat power projects in Laos, with total capacity of 6,300 megawatts.
Laos is also becoming an important mining destination and logistical hub for regional trade.
In Q4 2016, the total value of exports from Laos rose by more than 21% y-o-y to US$863 million, mainly driven by a rise in electricity exports, according to the BOL. Electricity accounted for about 37% of the country's total exports. Over the same period, mining exports such as copper increased 8.2% while agricultural exports rose by 46%.
The value of imports increased 14.9% to US$1.24 billion in Q4 2016 from a year earlier. As a result, Laos recorded a current account deficit of US$346.9 million in Q4 2016, up by 11% from the previous year but down by 36% from the same period last year.
The current account deficit slightly improved to 14.1% of GDP in 2016 from 16.8% of GDP in 2015, but is expected to widen to about 19% of GDP this year, due to the expected large imports of construction materials and machinery for the construction of the first high-speed railway between China and Laos.
Laos' economy is expected to expand by about 6.8% this year and by another 6.7% in 2018, according to the IMF.
Headline inflation rose to 2.15% in Q4 2016, up from 1.89% in the previous quarter and 1.16% in the same period last year, according to BOL. Inflation is expected to increase from 1.5% in 2016 to 2.5% this year and 3% in 2018, mainly due to stronger domestic economic activities and higher oil prices, according to the
Asian Development Bank
(ADB).
The Lao Kip, the country's official currency, depreciated against the U.S. dollar by 2.8% in 2016 from two years ago, to reach an average exchange rate of LAK8,300 = USD 1 by end-2016.
Despite positive developments, Laos remains one of east Asia's poorest nations, and it is still reliant on foreign aid and international donations, especially from Japan, China and Vietnam.