Japan: despite a weak economy and a shrinking population, Abenomics is pushing house prices up
October 16, 2015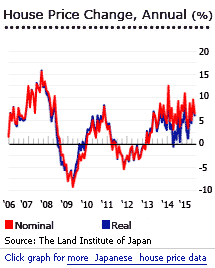 What´s affectionately known as "Abenomics" - i.e., the reflationary policies of Prime Minister Shinzo Abe, who came to power in December 2012 - includes stimulating the economy by increasing public infrastructure spending, devaluing the yen and aggressive quantitative easing by the Bank of Japan (BOJ).
It´s working - and it is not working.
For house-owners the news is good: housing demand is robust. House prices are rising rapidly.  Residential construction activity is recovering.
The news for the economy is less good. 
The Japanese economy contracted by an annualized 1.6% in Q2 2015, in contrast with an expansion of 4.5% the previous quarter. The economy shrank by 0.06% last year but is expected to return to growth this year with real GDP growth of 1.04%. 
The Japanese yen has fallen an amazing 38% from January 2013 to August 2015, to JPY123 = US$1 today, mainly due to Abe's policies.  Still, the economy is not moving. Hardly a big success.
But the effects of Abenomics on house prices have been significant.
In Tokyo Metropolitan Area:
Existing condominium units´ average prices rose by 6.6% to JPY453,000 (US$3,762) per sq. m. during the year to June 2015, according to the Land Institute of Japan (LIJ).
New condominium units´ average prices skyrocketed by 21.4% y-o-y to JPY829,000 (US$6,885) per square metre (sq. m.) y-o-y to June 2015.
Existing detached houses prices rose 1.3% to JPY32,470,000 (US$269,655) over the same period.
In Osaka Metropolitan Area:
Existing condominium units´ average prices increased by 9.3% to JPY282,000 (US$2,342) per sq. m. during the year to June 2015.
New condominium units dropped slightly by 0.4% to JPY551,000 (US$4,576) per sq. m. over the same period.
Existing detached house prices were up by 4.7% to JPY20,720,000 (US$172,074) over the same period.
Surprisingly, land prices are still falling. During the year to June 2015, average land prices in Tokyo Metropolitan Area fell by 1.5% to JPY193,000 (US$1,603) per sq. m., while in Osaka Metropolitan Area land prices dropped by 3.8% to JPY125,000 (US$1,038) per sq. m., according to the LIJ.
House prices are expected to continue rising for the remaining months of 2015, given an additional Abenomics stimulus in the second half. Moreover, Tokyo's successful bid to host the 2020 Summer Olympics should boost property demand and construction over the next 7 years.
Residential property sales increasing - a little
During the first half of 2015:
In Tokyo, the number of existing condos sold rose slightly by 0.75% to 18,460 units from the same period last year, according to LIJ. Existing detached house sales increased more strongly, by 5.3% y-o-y to 8,802 units.
In Osaka, existing condos sold rose by 5.3% y-o-y to 9,010 units in H1 2015, while existing detached houses sales rose by 10.9% to 6,383 units.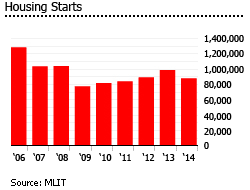 Land sales are also increasing. In Tokyo, lots sold increased 4% to 5,098 units in the first six months of 2015 from the same period last year. In Osaka, land sales surged by 16% to 1,199 units.
Housing supply recovering - slowly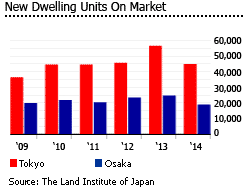 After declining last year, housing starts are recovering. Authorized housing starts rose by 7.4% to 78,263 units y-o-y to July 2015, according to the Ministry of Land, Infrastructure, Transport and Tourism (MLIT). In 2014, housing starts fell by 10.8% to 880,470 units.
Last year was particularly bad in Tokyo Metropolitan Area, with new condominiums entering the market falling 20.5% to 44,913 units, according to LIJ. Likewise in Osaka Metropolitan Area, new condos entering the market dropped 23.8% to just 18,814 units.
During the first half of 2015, the number of new condos put into the market fell by 7% y-o-y to 18,036 units in Tokyo, while it increased 16% in Osaka, to 10,102 units.
Japan's shrinking population is a major problem.
It is estimated that Japan will lose a third of its population in the next 50 years. In addition, about 40% of the population will be over 65 years old by 2060.  During 2014, the country's total population dropped by a record 271,058 people to about 126.16 million, as births fell and deaths rose.  
The shrinking population is already producing an increasing surplus of housing units. There are many sightings of abandoned homes in Tokyo.  
As of 2013, there were already an estimated 8.2 million unoccupied homes in the country, representing a record 13.5% of all residences.   
"Based on our projections, the size of the annual decline will keep getting bigger before peaking somewhere between 2060 and 2070," said Futoshi Ishii of the National Institute of Population and Social Security Research. The pace of decline is expected to reach more than 700,000 annually by 2025 and about 1 million by 2060. 
However, the declining household size may mitigate the situation.  The average household size is projected to decline to 2.37 by 2025, from 2.67 in 2000, and 5.0 in 1950, according to the Ministry of Internal Affairs and Communication. More Japanese are living alone and fewer are living in multiple-generation households, increasing the demand for quality housing.
The government has introduced measures to stop the population shrinking:
Childcare provision was boosted by the Act on Child and Childcare Support of August 2012.
The Comprehensive Support System for Children and Child-rearing, introduced in April 2015, will promote early childhood school education, childcare and child-rearing support services in local communities.
The government is expected to approve enhanced support for families with three or more children.
Local governments are being encouraged to offer speed dating and other forms of matchmaking, and to support marriage, child-bearing and child-rearing.
The government is expanding free nursery care.
The government also plans to establish fertility treatment counselling centres in major cities.
Low yields, stable rents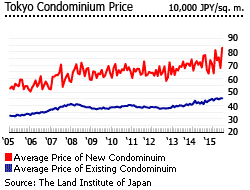 Rental yields in Tokyo central districts range from 3.7% to 4.1%, based on Global Property Guide research conducted in April 2015.
Yields are a little higher on smaller apartments, at 4.11%. Not great, though not untypical for a city like Tokyo.
Rents are stable. In 2014, the nationwide apartment rent index was unchanged from a year ago, based on figures from the Japan Real Estate Institute.
In the country's metro areas:
In Tokyo Metropolitan Area, apartment rents increased 0.2% y-o-y in 2014.
In Osaka Metropolitan Area, apartment rents dropped 0.2% y-o-y in 2014.
In Nagoya Metropolitan Area, apartment rents were unchanged over the same period.
Interest rates are "virtually zero"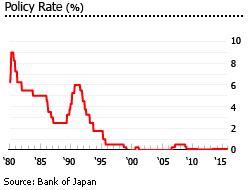 The BOJ's key interest rate has been "virtually zero" (0% - 0.1%) since October 2010, and below 1% since mid-1990s. As a result, bank variable interest rates in Japan have hardly moved since 2000, remaining below 3%.
Five of the country's major banks reduced their fixed mortgage rates in September 2015. The Bank of Tokyo-Mitsubishi UFJ (MUFJ), Sumitomo Mitsui Banking Corporation (SMBC), and Mizuho Bank reduced interest rates for a 10-year fixed mortgage loan to 1.20%. Sumitomo Mitsui Trust Bank reduced its 10-year rate to 0.85%, while Resona Bank reduced it to 1.15%.
Housing loans are rising. New housing loans to households from domestically-licensed banks rose by 10% from the previous year in Q2 2015,, while total outstanding housing loans increased 2%, according to the Bank of Japan (BOJ).
Yet the amount of housing loans is much lower than in other developed countries. This can be partly attributed to Japan's prolonged economic woes. The ratio of outstanding home loans to GDP in Japan stood at around 37.6% in 2014, slightly up from 36% in 2006.
The "lost decade" and after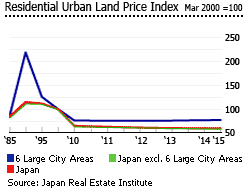 The economic benefits of Abenomics for the Japanese economy are still in doubt.
Slow growth is the reason that Abenomics was adopted.  Japan has not yet fully recovered from the great asset bubble of the late 1980s. From 1970 to 1980, land prices in Japan rose 200% (23.5% in real terms), and 238.5% in the six major cities (39.3% in real terms).
Then during the 1980s, there was a 103% increase nationally (61.6% in real terms) and a 272.2% rise in the six major cities (196.4% in real terms).
The 1991 crash left Japan´s banks with bad loans of almost USD 1 trillion, contributing to Japan's 'lost decade'.
In fact, Japan's land prices have continued to fall.  In March 2015, residential land prices dropped 0.7% from a year earlier, according to Japan Real Estate Institute. In the past 15 years, residential land prices in Japan fell more than 40%, and by 23% in the six major cities.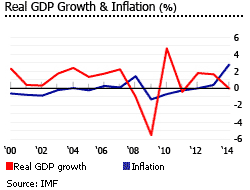 The picture in the wider economy is not so positive either.
After the ´lost decade´ after the 1990´s, from 2000 to 2007 the Japanese economy grew by an average of 1.5% annually.
However due to the global financial meltdown, the economy contracted by 1% in 2008 and by another 5.5% in 2009.
The Japanese economy bounced back in 2010 with 4.7% growth. Then in 2011 GDP shrank by 0.5% due to the Great Tohoku Earthquake (magnitude 9.0), and China´s economic slowdown. Anti-Japanese feeling sparked by the Diaoyu/Senkaku Islands dispute didn´t help.  Japan´s economy grew by a modest 1.8% in 2012 and by another 1.6% in 2013.
The recent poor economic performance of Japan is a major blow for Prime Minister Shinzo Abe growth plan. "Abenomics" includes the following:
Inflation targeting at 2%
Correction of the excessive appreciation of the yen
Negative interest rates
Radical quantitative easing
Expansion of public investment
Buying of construction bonds by the Bank of Japan
Revision of the Bank of Japan Act
Japan faces a long-term growth slowdown.   It is not obvious that Abenomics is the cure.
The economy shrank by 0.06% in 2014, but is expected to return to growth with GDP growth of 1.04% in 2015, according to the International Monetary Fund (IMF).
The situation has not been eased by a sales tax increase from 5% to 8% in April 1, 2014. The sales tax is expected to rise again to 10% in October.
Scary numbers: huge trade deficit, record public debt
It was the worst result since records began in 1979: Japan's trade deficit rose 11.4% in 2014 to a record JPY12.78 trillion (US$109 billion), weighed down by post-Fukushima energy bills.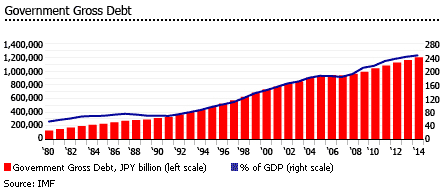 Japan's trade deficit has since narrowed, thanks to lower oil imports and stronger exports to the U.S.   In August 2015, the value of exports increased 3.1% from a year earlier, to JPY5.9 trillion (US$48.7 billion) while imports fell 3.1% to JPY6.5 trillion (US$53.4 billion).
"However the deficit is likely to widen in the latter half of this fiscal year," said Shunsuke Kobayashi of Daiwa Institute of Research. The cause?  Weakening corporate demand for Japanese products in the U.S.
Japan had a public debt equivalent to about 230% of GDP in 2014 - the worst among major industrialized countries. In 2014, the country's central government debt topped JPY1,200 trillion (US$10 trillion) for the first time in its history.
Despite Abenomics, inflation is falling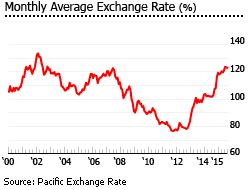 Abenomics was intended to stimulate the economy, partly by generating inflation.  Yet Japan's core inflation fell 0.1% in August 2015 from a year ago, the first decline since April 2013.
Because of this, the Bank of Japan is expected to step up its pace of monetary easing this October to meet its inflation target of 2%.
However Abe was re-elected unopposed as head of the ruling Liberal Democratic Party (LDP) in September 20, 2015. His new term will run until September 30, 2018.
Abe is not giving up.  He recently declared a new stage for his economic growth plan, with a focus on fuelling the economy and population growth, and improving social security.
Japan - More data and information