Indonesia's residential property market remains sluggish, with the composite-16 property price index rising only by 1.53% during the year to Q3 2022, according to Bank Indonesia. In fact when adjusted for inflation, property prices declined by 3.48%.

Looked at longer-term, the property market is hardly moved, with prices up by a meager 1.47% in 2021, 1.43% in 2020, 1.77% in 2019, 2.95% in 2018, 3.5% in 2017 and 2.38% in 2016. In real terms, prices fell by a cumulative 1.68% from 2016 to 2021.

During the latest quarter, residential property prices rose by a miniscule 0.16% q-o-q (fell by 1.26% inflation-adjusted).

"Only a few projects have raised the asking price due to approaching completion date," said Colliers International in its Q3 2022 report. "Colliers forecasts prices to remain flat until the end 2022 given subdued demand."

When inflation is taken into consideration, only one of the eighteen major Indonesian cities recorded house price increases in Q3 2022 as compared to the same period last year.

In Jakarta, prices of apartments rose by a minuscule 0.67% y-o-y to IDR 35.24 million (US$2,255) per sq. m. in Q3 2022, according to Colliers International.

While demand showed some improvements lately, it remains far below its pre-crisis levels. Residential property sales rose by 15.2% in Q2 2022 from a year earlier, in sharp contrast to a 10.1% y-o-y decline in the first quarter, according to Bank Indonesia.

Residential construction activity remains weak, impaired by completion delays. In Q3 2022, there were 219,291 high-end apartment units in Jakarta, up by a meager 0.1% from the previous quarter and by 1.3% from a year earlier, according to Colliers.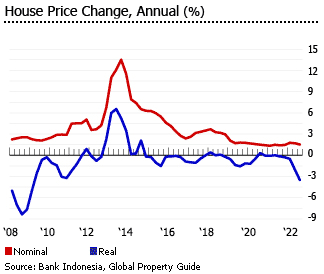 Despite this, the wider economy remains strong. Indonesia's economy was estimated to have expanded by around 5.4% to 6% in Q3 2022 from a year earlier, according to President Joko Widodo, following y-o-y growth of 5.44% in Q2 and 5.01% in Q1. The country's strong growth was mainly attributed to strengthening consumption and rising exports amidst further loosening of Covid-19 curbs.

The Indonesian economy grew by 3.7% during 2021, fully offsetting its 2.1% contraction in 2020. The International Monetary Fund (IMF) expects the economy to grow by a robust 5.3% this year.