Over the past thirteen years, Hong Kong's residential property prices have skyrocketed by 275% (165% inflation-adjusted), including spectacular growth of 28.5% in 2009, 21% in 2010, 25.7% in 2012, 13.6% in 2014, and 14.7% in 2017. In contrast, real incomes have virtually stagnated in Hong Kong for years.

However, due to the combined impact of market-cooling measures, violent protests, the US-China trade war and the ongoing COVID-19 pandemic, Hong Kong's housing market has stabilized over the past three years.

Hong Kong's residential property price index rose by a modest 2.85%  y-o-y in November 2021, following a minuscule annual increase of 0.2% during 2020, according to the Ratings and Valuation Department (RVD). When adjusted for inflation, residential property prices increased by a minuscule 0.95% over the same period.

Variations in price movements per property size and region.

Apartments smaller than 40 sq. m: prices fell slightly by 0.7% y-o-y in November 2021, to an average of HK$ 185,661 (US$ 23,813) per sq. m.
40-69.9 sq. m. apartments: prices rose by 2.7% y-o-y to HK$ 186,681 (US$ 23,944) per sq. m.
70-99.9 sq. m. apartments: prices dropped 1% y-o-y to HK$ 213,881 (US$ 27,433) per sq. m.
100-159.9 sq. m. apartments: prices rose by a minuscule 0.6% y-o-y to HK 243,260 (US$ 31,201) per sq. m.


Apartments with sizes bigger than 160 sq. m: prices fell by 5.9% y-o-y to HK$ 249,677 (US$ 32,024) per sq. m. in November 2021

Despite the stagnant prices, demand is surging. In the first eleven months of 2021, the number of property transactions in Hong Kong rose by 28.5% y-o-y to 69,152 units, while sales values soared 40% to HK$ 685.4 billion (US$ 87.9 billion), according to the RVD.

Construction, however, remains weak. Completions fell by almost 40% y-o-y to 12,624 in 2021, in contrast to a 53.1% growth in 2020, according to the provisional figures released by RVD.

From 2008 to 2013, Hong Kong dwelling prices skyrocketed by 134% (95.7% inflation-adjusted), driven by a flood of money in the wake of the global financial crisis.

The market slowed in the first half of 2014, but bounced back in the second half, with prices rising by 13.6% in Q4 2014, 19.6% in Q1 2015, 20.4% in Q2 2015, and 15% in Q3 2015.

After a brief housing market slowdown, house prices surged again by 41.5% (35.5% inflation-adjusted) from H2 2016 to H1 2018.

The housing market slowed from end of 2018 until the first half of 2019 due to macro uncertainties and social unrest. After a short-lived recovery in the second half of 2019, the housing market struggled again in 2020 due to pandemic-related travel restrictions and lockdown measures imposed worldwide.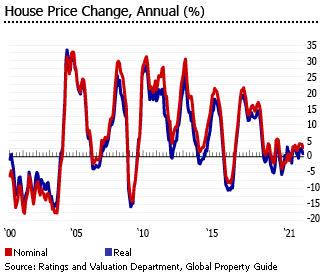 Like the housing market, Hong Kong's overall economy suffered greatly for most of 2019 from social unrest as well as the US-China trade tensions, and for the whole year of 2020 from the COVID-19 pandemic. In 2020, real GDP contracted by about 6.1% from a year earlier, following a decline of 1.7% in 2019.

With the gradual reopening on the economy, HK's economy bounced back strongly in 2021, with its real GDP growing by about 6.4, according to Financial Secretary Paul Chan. However the outlook is again clouded by the imposition of new restrictions in response to the Omicron outbreak. The economy is projected to continue growing in 2022, but the pace of expansion will largely depend on Omicron, inflation, and geopolitical concerns, said Chan.