China introduces property tax to douse sizzling housing market
February 08, 2011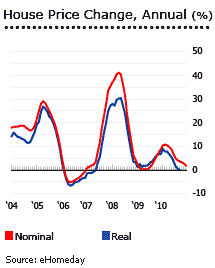 House price increases in China have moderated somewhat, confirming the effectiveness of government market-cooling measures.  New residential building sales prices in 70 key cities rose 7.6% y-o-y to December 2010, according to the National Bureau of Statistics of China (NSBC), well down from the peak y-o-y 15.4% price rise in April.
Beijing's price increases were higher, although by December the y-o-y price increase had eased to 9.9%, according to NSBC, down from an average y-o-y price increase for 2010 of 18%.
Shanghai's price increases, on the other hand, dramatically moderated to 1.3% during the year to December, from 12% y-o-y to April.  Shanghai's e-homeday second-hand house price index confirmed the trend, rising only 1.9% y-o-y to December 2010, the lowest rise since July 2009.
Measures approved in January 2011 to cool China's housing market:
Higher down payments for second homes (from 50% to 60%)
More areas where home purchases are limited.
The government is also testing new property taxes in Shanghai and Chongqing, in southwestern China.
The property tax rate in Shanghai is set between 0.4% and 0.6%.  Chongqing, one of the five national cities (Beijing, Shanghai, Guangzhou and Tianjin), will impose a tax ranging from 0.5% to 1.2%, on luxury homes and newly purchased high-end homes.  To quell property speculation, Chongqing will also impose a special tax on second home purchases by people with no business or employment interest in the city.
The introduction of cooling measures began in April 2010, when the government raised real estate transaction taxes, increased minimum down payments, and hiked mortgage interest rate margins.
Analysts nevertheless question the effectiveness of these regulations. With economic prospects in the US and Europe dull, global investments are heading to China. Chinese companies are raking in huge profits from exports. All this money has to go somewhere; a huge chunk is being spent on housing.
Cracking down on speculators is not easy. China's corruption-ridden bureaucracy is incapable of prosecuting investors with strong links to the Communist Party.  New regulations simply make speculators move to other areas, shift to another industry, or increase their bribes to regulators.
Previous pump-priming measures
Housing sales and property prices began to rise in China again in H1 2009, boosted by direct government intervention aimed at boosting the housing market in the aftermath of the global financial crisis.
In response to the global crisis, the government had reversed its previous tight housing policies and introduced fiscal measures to encourage demand for residential properties.
The government announced a CNY4 trillion (US$585 billion) stimulus package in November 2008, with allocations for housing and infrastructure projects. The stimulus package also includes allocations to stimulate the manufacturing, education, and industrial sectors. Local governments are also allowed to issue CNY200 (US$27.6) billion in bonds through the Ministry of Finance.
From January 2009 to December 2009, the property deed tax rate for first-time home buyers was reduced to 1% from 1.5% if the area of the residential property bought is less than 90 sq. m.
Individuals purchasing residential properties from January 2009 to December 2009 are exempted from stamp duty and land value-added tax.
If the house sold is held for less than two years, the sales tax would be based from the profit of the resale price instead from the original price the house was bought. If the residential property sold is held for more than two years of purchase, the seller is exempted from the 5.5% business tax.
To encourage purchase of houses and help the residential property recover, the government implemented fiscal measures including various tax cuts and additional spending for the real estate sector.
Lending policies were also relaxed to encourage purchase and development of residential properties. Buyers took advantage of looser lending conditions and lower interest rates. Developers were able to easily acquire loans with the lowered capital requirements.
These policies helped the residential property market to recover quickly. Property prices in Shanghai increased by an average of 19% from March 2009 to July 2009 from the previous month, according to China Daily, a leading Chinese newspaper.
With one of the fastest growing economies in the world, residential property prices in China had soared in 2007, prompting officials to fear that a property bubble was forming. The government implemented several measures to deflate the bubble leading a slowdown of house price growth in the first half of 2008.
The global financial crisis pushed house prices to eventually drop in the second-half of 2008. Most house prices in China's major cities fell in December 2008 from the previous year, according to the China Real Estate Index System (CRIES).
Residential property prices in Beijing slid by 2% (3.2% in real terms) in December 2008 from the previous year.
In real terms, Shanghai house prices stagnated in this period. In nominal terms, prices rose by 2%.
The following sections of this article have not been updated since November 2009
Shanghai: good times ahead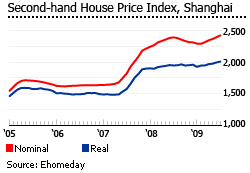 Shanghai, China's largest city with a population of more than 20 million, will host the 2010 World Expo, one of the world's biggest events in terms of economic and cultural impact. This has meant the construction and improvement of much city infrastructure to accommodate around 70 million visitors for six months.
Demand for residential properties is expected to grow due to the influx of participants and organizers, according to Colliers International. Prices in Shanghai secondary housing market already have risen by a monthly average of 1.1% (0.7% in real terms) from March 2009 to July 2009, according to data from ehomeday, Shanghai's largest housing information portal.
Beijing, after the Olympics
Beijing, China's administrative capital, is home to more than 17 million, and hosts 26 of the Fortune Global 500 companies.
From January 2009 to June 2009 average Beijing transaction prices increased 27% (26.5% in real terms) to CNY13,302 per sq. m., according to Beijing Real Estate Transaction Management Center. Buyers who delayed purchasing in H2 2008 have rushed to take advantage of price drops and the relaxed housing policies, leading to a 147% surge in residential pre-sales in H1 2009, compared to the previous year.
This is a dramatic reversal of the previous situation of oversupply. Residential property prices in Beijing had dropped after the Beijing Summer Olympics, according to Knight Frank. Property prices continue to fall due to the global credit crunch, with multinational corporations holding back on expansion projects.
With barely any new housing supply in H1 2009, all Beijing's excess supply from 2008 has now been sold.
Mortgage market growth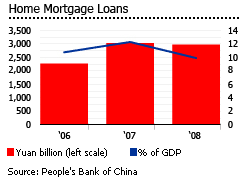 Outstanding home loans sharply grew by 29.5% to CNY3.86 trillion (US$565 billion) in H1 2009 after the People's Bank of China (PBOC) relaxed lending rules to stimulate purchase of residential properties in 2008. Banks were very eager to lend, with some offering discounts on mortgage rates for first-time buyers.
The growth in home loans accelerated faster than government expectations. Home mortgage loans rose by 88% in Q1 2009 compared to the previous quarter, according to the National Development and Reform Commission.
The strength of the mortgage market in 2009 was in sharp contrast to the conditions in 2008. Outstanding home loans fell by 1.7% due to the tighter lending rules the government implemented in late 2007 to slow house price growth.
Despite the rapid growth of outstanding loans since 1998, the mortgage market remains small, with the ratio of home mortgage loans to GDP only at less than 10%.
Several factors hinder the development of the mortgage market. Mortgage lending is still dominated by state-owned commercial banks. The secondary mortgage market remains undeveloped as banks prefer to offer loans for first-hand housing. A mismatch between property registration and mortgage policies continue to exist. Banks put burden on real estate developers when buyers default on loans.
Housing Provident Fund
Part of the housing reforms the government implemented in 1998 is the introduction of Housing Provident Funds (HPF). The program encourages workers to gradually save a portion of their income to purchase residential properties.
When an employee registers for an HPF, the employer opens a special bank account in state-owned banks under the name of the employee. The employee commit to contribute 5% of their monthly salary and the employer also deposits the same amount of contribution in the account. The employee can't withdraw from the program and continue monthly contributions unless the employee retires, passes away, or is separated from the employer. The employee can use the funds to purchase residential properties, and are entitled to acquire loans from state-owned banks at below market rates.
Government employees and employees of state-owned enterprises are mandated to take part in the system, while employees of private firms have the option to join the program. As of 2004, an estimated 80 million workers are registered in the program, while the accumulated HPF available is CNY630 (US$76) billion, according to the Ministry of Housing.
Relaxed lending conditions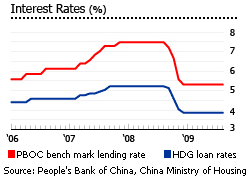 In response to the slower economic growth in 2008, the government lowered interest rates and relaxed rules on mortgages. Down-payment for mortgages of first-time buyers was lowered to 20%. The government lowered the floor interest rates of home loans to 70% of the benchmark lending rate.
The PBOC benchmark lending rate fell to 5.31% in December 2008, its fifth interest rate cut since September 2008. The interest rates of home loans, which are based on the benchmark lending rate, also dropped. In June 2009, the weighted average interest rates of home loans fell by 6 percentage points to 4.34%.
The Ministry of Housing monitors and implements interest rate policies on HDF loans to ensure below market interest rates. From an interest rate of 5.22% which remained unchanged from September 2007 to September 2008, the interest rate for HDF loans fell by 135 percentage points to 3.87% in December 2008.
Rapid housing construction
The existing housing supply is not enough to support the sudden surge in residential property demand. Without government intervention, a shortage in housing supply looms. In Beijing, housing supply is expected to be limited despite the addition of 18,029 units by 2010, according to Colliers International.
Developers were initially slow to respond to the surge in demand that began as early as March 2009. Following sharp declines from February 2009 to April 2009 from the previous year, real estate investment in Beijing began to increase in May. In Shanghai, there were only two major purchases of land for residential property construction.
To stimulate the rapid construction of new residential properties, the government reduced in September 2008 the minimum capital requirements for housing developments to 20% from 35%. Developers are taking advantage of the government's stimulus to access funds through state-owned banks. With easy access to funding, purchase of residential plots in Beijing increased by 52.4% from H2 2008 to H1 2009.
Poor rental yields
The rental market in China is heavily regulated, where the system is in favor of the landlord. The landlord is ensured of large payments for any breach of contract the tenant committed. Although major cities have no rent controls, other smaller cities may have rent controls that are remnants of the Cultural Revolution.
In February 2009, the average rental yield in major Chinese cities was 4.42%, according to Global Property Guide research. Guangzhou and Shenzhen have monthly rents of US$512 and US$600, respectively, and have the highest yields with average returns reaching 5.41% and 5.69%, respectively. Yields in Beijing, Chengdu and Shanghai are poor with average yields of 4.21%, 3.88% and 3.74%, respectively. Rents in these cities are US$1,910, US$342, and US$1,081 per month, respectively.
Foreign companies affected by the global credit crunch are cautious with business expansion and are cutting down on residential costs. More individuals would prefer to buy than to rent due to government initiatives to encourage purchases of residential properties. The vacancy rate in Shanghai rose to 24.2% in Q2 2009. Despite the rate in Beijing dropping in Q2 2009, the vacancy rate of 30.2% continues to be high.
Since 2001, low-income rent housing is implemented to provide shelter to the lowest-income groups in China. To support low-income families experiencing housing difficulties, the government allocated CNY13 (US$1.9) billion to fund the construction of low-rent residential properties, according to Global Times, a major Chinese newspaper. Average rents are expected to fall with the introduction of the low-rent properties.
Fastest growing economy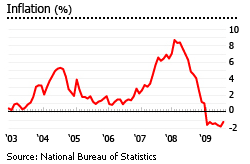 China is the world's fastest growing economy, with an average annual GDP growth of 10.2% from 2002 to 2006. However, growth significantly slowed to 9% in 2008, after posting a 13% increase in 2007. The economy is expected to expand by 7.5% in 2009, according to IMF.
Before the global financial crisis erupted in the second half of 2008, growth in the Chinese economy was slowing down because of the monetary tightening implemented by the  government.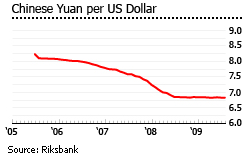 Due to a drop in external demand brought about by the global credit crunch, growth in Chinese exports slowed to 17% in 2008 from the previous year after a 25% increase in 2007, according to NBSC. With domestic demand waning, growth in imports slowed to 18% in 2008.
The slowdown of the economy in 2008 was seen in most sectors of the economy. Expansion in the manufacturing and service sectors slowed to 9.3% and 9.5%, respectively, in 2008 after posting double-digit growths.
To support the export industry which is the main engine of growth of the economy, the government has been keeping exchange rates stable. Since July 2008, the Yuan was relatively unchanged at CNY6.83 per dollar until August 2009. Foreign exchange reserves in China grew by 18.7% to US$2.13 trillion in June 2009 from a year earlier.
The economy, significantly boosted by the stimulus package, is expected to continue its growth. This will help strengthen the housing market further.
China - More data and information