Phnom Penh's condominium prices continue to slide, amidst an increasing supply glut, coupled with plummeting demand due to the COVID-19 pandemic.

During the year to Q2 2020, the average price of high-end apartments in Phnom Penh fell by 6.55% to US$ 3,041 per square metre (sq. m), worse than the y-o-y declines of 3.21% in Q1 2020, 2.3% in Q4 2019 and 1.12% in Q3 2019, based on figures from CBRE Cambodia. When adjusted for inflation, condo prices actually dropped 9.45% y-o-y in Q2 2020.

On a quarterly basis, condo prices in the capital city fell by 4% in Q2 2020 (-4.5% inflation-adjusted).

Even before the pandemic, Phnom Penh's property market had been cooling mainly due to an oversupply of apartments. From only 178 condo units in 2009, the supply of condo units in the area reached about 18,000 units in 2019, according to CBRE Research. Last year, the supply surged by 27%.

However due to the COVID-19 crisis, Q2 2020 saw no completions, leaving the total condominium supply unchanged from the previous quarter. This is expected to be a temporarily situation. The construction of delayed projects is likely to resume by year end.

Recently, the World Bank recommended that the Cambodian government should closely monitor the construction boom and develop policies to reduce speculative activity.

The property market is expected to remain subdued during the remainder of the year and will gradually improve next year.

"Maybe in the first or second quarter next year, the situation will improve. In particular, mid-range and affordable condominiums will remain popular," said Ann Sothida, managing director of CBRE Cambodia.

Property prices plunged by around 40% from 2009 to 2010 due to the global crisis. The housing market started to recover in 2011, buoyed by strong economic growth and the introduction of the new foreign ownership law. From 2011 to 2019, the economy expanded by an average of 7.2% per year, fuelled by strong tourism, garments manufacturing, and agriculture.

This year, Cambodia's economy is projected to contract by 1.6% due to the COVID-19 crisis, according to the International Monetary Fund (IMF).

Relaxed laws on foreign ownership
Under the Foreign Ownership Property Law of April 2010 foreigners can already own apartments and condominium units, but not land, and therefore not the first floor of buildings. Also, foreign investors are allowed to own up to 70% of a condominium project.

In 2005, the Cambodian government amended its investment law to allow foreign ownership of buildings. However, the law was not then implemented and the idea floundered.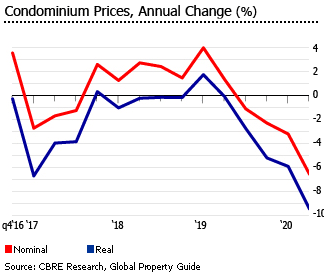 Land ownership is against the Constitution and is still out of the question. Land can however be held by foreigners on long (renewable) leases and through majority locally-owned companies incorporated in Cambodia. These structures are argued by lawyers in Cambodia to be safer than legal schemes in any other South East Asian country in which foreign land ownership is formally prohibited.