Phnom Penh's condominium prices continue to slide, amidst a severe supply glut, coupled with falling demand.  The COVID pandemic's impact on the tourism industry has been catastrophic.

The average price of high-end condominium units in Phnom Penh fell by 7.86% to US$2,802 per square metre (sq. m) during the year to Q2 2021, worse than the y-o-y declines of 2.53% in Q1 2021, 6.19% in Q4 2020, 5.64% in Q3, 6.55% in Q2 and 3.21% in Q1, according to CBRE Cambodia.  When adjusted for inflation, prices fell 10.32%.

On a quarterly basis, high-end condo prices plunged 9.23% (-10.26% inflation-adjusted) in Q2 2021.

But even before the pandemic, Phnom Penh's property market had been cooling mainly due to an oversupply of apartments. From only 178 condo units in 2009, the supply of condo units in the area reached about 18,000 units in 2019, according to CBRE Research. The World Bank has recommended that the Cambodian government should closely monitor the construction boom and develop policies to reduce speculative activity.

From 2011 to 2019, the Cambodian economy expanded by an average of 7.2% per year, fuelled by strong tourism, garments manufacturing, and agriculture.

However, Cambodia's economy shrank by 3.5% in 2020 after it was heavily impacted by the COVID-19 crisis. The economy is projected to remain weak this year, with the National Bank of Cambodia recently downgrading its 2021 economic forecast to 2.5%, sharply down from its initial estimate of a 4.1% growth, reflecting the pandemic's impact on the key economic sectors of Cambodia's trading partners and ongoing production chain disruptions. The EU's decision last year to remove the country's Everything But Arms (EBA) duty-free privileges on one-fifth of Cambodia's exports was another blow.

Under the Foreign Ownership Property Law of April 2010 foreigners can already own apartments and condominium units, but not land, and therefore not the first floor of buildings. Also, foreign investors are allowed to own up to 70% of a condominium project.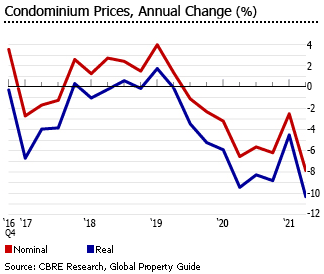 In 2005, the Cambodian government amended its investment law to allow foreign ownership of buildings. However, the law was not then implemented and the idea floundered.

Land ownership is against the Constitution and is still out of the question. Land can however be held by foreigners on long (renewable) leases and through majority locally-owned companies incorporated in Cambodia. These structures are argued by lawyers in Cambodia to be safer than legal schemes in any other South East Asian country in which foreign land ownership is formally prohibited.