Cambodia's land prices are rising amidst strong economic growth
February 23, 2014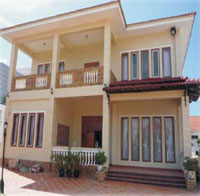 After being depressed for several years, Cambodia's property market is now recovering slowly, fuelled by strong economic growth and the new foreign ownership law.
Despite the absence of official property price statistics, land prices in the country were estimated to have been rising recently. In Phnom Penh, Cambodia's capital, land prices rose by an average of 15% during the first half of 2013 from the same period a year earlier, to US$2,350 per square meter (sq. m.), according to local real estate experts.
In the Boeung Keng Kang 1(BKK1) area, land prices stood between US$3,500 and US$4,000 per square meter (sq. m.) in mid-2013, up from the pre-crisis levels of between US$3,000 and US$3,500 in 2008, according to Kuy Vat CEO of VTrust Group. The increase in land prices can be attributed to the increasing number of business and integrated services in the area.
In Takamau, the capital of Kandal Province, land values also increased by about 10% to 15% during the first half of 2013 from the same period last year, mainly due to the plan to build a new road, the Tumpun National Highway 2, according to some local property experts.
Sihanoukville, Cambodia'spremier island and beach resort, also saw modest increase in land prices, estimated at about 5%, during the first half of 2013 from a year ago, mainly fuelled by the construction of several hotels in the area.
Housing loans are up. During the first nine months of 2013, housing loans rose by about 11% y-o-y to US$103.6 million, according to Mrs. Phan, Executive Vice President of a local bank. Their average interest rate ranges between 9% and 11%, according to Canadia Bank.
New foreign ownership law boosts demand
Foreigners are now allowed to own apartments and condominium units, but not land, and therefore not the first floor of buildings, under the new foreign ownership law approved by King Norodom Sihamoni in May 2010.  Just after the passing of the law, tax revenues from property-related transactions soared 60% to KHR76.21 billion (US$19.5 million) in 2010, from KHR47.7 billion (US$12.2 million) in 2009.
In 2005, the Cambodian government amended its investment law to allow foreign ownership of buildings. However, the law not then implemented and the idea floundered, since the country was then experiencing one of the biggest property booms in Asia.
Land ownership is against the Constitution and is still out of the question. Land can however be held by foreigners on long (renewable) leases and through majority locally-owned companies incorporated in Cambodia. These structures are argued by lawyers in Cambodia to be safer than legal schemes in any other South East Asian country in which foreign land ownership is formally prohibited.
Construction sector recovering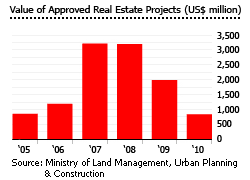 Due to the global crisis, Cambodia's biggest residential developments have been badly hit:
In August 2010, Posco Engineering & Construction stopped work on the three-tower Star River complex, due to weak demand.
In September 2010, the construction of the US$300 million Gold Tower 42, was also halted, after Seoul-based Hanil Engineering & Construction went into financial restructuring. The 42-storey building in the heart of Phnom Penh is twice as high as the city's current tallest building
The developers of the US$500 million Grand Phnom Penh International City, a 4,000 residential villas and apartment complex unveiled in 2006, have admitted that they are suffering from financing problems and low demand.
The Diamond Island City, unveiled in 2006 to include condominium units and villas, hospital, restaurants, and shopping centres, was downsized due to the global crisis.
Camko City, a 120-hectare satellite city which initially included 6,000 residential units at a projected cost of US$2 billion, has also been delayed and downsized due to the global crisis. World City Co. Ltd., a South Korean company, is the megaproject's developer.
In 2010, there were a total of 2,149 construction projects approved, down by 3.6% from 2,230 approved projects in 2009, according to the Ministry of Land Management, Urban Planning and Construction.
However, there is also a noticeable increase in residential construction activity recently, including Casa Meridian 2, a 30-storey building, which began in late 2013 and expected to be completed in 2016. Prices for condominium units range from US$8,000 to US$60,000. There is also the ongoing Snake Island (Koh Puos) development project with villas, hotels and offices.
The ground-breaking of a 45-storey twin tower in Phnom Penh's Bassac Mon District, south of the Australian Embassy, is expected early this year.
The number of licensed real estate companies in Cambodia increased in 2013 to 59, up from 40 in the previous year, according to the Association of Evaluation and Real Estate Agents.  More foreign companies came in, reflecting property market growth and increased investor confidence.
The boom before the bust
Cambodia's housing market enjoyed unprecedented price rises from 2004 to 2007, with property prices rising by about 25% to 40% annually. Land price increases were at first confined to Phnom Penh, Siem Reap and Sihanoukville, but the boom spread right across Cambodia. Other hot spots were the border areas with Vietnam and Thailand and, to a lesser extent, Laos.
Residential land prices in Phnom Penh soared to KHR6.25 million (US$1,600) per sq. m. in 2007 from KHR2.34 million (US$600) per sq. m. in 2006.
Cambodia also experienced a construction boom, particularly in Phnom Penh, fuelled by foreign investment. The government is aggressively pro-development, and squatters and other eyesores are simply cleared away, by a government which is in league with wealthy developers.
The value of construction projects skyrocketed to more than US$3.2 billion in 2007, from US$500 million in 2003, according to a United Nations Development Programme (UNDP) study. Average project costs increased to US$1.65 million in 2007, from just US$157,000 in 2003.
A downturn started in July 2007 after the government announced new investment guidelines for developers.
Then in mid-2008, the bubble burst. The global economic and financial crisis had adversely affected South Korea, the country's biggest investor. As a result, South Korean investors either pulled their investments or delayed their projects in the country.
Investments in real estate developments in the country have continuously dropped from US$3.19 billion in 2008, to US$1.99 billion in 2009, and finally to just US$840 million in 2010, according to the Ministry of Land Management, Urban Planning and Construction.
By end-2010, land values in Phnom Penh, the capital, were about 40% to 50% down on their peak values in mid-2008.
Rents falling, yields high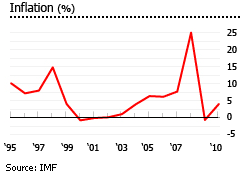 Apartment rents rose by about 25% to 35% from 2005 to mid-2008, according to NVAC. However, rents started to fall during the second half of 2008.
In the second quarter of 2010, average monthly rents across all grades fell by up to 25% q-o-q, according to Keuk Narin of Bonna Realty Group.
The average monthly rent for a one-bedroom class-A units were KHR1.56 million (US$400) to KHR3.91 million (US$1,000) in Q2 2010, down by up to 23% from KHR1.95 million (US$500) to KHR5.1 million (US$1,300) from the previous quarter.
Two-bedroom apartments rent for KHR4.7 million (US$1,200) to KHR5.86 million (US$1,500) per month in Q2 2010, down by up to 42% from the same quarter last year.
The average monthly rent for a three-bedroom class-A apartments located in central Phnom Penh was KHR8.6 million (US$2,200) to KHR9 million (US$2,300) in Q2 2010, down by up to 22% from the previous quarter.
Rents for residential apartments are expected to continue to drop in 2011 due to weak demand and increased supply of apartments, according to local real estate experts.
Small-scale luxury apartments, which are usually between four and six-storey buildings, are widespread across Phnom Penh, particularly in Keng Kang 1 and Toul Kork. Some of the most popular apartments in the capital are the Pasteur Villa, City Palace Apartments and Grand Residence.
Gross rental yields on apartments located in Phnom Penh are now very attractive. First floor apartments are the most attractive, with rental returns of around 11%, according to Global Property Guide research of May 2010. Second floor Phnom Penh apartments are also attractive, with gross returns of around 7.7%.
Nonexistent mortgage market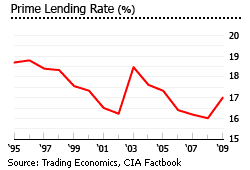 Cambodia's mortgage market is still very small. Mortgages and housing loans were introduced to the real estate sector only in 2008. The total amount of outstanding mortgage loans was KHR455.3 billion (US$116.5 million) in November 2010, or only 1% of GDP, according to the central bank, the National Bank of Cambodia (NBC).
Nevertheless the banking sector could face serious risks during the next two years if the collapse of property prices continues, the Economist Intelligence Unit (EIU) has warned.
From January to November 2010, the average interest rate on loans denominated in US dollars was 16.3%, according to the NBC. The Riel loan rate was far higher, averaging 22.8%.
GDP growth of 7% forecast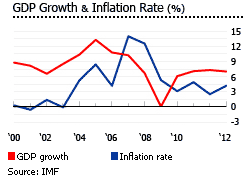 In 2013, the Cambodian economy was estimated to have expanded by about 7%, according to the International Monetary Fund (IMF).  During the first nine months of 2013, the total number of foreign visitors who visited the Angkor Wat rose by 5.83%.
Cambodia has experienced enormous economic growth over the past few years. From 2000 to 2003, the Cambodian economy grew by an average of 8%, and then by an average of 11.1% from 2004 to 2007. Growth is concentrated in tourism and the textile sector, which is dependent on most favoured nation status agreements.
The economy grew by 6.7% in 2008, but almost stagnated in 2009, due to the global crisis. In 2010, the economy resumed its growth with GDP growth of 6.1%. The total number of tourist arrivals rose by 16% to 2.5 million in 2010.
During 2011 and 2012, the country's economic growth averaged 7.2%, due to strong rebound in tourism, garments manufacturing, and agriculture, according to the Ministry of Economy and Finance. However, the construction sector, which fuelled Cambodia's double digit growths for much of the past decade, was still struggling.
Cambodia - More data and information