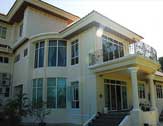 The Sultanate of Brunei (pop. 385,000; GDP/cap US$15,208) is located on the northern coast of the island of Borneo. Its nearest neighbors are the Philippines and Malaysia.

Before the Land Code of 1909, land was owned by the Royal Family and the nobles. The 1909 Land Code is still being used in Brunei today.

Foreigners are allowed to lease but not to own land, except with prior approval in writing of the King.