Armenia's property market at a standstill
October 22, 2013
Armenia's property market has not recovered from the 2008 housing slump, despite robust economic growth.  In 2012:
The average price of apartments was unchanged at AMD257,300 (US$633) per square metre (sq. m.) in 2012, from AMD257,400 (US$633) the previous year.
The average price of private houses increased by 0.3% to AMD275,000 (US$676) per sq. m. in 2012, from AMD274,000 (US$674) in 2011.
Source: Yervand Zagaryan, chairman of the State Committee of the Real Estate Cadastre
In Yerevan, the capital, the average price of apartments and private houses just slightly dropped during 2012, according to Zagaryan.
"As to the regions, prices are growing there—in apartment buildings by 3.5% from 2011 to 82, 100 drams (in 2012), and in private houses—by 0.7% to 86, 700 drams (over the same period)," Zagaryan added.
The capital's Kentron (downtown) administrative district has the most expensive housing in Armenia, with an average price of AMD424,100 (US$1,017) per sq. m. in February 2013.
From boom to bust
Armenia experienced a great housing boom from 2004 to 2008. House prices soared by about 250% over the four year period, based on the International Monetary Fund (IMF) report Armenia's Housing Boom-Bust Cycle. The house price to income ratio in Yerevan peaked in 2007, at about 16.5.  The house price to rent ratio peaked in 2008, at about 28.
Real estate construction increased four-fold during this period. The construction sector grew exponentially, its share of GDP increasing from 10% in 2000, to 25% in 2008.
In the wake of the global financial crisis, construction collapsed to a third of 2008 peak levels. Property transactions plummeted by almost 30%, House prices fell 15%. The housing market has not yet fully recovered since then.
To buoy the housing market, the government created a mortgage fund and granted government guarantees to construction companies.
RELATIVE PRICES IN YEREVAN AND REGIONS COMPARED TO ARMENIA AVERAGE
(Based on contract price of transactions)

Property Type
Year
Yerevan center
Yerevan average
Regions average
Armenia average
Apartments
2004
2.5
1.4
0.2
1.0
2008
2.0
1.4
0.3
1.0
2010
1.9
1.3
0.4
1.0
Houses
2004
4.6
2.7
0.5
1.0
2008
3.5
2.3
0.6
1.0
2010
3.3
2.1
0.6
1.0
Source: State Committee of the Real Estate Cadastre, IMF
Property transactions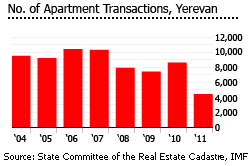 There are signs of recovery.  In August 2013, there were about 16,100 real estate transactions in Armenia, up by 1.5% from a year earlier, according to the Real Estate Cadastre. Yerevan accounted for about 40.9% of all transactions, followed by Kotayk province (13.2%), Ararat (8.3%), Aragatsotn (6.9%) and Armavir (6.6%).
Syrian Armenians are boosting housing demand, according to local real estate experts. "Many came and rented apartments for a month, and they now extend their rents for another month after hearing news of the worsening situation in Syria. People are scared," said Garik Danielian, a private real estate agency owner in Yerevan.
"There are people who buy homes, there is some movement in the market, even a slight increase in prices for newly built homes," Danielian added.
Apartments located in the center of Yerevan and in the prime resort of Lake Sevan have seen the greatest demand. Gyumri and Vanadzor are also experiencing increasing demand.
Construction activity remains down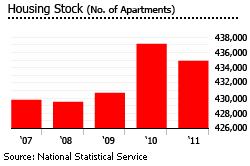 The sluggish construction sector in the country is one of reasons why the property market remains down, according to Hakob Baghdasaryan, head of Akcern real estate agency. There were about 434,892 apartment units in Armenia in 2011, down by 0.5% from the previous year, according to the National Statistical Service.
Small mortgage market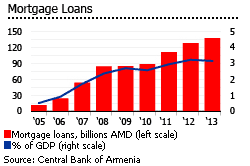 The size of the mortgage market in Armenia remains very small, despite recent growth. From just 0.5% of GDP in 2005, the mortgage market grew to about 3.2% of GDP in 2012, according to the Central Bank of Armenia (CBA).
In August 2013, total mortgage loans rose 11% year-on-year to AMD136.78 billion (US$336.4 million), according to the CBA.
The construction boom during 2004 to 2008 was largely undertaken by households, not developers. Property developers accounted for only 22% of total construction, financing themselves by presales with deferred payments.
Foreign individuals can lease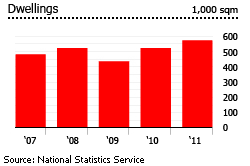 Foreigners may only lease land for up to 99 years. However, foreign individuals are allowed to purchase a house in Armenia, and a  company registered by a foreigner in Armenia as an Armenian business entity has the right to buy land.
Robust economic growth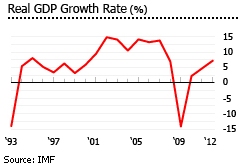 From 2001 to 2007, Armenia experienced spectacular economic growth, with an average real GDP growth rate of 12.8%. However, economic growth slowed sharply to 6.9% in 2008, mainly due to the adverse impact of the global financial and economic meltdown. Then in 2009, the economy contracted by 14.15%. The economy bounced back in 2010, with a real GDP growth rate of 2.2%. In 2012, the economy expanded by 7.2% after growing by 4.7% in the previous year.
In the first half of 2013, the economy grew by 3.5%, according to the Eurasian Development Bank (EDB). Armenia's economy is projected to expand by 4.6% in 2013 and by another 4.8% in 2014, according to the IMF.
The 2013 government budget deficit amounted to AMD119.7 billion (US$294.4 million). This is equivalent to about 2.3% of GDP.
Stagflation?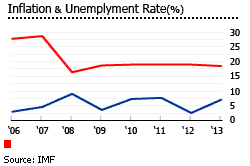 In September 2013, Armenia's overall inflation rate eased slightly to 8.2% from 9.3% in the previous month, compared to just 2.5% in 2012. The high inflation is now wiping out incomes and people's bank savings. The average gross salary in the country rose by 5.1% y-o-y to AMD149,725 (US$368) per month in August 2013. However, real wages actually declined by 4.2% over the same period.
In an effort to curb inflationary pressures, the CBA recently raised the refinancing rate by 50 basis points to 8.5%.
Unemployment is another problem. The country's unemployment rate stood at 16.9% in the first quarter of 2013, down by 3.2% from a year earlier, according to the National Statistical Service. The jobless rate in cities eased to 23.3% in Q1 2013 from 28.8% in the same period last year. Over the same period, the jobless rate in villages increased from 6.9% to 8%.
Corrupt and in conflict
Corruption remains a major concern in Armenia. During the 2013 presidential elections, incumbent president Serzh Sargsyan has won reelection with 59% of the vote. However, Raffi Hovannisian, who came second with 37% of the vote, alleged electoral fraud.
Mass protests took place. Hovannisian, together with his supporters, started a hunger strike in Freedom Square. However on 14 March 2013, the Constitutional Court of Armenia confirmed the victory of President Sargsyan.
Armenia is also in conflict with its neighbours. Two important neighbours, Azerbaijan and Turkey, have closed their borders to Armenia for political reasons. Azerbaijan and Armenia have not yet reached a peaceful resolution of claims on Nagorno-Karabakh, an area assigned to Soviet Azerbaijan in the 1920s by Moscow. A ceasefire in place since 1994, has failed to deliver any lasting solution. In fact, the territorial dispute is escalating further amidst a weapons build-up between the two nations.