Armenia's property market is recovering gradually
September 30, 2016

Armenia is a small Christian country (it was the first country in the world to adopt Christianity as its official religion) which lies high in the mountains of Ararat, mostly surrounded by Muslim neighbours (between 1 million to 1.5 million of the Armenian population of Turkey was killed in the Armenian genocide of 1915-17). It has the oldest Christian Church, and the world's oldest wine industry. Proportionately speaking the Armenian diaspora is enormous, with 8 million Armenians worldwide living outside the country, compared to a home population of around 3 million.

In 1990 it was the first non-Baltic republic to secede from the Soviet Union, and now has a completely free-market economy. It is poor (GDP of $3,535 per capita in 2015). It has an ongoing conflict with neighboring Azerbaijan, because of the large population of Armenian Christians in Nagorno-Karabakh.

Though it is mountainous and beautiful, it is remote and very hot in summer, but very cold in winter, so it attracts little tourism.

Armenia's property market
Armenia's property market has not recovered from the 2008 housing slump, despite robust economic growth. Demand remains depressed.

During the year to Q1 2016, the average residential property price in Armenia rose a meagre 0.1% to AMD 184,500 (US$389) per square meter (sq. m.), according to the State Committee of the Real Estate Cadastre.

In Q1 2016:

The average price of apartments in the country increased by 0.3% y-o-y to AMD 180,600 (US$ 381) per sq. m.
The average price of private houses in Armenia was unchanged from a year earlier, to AMD 188,300 (US$397) per sq. m.

Foreigners may only lease land for up to 99 years. However, foreign individuals are allowed to purchase a house in Armenia, and a company registered by a foreigner in Armenia as an Armenian business entity has the right to buy land.

A major group of buyers are Syrian Armenians, according to local real estate experts. "Many came and rented apartments for a month, and they now extend their rents for another month after hearing news of the worsening situation in Syria. People are scared," said Garik Danielian, a private real estate agency owner in Yerevan. There is also a small Yazidi community in Armenia.


Analysis of Armenia Residential Property Market »
Modest economic growth, high unemployment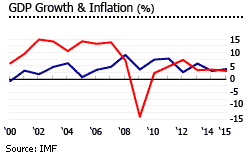 From 2001 to 2007, Armenia experienced spectacular economic growth, with an average GDP growth rate of 12.8%. However growth slowed sharply to 6.9% in 2008, then the economy contracted by 14.15% in 2009. The economy bounced back in 2010, with a growth of 2.2%. In 2012, the economy expanded by 7.2% after growing by 4.7% in the previous year.
In 2015, the economy expanded by 3%, from annual growth rates of 3.5% in 2014, 3.3% in 2013, 7.1% in 2012, 4.7% in 2011, and 2.2% in 2010, according to the IMF. The economy is projected to grow by a modest 2.2% this year.
Armenia recorded a government budget deficit of 4.8% last year, up from 1.9% in 2014 and the biggest deficit since 2010, according to the CBA.
The 2016 state budget projects a deficit of 3.5% of GDP.
Armenia's government debt was equivalent to 42.23% of GDP in 2015, according to the CBA. In 2016, debt is projected to rise further to 49.4% of GDP, while foreign debt is expected to be equivalent to 42.8% of GDP.
In July 2016, consumer prices fell by 1.3% from a year earlier - the six consecutive month of falling prices.
In an effort to fight deflation, the central bank cut its refinancing rate in August 2016, to 7.25%. However, the high dollarization of the country's banking sector, with more than 60% of deposits are denominated in dollars, undermines the efficacy of the central bank's monetary policy, according to Fitch Ratings.
Unemployment remains a serious problem. Unemployment stood at 17.7% in 2015, unchanged from the average unemployment rate of 17.6% from 2008 to 2014, according to the IMF, and a significant improvement on the average jobless rate of 32% which prevailed from 2001 to 2007.
Unemployment is expected to increase further to 18.2% this year, and to 18.3% in 2017.
Political crisis and corruption
Armenia is considered as one of the corrupt nations in the world.
In July 2016, a radical armed group seized and held a police station in Yerevan for two weeks, marking the country's worst political crisis in eight years. Two policemen were killed before they eventually surrendered. The roots of the crisis lay in the failure of the government to tackle corruption, unemployment, emigration, and a political culture of impunity.
During the 2013 presidential elections, incumbent president Serzh Sargsyan won reelection with 59% of the vote. However, second-runner Raffi Hovannisian, with 37% of the vote, alleged electoral fraud.
Mass protests took place. Hovannisian, together with his supporters, started a hunger strike in Freedom Square. However on 14 March 2013, the Constitutional Court of Armenia confirmed the victory of President Sargsyan. Despite this, many continue to question President Sargsyan's legitimacy up to this day, and have accused him of failing to improve the lives of Armenians.
Armenia is also in conflict with its neighbours. Two important neighbours, Azerbaijan and Turkey, have closed their borders to Armenia for political reasons. Azerbaijan and Armenia have not yet reached a peaceful resolution of claims on Nagorno-Karabakh, an area assigned to Soviet Azerbaijan in the 1920s by Moscow.
A ceasefire, in place since 1994, has failed to deliver any lasting solution. In fact, the territorial dispute is escalating further amidst a weapons build-up between the two nations.