Unceasing gloom in South Africa hits housing market
December 01, 2016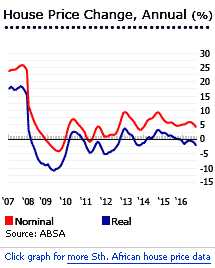 South Africa's economy is struggling. The country´s corruption-ridden politics tries everyone´s patience. There´s high unemployment, increasing inflation, and a devastating drought has ravaged the agricultural sector. High interest rates and weak household finances are pushing investors and homebuyers to the sidelines.  
The house price index for medium-sized houses rose by 4.38% y-o-y during the year to end-Q3 2016, according to ABSA. However when adjusted for inflation, the average house price actually fell by 1.95%.
Large-sized houses rose (least in nominal terms), but their prices were up by only 2.7% (-3.5% inflation-adjusted) y-o-y to Q3 2016. Small-sized houses, on the other hand, rose by 5.2% (-1.2% inflation-adjusted).
House price rises are expected to continue slowing during the remainder of 2016, amidst falling foreign investor confidence and uncertain economic conditions. Likewise, residential construction activity is also expected to remain subdued and may deteriorate further in the coming months.
"Nominal house price growth is forecast to remain in a narrow range of between 4% and 4.5% in 2016 and 2017, with real price deflation of around 1.5% to 2% expected over this period, taking into account the outlook for headline consumer price inflation," said ABSA in its October report.
Why foreign buyers aren't taking advantage of the rand's decline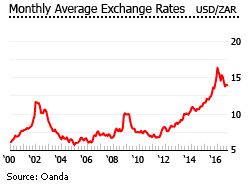 Property in South Africa is now dramatically less expensive for foreign buyers than four years ago.  The rand has fallen from US$ 1 = ZAR 6.76 in July 2011 then, to US$ 1 = ZAR 13.85  in October 2016 - though the rand has recovered a little since January.
Yet there´s been no big increase in home-buying by foreigners, according to FNB's Q4 2015 Estate Agent Survey. Foreign buying is in fact "off its "highs" reached around 2014". FNB attributed this to:
Declining investor sentiment towards South Africa, also reflected in the weaker rand;
Weaker performance of residential property globally, influencing its popularity as an asset class.
Foreigners own around 3% of all South African properties, a proportion which is still growing, according to Tyson Properties' Sharon Cockerell Brown. Most foreign owners are based in Europe, mostly in the United Kingdom, as well as Germany, Italy, Holland, and France. There are also buyers from African countries such as Mozambique, Zimbabwe, Angola, Cameroon, and Nigeria. An increasing number of buyers from China and Dubai are also eyeing properties in the KwaZulu-Natal and the Durban area, according to Craig Hutchison, chief executive of Engel & Völkers Southern Africa.
Foreigners can own immovable property in South Africa without restriction. However, all foreign funds remitted to the country must be declared and documented. The property must also be endorsed 'non-resident', as a condition for repatriation of funds.
Non-resident investors have to pay Capital Gains Tax when they later sell their properties. The purchaser of the property is required to deduct a prescribed percentage from the proceeds of the sale and remit it directly to the South African Revenue Service before paying the balance to the seller.
After reaching an all-time low of ZAR 16.36 = US$ 1 in January 2016, which was 29.3% down on a year earlier, the rand has partially reversed its losses in recent months.  It has gained around 16.5% against the US dollar, reaching an average exchange rate in September 2016of ZAR14.03 = USD 1.
Mortgage interest rates at their highest for 6 years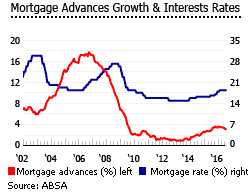 The South African Reserve Bank (SARB), the country's central bank, held its benchmark repurchase rate at 7% in October 2016, after raising it by a cumulative 75 basis points in the first four months of this year, in an effort to contain inflationary pressures.
The bank noted: "Should conditions develop in line with the current forecasts, it may at some point become possible to conclude the policy tightening cycle."
"However, the bar for loosening policy is high, requiring a substantial, sustained improvement in forecast inflation bringing it more comfortably within the 3-6% range," the bank added.
Prime and variable mortgage rates were at 10.5% in August 2016, up slightly from 9.5% the previous year - the highest level in more than six years.
In September 2016, inflation accelerated to 6.1%, up from 5.9% the previous month and above the upper end of SARB's target band, according to Statistics South Africa. Inflation was around 4.6% in 2015, down from 6.1% in 2014, and 5.8% in 2013, according to the IMF.
South Africa's inflation is expected to remain high in the medium term, at an average of 6.4% this year and 5.8% next year, according to the SARB.
Household finances are troublingly weak
South Africa's households remain under financial strain, because of slower economic growth, low employment levels, high interest rates, as well as weaker consumption.
"The level of household savings remains extremely low, while the debt-to-income ratio stays around the 78% level," says ABSA.
Due to increased financial pressure, the percentage of homebuyers paying the minimum only on their primary residence mortgage loans rose to 67% in mid-2016 from 54% three years ago, while those who are in a position to pay more than the required minimum per month on their mortgage loans fell to only 14% in mid-2016, down from 31% in mid-2013.
"Growth in household credit extension and its various components is forecast to remain subdued towards year-end and into 2017," says ABSA.
The amount of outstanding mortgages rose by 5.42% in August 2016 from the same period last year, to around ZAR 1.27 trillion (US$ 92.12 billion), according to the South African Reserve Bank (SARB).
Recalling the boom years
During South Africa's housing boom (from 2000 to 2006), national house prices rose by an average of 20% annually. House price rises peaked in October 2004 with 35.7% annual growth (32.5% in real terms).
However in Q1 2008 the boom ground to a halt, following the global financial crisis.
In 2008, house prices fell by 0.5% (-9% in real terms)
In 2009, house prices rose 0.3% (-5.4% in real terms)
In 2010, house prices rose 2.3% (-1% in real terms), encouraged by South Africa hosting the 19th FIFA World Cup
In 2011, house prices rose by just 1% (-5. 1% in real terms), due to lower economic growth, rising inflation, and political corruption concerns
In 2012, the housing market bounced back.  House prices rose by 9.2% (3.3% in real terms)
In 2013, house prices rose by 3.6% (-1.6% in real terms)
In 2014, house prices rose by 7.5% (2.1% in real terms)
In 2015, house prices rose by 5% (-0.2% in real terms)
The 2000 to 2006 boom was driven by 4 main factors:
The emergence of a financially stable black middle class had a tremendous impact on housing demand, encouraged by individual tax reliefs, in the context of a growing economy.
South Africans who had parked money offshore during the Apartheid era were allowed (and required) to bring it back by September 2004. Much of this money went into property.
Better stability and security helped. During Apartheid and its sequel, property prices had badly lagged the economy, as the security situation went from bad to worse.
Lastly, the Financial Sector Charter in 2003 boosted mortgage loan growth. Financial institutions committed to provide ZAR 42 billion (US$5.45 million) of housing finance to the low-income market. Then in 2006, the CGT exemption on primary residences was raised from ZAR1 million (US$72,649) to ZAR1.5 million (US$108,973). Transfer duties on properties were lowered too. For example, no transfer duty is payable on properties valued at ZAR500,000 (US$36,324) or less.
The subsequent slowdown of house prices in 2008 can be attributed to the full implementation of the National Credit Act in mid-2007, interest rate hikes, and to the global financial crisis.
The National Credit Act aimed to protect borrowers from over-indebtedness, by limiting the amount of funds that can be borrowed, and requiring every lender to assess borrowers' credit-worthiness. It requires lenders to disclose every term in the contract and gives the borrowers the right to request their credit report, and to challenge the report if there are inaccuracies.
The act has tended to reduce the supply of mortgage loans.
Residential construction struggling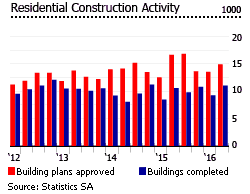 Residential building approvals fell by 10.6% during the first eight months of 2016 to 36,733 from the same period last year, according to Statistics South Africa.
For houses measuring less than 80 sq. m, approvals plunged 25.7% y-o-y to 12,004 in the first eight months of 2016
For houses measuring 80 sq. m and above, approvals also fell by 6.3% y-o-y to 10,538 in the first eight months of 2016
For flats and townhouses, approvals increased 3.7% y-o-y to 14,191 over the same period
Residential completions increased by just 1.3% to 25,595 units in the first eight months of 2016 from the same period last year.
For houses measuring less than 80 sq. m, completions fell by 8.9% y-o-y to 9,312 in January to August 2016
For houses measuring 80 sq. m and above, completions increased by a meager 1.5% y-o-y to 7,924 in the first eight months of 2016
For flats and townhouses, completions increased 15.6% y-o-y to 8,359 over the same period
Economy weakening; a quarter of the population are unemployed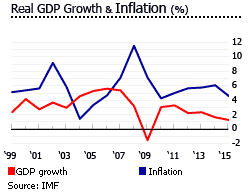 South Africa´s economy grew by a meagre 0.6% during the full year to Q2 2016, according to Statistics South Africa. Last year, the economy grew by about 1.3%. That wasthe slowest growth since the country emerged from recession in 2009.
The current pace of growth will not be enough to reduce unemployment. The country's unemployment rate was an amazing 26.6% in the second quarter of 2016, according to Statistics South Africa. From 2000 to 2014 average unemployment was persistently high, at an average of 24.8%.
To cut the high jobless rate to 14% by 2020, real GDP would need to grow an annual average of 5.4%, according to the government's National Development Plan. However, this is unlikely to happen. The economy is expected to grow by just 0.4% this year, amidst severe drought, rising inflation, and declining exports, according to the South African Reserve Bank (SARB).
In December 2015, Fitch Ratings downgraded South Africa's credit rating to BBB-, just above junk status. Fitch also changed their outlook from stable to negative due to lower than expected economic growth. Standard and Poor's (S&P) also lowered South Africa's outlook from stable to negative. Recently, Moody's also maintained a negative outlook for South Africa and warned of a credit rating downgrade if economic growth falls below its projected growth of 0.2% this year.
Yet South Africa has strengths.  It is Africa's biggest economy, affording its population of almost 55 million a GDP per capita of US$ 5,727 (2015). It has formidable manufacturing and financial sectors. It is the world's largest exporter of gold and platinum. Tourism is also a key source of foreign exchange. A pity, then, that its political elite serves it so poorly. 
President Zuma's dwindling popularity
ANC leader Jacob Zuma became president of South Africa in 2009, despite corruption charges. Zuma is an economic leftist who supports wealth redistribution, a polygamist who has married 6 times and is reported to have 20 children, including one "love-child".He has pledged to create 5 million jobs by 2020, but that target is obviously unrealistic.
Critics claim that President Zuma is indecisive, appeases factions within the party, while safeguarding his own position. Zuma has faced more than 700 corruption, tax-evasion, money-laundering, and fraud charges (which were eventually dropped), among others. Controversy rumbles on over Zuma´s relationship with the Gupta family, funding for the construction of his home.
In December 2015 he fired the well-respected Finance Minister Nhlanhla Nene, replacing him with an unknown backbencher, David van Rooyen. The reasons were obvious: Nene had opposed extravagant state spending, including on state-owned South African Airways (whose chairwoman Dudu Myeni is Zuma's close friend). Nene had also barred an acquisition of a new presidential jet, and advised that South Africa could not afford a trillion-rand Russian nuclear deal.
Zuma revised his decision a few days later, appointing Gavin Gordhan as finance minister. Investors calmed after Gordhan's appointment, since he had already served in the same position from 2009 to 2014.
However in recent months, a turf war between Zuma and Gordhan has developed over government spending, corruption, and the direction of the ANC.
In the August municipal elections, the African National Congress (ANC) had its worst-ever election result, its share of the national vote falling to 53.9%, and losing control of three cities - The City of Johannesburg, Nelson Mandela Bay, and City of Tshwane.
The political infighting is currently undermining investment and sabotaging economic recovery. In fact, ratings agencies have warned that if the political conflict continues, South Africa's credit ratings could be downgraded to junk status.
South Africa - More data and information