South Africa's housing market slowing
March 03, 2014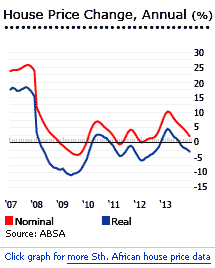 The South African housing market is slowing again, after a short-lived recovery from Q4 2012 to Q2 2013.
South African house prices rose in only one year - 2012 - during the past six years. Now the country is back to house price falls, at least in real terms. The house price index for medium-sized houses rose 2.14% during the year to November 2013, according to ABSA, but when adjusted for inflation, medium-sized houses actually saw their prices drop by 2.99%. Contrast this with 7.96% house price rises during the same period last year.
"Expectations regarding nominal house price growth and consumer price inflation will result in relatively low real house price inflation in 2014," says ABSA. The slowing economy, low growth in employment, real household disposable income, and tight credit due to deteriorating consumer credit-risk profiles are affecting the property market negatively, according to ABSA. Outstanding residential mortgages increased 0.7% to ZAR1.11 trillion (US$105.84 billion) in November 2013 from the previous quarter, according to the South African Reserve Bank (SARB).
During the housing boom (from 2000 to 2006), house prices rose by an average of 20% annually. Riding on the back of an empowered middle class, house price rises peaked in Oct 2004 with 35.7% annual growth (32.5% in real terms). However in Q1 2008 the boom ground to a halt, following the global financial crisis.
In 2008, house prices fell by 0.5% (-9% in real terms)
In 2009, house prices rose a meagre 0.3% (-5.4% in real terms)
In 2010, house prices increased by 2.3% (-1% in real terms), encouraged by South Africa hosting the 19th FIFA World Cup
In 2011, house prices rose by just 0.7% (-5.4% in real terms), due to lower economic growth, rising inflation, and political corruption concerns
In 2012, the housing market bounced back with house prices rising by 9.58% (3.71% in real terms)
The South African economy expanded by 2% in 2013, after GDP growth of 2.5% in 2012, 3.5% in 2011, and 3.1% in 2010, according to the International Monetary Fund (IMF).
In November 2013:
the average price of small homes (80-140 sq. m) was ZAR804,000 (US$76,661)
the average price of medium-sized homes (141-220 sq. m) was ZAR1,083,000 (US$103,263)
the average price of large homes (221-400 sq. m) was ZAR1,689,000 (US$161,044)
Interest rates are low. SARB has kept its benchmark repo rate at 5% since a surprise cut in July last year, to boost economic growth. The SABOR (South African Benchmark Overnight Rate) stood at 4.82% in December 31, 2013, slightly down from 4.89% during the same period last year.
The government is optimistic about this year, projecting that the economy will expand by 3% in 2014, based on projections released by SARB.
Foreigners can own immovable property in South Africa without restriction. However, all foreign funds remitted to the country must be declared and documented. The property must also be endorsed 'non-resident', as a condition for repatriation of funds.
Non-resident investors have to pay Capital Gains Tax when they later sell their properties. The purchaser of the property is required to deduct a prescribed percentage from the proceeds of the sale and remit it directly to the South African Revenue Service before paying the balance to the seller.
Looking back at the glory days
During the glory period from 2000 to 2006, South Africa's housing market boomed, driven by 4 main factors:
The emergence of a financially stable black middle class had a tremendous impact on housing demand, encouraged by tax reliefs for individuals, in the context of a growing economy.
South Africans who had parked money offshore during the Apartheid era were allowed (and required) to bring it back by September 2004. Much of this money went into property.
Better stability and security helped. During Apartheid and its sequel, property prices badly lagged the economy, as the security situation went from bad to worse.
Lastly, the Financial Sector Charter in 2003 boosted mortgage loan growth. Financial institutions committed to provide ZAR 42 billion (US$5.45 million) of housing finance to the low income market. Then in 2006, the CGT exemption on primary residences was raised from ZAR1 million (US$127,129) to ZAR1.5 million (US$190,694). Transfer duties on properties were lowered too. For example, no transfer duty is payable on properties valued at ZAR500, 000 (US$63,565) or less.
The subsequent slowdown of house prices in 2008 can be attributed to the full implementation of the National Credit Act in mid-2007, interest rate hikes, and to the global financial crisis.
The National Credit Act aimed to protect borrowers from over-indebtedness, by limiting the amount of funds that can be borrowed, and requiring every lender to assess borrowers' credit-worthiness. It requires lenders to disclose every term in the contract and gives the borrowers the right to request their credit report, and to challenge the report if there are inaccuracies.
The act has tended to reduce the supply of mortgage loans.
Mortgage market shrinking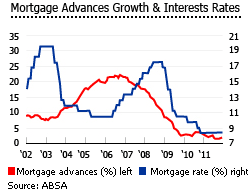 The value of new mortgage loans granted by banks on residential property fell 34% y-o-y to the second quarter of 2011, so that during the first three quarters of 2011, total outstanding residential mortgages rose only marginally, with a y-o-y increase of only 2%.
Economic growth not rapid enough, social stability worries
South Africa's economy expanded by a meagre 0.7% q-o-q growth in Q3 2013, the slowest pace in more than four years, mainly due to prolonged strikes in the motor industry, adversely affecting major car producers including Toyota, BMW, and Volkswagen. The result was that South African GDP only rose 2% in 2013, after annual GDP growth rates of 2.5% in 2012, 3.5% in 2011, and 3.1% in 2010, according to the International Monetary Fund (IMF).
The current pace of growth will not be enough to reduce unemployment. In the third quarter of 2013, South Africa's unemployment rate stood at 24.7%, or about 4.6 million unemployed people, according to Statistics SA - the third-highest jobless rate among 60 countries monitored by Bloomberg. From 2000 to 2012 average unemployment was persistently high, at 25%, according to the IMF.

To cut the high jobless rate to 14% by 2020, real GDP would need to grow an annual average of 5.4%, according to the government's National Development Plan.

This is unlikely to happen. The South African Reserve Bank (SARB), the country's central bank, only foresees growth of 3% in 2014.
In November 2013, the country's overall inflation rate stood at 5.3%, according to Statistics SA. South Africa's inflation rate was 5.6% in 2012, 5% in 2011, 4.3% in 2010 and 7.1% in 2009, according to the IMF.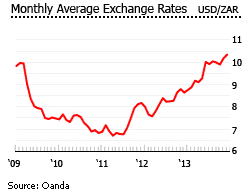 With a slowing economy and high unemployment, the SARB has kept its benchmark repurchase rate at a four-decade low of 5% since a surprise cut in July 2012. The SABOR (South African Benchmark Overnight Rate) stood at 4.82% in December 31, 2013, slightly down from 4.89% during the same period last year.

The South African rand has been weakening against the US dollar, from an average exchange rate of US$1=ZAR7.5744 in March 2012, to US$1=ZAR10.3438 in December 2013.

South Africa is Africa's biggest economy, with an estimated population of 51.7 million and a GDP per capita of US$6,847 in 2013. It has formidable manufacturing and financial sectors. It is the world's largest exporter of gold and platinum. Tourism is also a key source of foreign exchange.
Jacob Zuma – a worrying figure
ANC leader Jacob Zuma became president of South Africa in 2009, despite corruption charges. Zuma is an economic leftist who supports wealth redistribution, but has assured foreign investors that their interests will be protected.
He has pledged to create 5 million jobs by 2020, but that target looks increasingly unrealistic.
Economic challenges seem to be becoming secondary to the growing political uncertainties. Zuma's position is under pressure and the African National Congress is losing support. Critics claim that Zuma is being indecisive, appeasing factions within the party, while safeguarding his own position.
Populist measures are not out of the question. Zuma told a ruling-party rally in the northern town of Polokwane in January that foreigners might face restrictions on buying landed property, and be limited to leasing land. Foreigners can now own immovable property without restriction.
Land redistribution is an ongoing issue. Farmland is still mostly white-owned. Officials have signalled that large-scale expropriation is on the cards, with the government aiming to transfer 30% of farmland to black South Africans by 2014.
With the opposition Democratic Alliance gaining significant strength, the National Assembly has approved an information bill to "safeguard national security". The law is said by critics to pose a threat to freedom of speech.
South Africa - More data and information