Somalia: Overview
Oct 02, 2007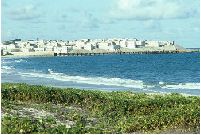 Somalia borders the Gulf of Aden and the Indian Ocean.

After President Siad Barre was overthrown in 1991, the state collapsed, leaving the country in anarchy. Except in the self-proclaimed states of Somaliland and Putland, no functioning central government, judiciary or legislature exists. Instead, armed bands fight continuously.

Somalia has few natural resources. Sixty percent of the population is nomadic or semi-nomadic. The displacements of the war have taken their toll on the towns: some are very congested, while others have been totally abandoned. The infrastructure is devastated. With the help of the international community, a Transitional Federal Assembly (TFA) was established in 2004. However it is unclear whether national reconciliation will be successful.

Land ownership in Somalia is based on race or tribe; usually clan members jointly own property. Till recently, no cadastral system existed; demarcations were decided between the locals. The UN embarked on a program of land surveys in 1999, granting titles to land owners.