Explosive property price rises
September 12, 2006

"The housing market is flourishing, and transactions are taking place at an increasingly dizzying rate," say M. Thierno Mamadou Kâne of the Notarial office Amadou Moustapha Ndiaye et Aida Diwara Diagne.
Most of the year, the Senegal has a Californian climate. It has great beaches and a fast-growing tourist industry (now 1.4 million tourists per annum visit Senegal, which has a population of only 10 million).
Senegal's coastal capital Dakar is the largest and most cosmopolitan city in West Africa.
Dakar is a peninsula, "It is widely recognized everywhere in the world that where space is restricted, prices have a tendency to rise," says Kâne
Senegal is a Muslim country but Central African Islam is not like Arab Islam, it is tolerant. The sudden arrival of large numbers of scantily-clad French and Scandinavian tourists has not thrown the Senegalese off.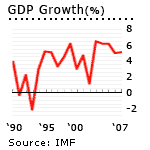 Many Senegalese have a high-quality French education and are internationally-minded. There is a large expatriate community, good internet and air connections (Air Senegal was bought by Royal Air Maroc and is now efficient).
And there is a genuinely reformist, progressive democratic government, a real exception in this corner of Africa.
Scandalous rents
The lack of new housing supply is a serious problem in Dakar. For a city of 2 million, only 1,700 building permits were issued during 2003-2004.
There is local disquiet about high rents. A local source talks of the "scandalous rentals demanded by the leading estate agents," and says that four years of rental payments correspond to the price of a house.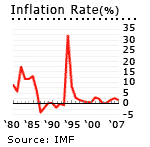 Nevertheless by international standards rents are still reasonable.
Outside the capital, the problem for the buyer is the relatively short leasehold terms which are available to buy. Various sections of the coast have been taken out of state patrimony and leased to development companies, for lease to tourists/investors. But the parts of the Petite Cote available to foreigners were originally leased 50 years ago, and only 24-26 years of that lease remain.
Senegal - More data and information