2019 was a great year for Nigeria's housing market, with demand rising by double-digit figures.Property listing enquiries surged 72%, according to a year-ender report by Nigeria Property Centre.

However due to the pandemic, demand suddenly slowed this year. Job losses and salary cuts have prevented many from renting better apartments or purchasing new homes, note PropertyPro.ng. Estate Intelconfirms that "many payment plans for properties are being extended".

Despite this, local real estate experts remain optimistic. "A section of the workforce who now work remotely may have an increased need for larger spaces," said PropertyPro.ng. "Specifically for millennials looking for improved privacy, the need for new apartments will probably surface."

In an effort to buoy economic activity amidst the pandemic, the Central Bank of Nigeria (CBN) recently approved NGN 200 billion (US$ 520 million) in mortgage finance to fast track construction of 300,000 social housing units for low-income households, and to create new jobs for the unemployed.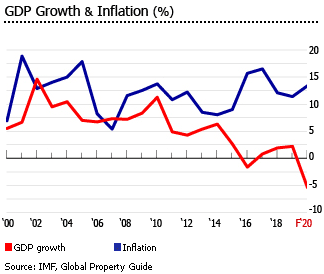 In Q2 2020, Nigeria's economy shrank by 6.1% from a year earlier, in contrast to a 1.9% growth the previous quarter, amidst subdued domestic and international economic activity due to the nationwide shutdown measures aimed at containing the pandemic, according to the National Bureau of Statistics. It was the steepest decline since Q1 2004. The International Monetary Fund (IMF) recently revised down its 2020 economic forecast for Nigeria to a contraction of 5.4%, worse than its earlier estimate of -3.4%.