Namibia housing market weakening, after a strong upsurge
December 25, 2014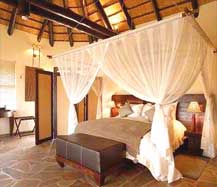 House prices in Namibia continue to rise, albeit at a slower pace. But house prices in the capital Windhoek are now falling, and demand is now declining sharply.
The First National Bank (FNB) housing index for Windhoek soared by about 26% during the year to July 2014, while nationwide median house prices rose 11% over the same period to around NAD709,749 (USD61,448).
In July 2014:
In the lower price segment, the average property price was NAD511,000 (USD44,241).
In the middle price segment, the average property price was NAD1,213,000 (USD105,017).
In the upper price segment, the average property price was NAD1,977,000 (USD171,162).
Land values in Namibia increased by about 4% y-o-y in July 2014 to an average price of NAD379 (USD33) per square metre (sq. m.).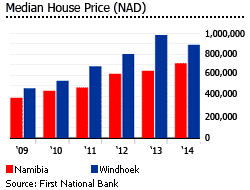 Yet the First National Bank expects Namibian house prices to rise about 15% this year, on the back of strong economic growth, robust consumer demand and rising mining exports.
Maybe - but the most recent figures show property demand struggling. Property volumes were 20% down on last year during the year to July 2014. All property segments saw declining volumes, with the upper price segment registering the biggest volume fall of 22% y-o-y in July 2014.
Yet despite falling property volumes, net mortgage advances rose by 11.7% y-o-y in July 2014 to bring the total outstanding consumer mortgages to NAD25.6 billion (USD2.22 billion), according to Bank of Namibia, the country's central bank. An additional 208,000 sq. m. of land was mortgaged by property developers, with a maximum potential for 485 free standing homes, which brings the cumulative house delivery potential to 8,435 freestanding homes for 2014, according to the First National Bank.
Namibia's economy is estimated to have grown by 5.3% this year, after growing 5.1% in 2013 and 5.2% in 2012, mainly due to robust construction works, recovery in agriculture and sustained growth in wholesale and retail trade, according to the Bank of Namibia.
Local house price variations
During the year to July 2014:
In the Central area, property prices climbed 19% y-o-y in July 2014 to an average of NAD763,000 (USD66,058).
In Windhoek, Namibia's capital, property prices dropped 9% y-o-y to NAD888,000 (USD76,880).
In Okahandja, property prices fell by 24% to NAD674,000 (USD58,353).
In the Coastal area, the average property price rose by 10% to NAD878,000 (USD76,014).
In the Walvis Bay, property prices surged by 46%
In Henties Bay property prices rose by 8%.
In the tourist town of Swakopmund property price fell by 3%.
In the Northern area, property prices surged by 25% to a median price of NAD534,000 (USD46,232). Few towns saw house price growth in excess of 20% while Oshikango even posted house price falls.
In the Southern area, the figues show that property prices more than tripled during the year to July 2014! However, only 4 properties traded in the area during the month, one cannot read too much into this figure. Property prices increased by 23% in Aranos, 25% in Keetmanshoop, 37% in Luderitz and 31% in Mariental.
MEDIAN HOUSE PRICES IN NAMIBIA'S LARGEST CITIES, JULY 2014

ANNUAL CHANGE (%)

MEDIAN HOUSE PRICE

July 2014

NAD
ESD
Windhoek

-9

887,500
76,837
Rundu
33
534,653
46,288
Walvis Bay
46
900,000
77,919
Swakopmund
-3
763,000
66,058
Oshakati
96
824,600
71,391
Katima Mulilo
23
530,000
45,886
Otjiwarongo
13
770,000
66,663
Namibia
11
709,749
61,448
Source: First National Bank
Housing affordability deteriorates
House prices in Namibia are rising faster than household incomes. Namibian households must earn at least a monthly income of NAD23,000 (USD1,991) to afford an average residential property, according to Namene Kalili of FNB Namibia Holdings.
"This is almost three times the average household income for urban households in Namibia. Based on our calculations, the income requirement for the lower price segment came in at NAD15,000 per month. Less than 10% of the households in the country can afford a property in the lower price segment," Kalili said.
Fundamentals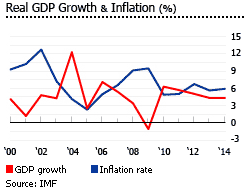 The residential real estate market has experienced strong and constant growth since 2001 due to good macroeconomic fundamentals such as low inflation and interest rates.
The economy grew by an annual average of 4.5% from 1994 to 2008. However, the economy contracted by 1.1% in 2009, mainly due to the adverse impact of the global crisis. Economic growth surged again by 6.3% in 2010, 5.7% in 2011, 5.2% in 2012 and 5.1% in 2013.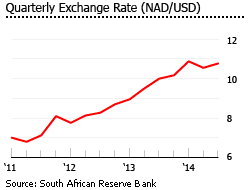 ]Inflation was 5.6% last year, down from 6.7% in 2012, 5% in 2011 and 4.9% in 2010.
In August 2014, the country's annual inflation stood at 5.4%, according to NSA.
The prime lending rate was 9.75% in September 2014, up from 9.25% in a year earlier but well down on historically high rates, such as the 17% registered in 2002, and 24% in 1998. Likewise, the bank rate also increased to 6% in September 2014 from 5.5% in the previous year.
The Namibian dollar (NAD) continues to weaken against the US dollar. In Q3 2014, the quarterly average exchange rate stood at USD1= NAD10.7607.