Namibia housing market weakening, after a strong upsurge
December 25, 2014

House prices in Namibia continue to rise, albeit at a slower pace. But house prices in the capital Windhoek are now falling, and demand is now declining sharply.

The First National Bank (FNB) housing index for Windhoek soared by about 26% during the year to July 2014, while nationwide median house prices rose 11% over the same period to around NAD709,749 (USD61,448).

In July 2014:

In the lower price segment, the average property price was NAD511,000 (USD44,241).
In the middle price segment, the average property price was NAD1,213,000 (USD105,017).
In the upper price segment, the average property price was NAD1,977,000 (USD171,162).


Land values in Namibia increased by about 4% y-o-y in July 2014 to an average price of NAD379 (USD33) per square metre (sq. m.).

Yet the First National Bank expects Namibian house prices to rise about 15% this year, on the back of strong economic growth, robust consumer demand and rising mining exports.

Maybe - but the most recent figures show property demand struggling. Property volumes were 20% down on last year during the year to July 2014. All property segments saw declining volumes, with the upper price segment registering the biggest volume fall of 22% y-o-y in July 2014.

Yet despite falling property volumes, net mortgage advances rose by 11.7% y-o-y in July 2014 to bring the total outstanding consumer mortgages to NAD25.6 billion (USD2.22 billion), according to Bank of Namibia, the country's central bank. An additional 208,000 sq. m. of land was mortgaged by property developers, with a maximum potential for 485 free standing homes, which brings the cumulative house delivery potential to 8,435 freestanding homes for 2014, according to the First National Bank.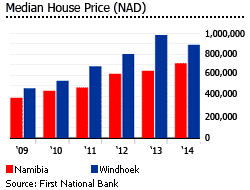 Foreign land ownership is allowed in Namibia, except for agricultural land.

Namibia's economy is estimated to have grown by 5.3% this year, after growing 5.1% in 2013 and 5.2% in 2012, mainly due to robust construction works, recovery in agriculture and sustained growth in wholesale and retail trade, according to the Bank of Namibia.


Analysis of Namibia Residential Property Market »
Yields are high in Windhoek at 9.5% - 10%
In Windhoek property typically costs US$457 - US$523 per sq. m. (NA$3,320 to NA$ 3,800). A 200 sq. m. house would cost about NA$712,812 (US$98,031). For a similar sized property, the rent would be around NA$5,643 (US$776) per month.

Yields are around 9.5% to 10% for properties of up to 200 sq. m.. Bigger properties have yields of around 7.5%.

Beachfront properties in Swakopmund are priced at US$131 to US$694 per sq. m. (NA$950 - NA$5,050), and yield around 5.5% to 9%.
Namibia's rental income tax is high
Rental Income: Rental and other income are taxed at progressive rates, up to 37%. Income over NAD50,000 (US$3,571) is taxed at 18%, while income exceeding NAD1,500,000 (US$107,143) is taxed at 37%.

Capital Gains: There is no capital gains tax.

Inheritance: Inheritance tax is not levied in Namibia.

Residents: Residents are taxed on their Namibian-sourced income at progressive rates, from 0% to 37%.
Total transaction costs in Namibia are moderate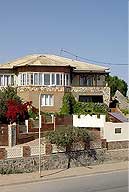 The total roundtrip transaction cost, i.e., the cost of buying and selling property, is around 8% to 21.30%. The buyer pays for the transfer duty, stamp duty, conveyance fees, and registration fees.

Property registration is typically completed in about 52 days.

Real estate transactions are negotiated and concluded in Namibian dollar (NAD). With strong links with South Africa, South African rand (ZAR) is accepted as legal tender in Namibia. The exchange rate is pegged at NAD1 = ZAR1.
Namibia rental practice is pro-landlord
Rent: All terms of lease agreements including rent and rent increases can be freely negotiated between the parties.

Effectiveness of legal system: Even if the court system is cumbersome and time consuming, the landlord is protected by an automatic rent interdict on the tenant's movables. Such movables cannot be removed from the property, until judgment by the Court has been given.
Robust economic growth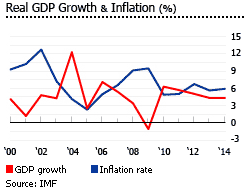 Namibia is a large, sparsely populated country, which was once a German colony. It is a country of wide open spaces, deserts, an abundance of wildlife, a wealth of unique geological formation and unspoiled wilderness.
After World War II, South Africa took over Namibia (formerly named South West Africa). Independence only came in 1990, after a 25-year war.
Quality diamonds were discovered in 1908, which prompted an influx of Europeans, specifically Germans, eager to invest. The country produced 1.5 million carats in 2002, with export earnings estimated at US$500 million. Other mineral resources in the country are uranium, copper, lead, zinc, gold, silver, tin, cadmium, semiprecious stones, tantalite, phosphate, sulfur and salt.
The economy grew by an annual average of 4.5% from 1994 to 2008. However, the economy contracted by 1.1% in 2009, mainly due to the adverse impact of the global crisis. Economic growth surged again by 6.3% in 2010, 5.7% in 2011, 5.2% in 2012 and 5.1% in 2013.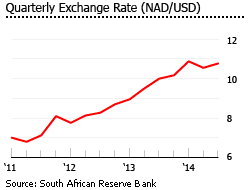 Inflation was 5.6% last year, down from 6.7% in 2012, 5% in 2011 and 4.9% in 2010.
In August 2014, the country's annual inflation stood at 5.4%, according to NSA.
The prime lending rate was 9.75% in September 2014, up from 9.25% in a year earlier but well down on historically high rates, such as the 17% registered in 2002, and 24% in 1998. Likewise, the bank rate also increased to 6% in September 2014 from 5.5% in the previous year.
The Namibian dollar (NAD) continues to weaken against the US dollar. In Q3 2014, the quarterly average exchange rate stood at USD1= NAD10.7607.
The country's politics is relatively stable and democratic. Presidential elections occur every five years, with each election considered fair and democratic by international observers despite minor irregularities. Like most Third World countries, an oversized bureaucracy slows down business and investment. Poverty and unemployment are high. HIV/AIDS remains a national priority.