Mozambique: Overview
Dec 01, 2007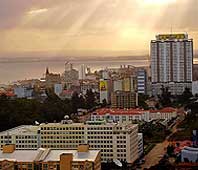 Mozambique (pop. 20,502,000; GDP/cap US$355) is located in Southeast Africa, between the Mozambique Channel in the east and Zimbabwe in the west.

In 1992, after 17 years of civil war, it was one of the world's poorest nations. But over the last decade it has made an impressive recovery through successful macroeconomic reforms and a more stable political environment.

Political difficulties loom. The government is corrupt and lacks transparency. The 2004 elections were marred by allegations of fraud. Armando Guebuza succeeded long-time ruler Joaquim Chissano, who had ruled since 1986.

The economy was hit by major flooding and drought 2000-2002. Much of the population was affected, and much infrastructure was destroyed.

Land is only open for lease for up to 50 years. All land is state-owned. But the inefficient nature of the Mozambican judicial system makes protection of property rights extremely problematic.