Foreign demand fuelling the property market in Mauritius
January 19, 2015
The property market in Mauritius continues to thrive, several years after the government decided to open up the island to wealthy foreign homebuyers.
In 2004, the government introduced the Integrated Resort Scheme (IRS), in an effort to boost direct foreign investment (FDI) into the country. Under the IRS, foreigners can purchase luxury villas of up to 1.25 arpents (5,276 sq. m.) each. As a property-owner, a residency permit is also granted, which is extended to the investor's family. A minimum investment of US$500,000 is required to obtain residency status.
Then in 2007, the government introduced the Real Estate Scheme (RES), allowing foreigners to buy cheaper, albeit still expensive, properties. Prices start from around US$300,000, although any real property valued at less than US$500,000 does not grant the coveted status of permanent residence. The RES allows small landowners to create clusters of mixed-size dwellings targeted at foreign investors.
The following entities qualify to buy real estate in the country under both schemes - a non-citizen of Mauritius, a company registered as a foreign company under the Companies Act 2001, a company incorporated under the Companies Act 2001 (local company), a Society where its deed is deposited with the Registrar of Companies, and a trust where the trusteeship services are provided by a qualified trustee.
"The fact that the Mauritian property market was closed to foreign buyers until 2004 created a pent-up demand for homes, especially leisure property," says Jonathan Tagg of Pam Golding Properties.
"Until 2008 the only available properties were within IRS schemes, where prices were beyond the reach of most buyers. In late 2008 the government introduced the RES projects and property was available from $400,000. These new developments enabled buyers to acquire property in the popular towns of Grand Baie and Tamarin, which created an additional wave of interest which has driven the market," Tagg added.
Foreign demand fuels property price rises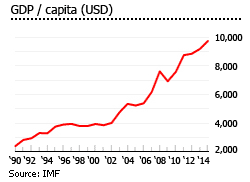 Because of the upsurge in demand, property prices have risen since then. Average prices in integrated resort scheme developments have risen by about 30% to 40% in the past five years.
In 2013, the average sales price achieved across the island's eight approved resorts to sell freehold property to foreigners stood at MUR38.82 million (US$1.2 million), according to Sachin Mohabeer of the Board of Investment.
"It's very easy for foreigners to buy a property as long as you have the capital to invest," said David Gervel of Mauritius Property. We have seen a real boom in real estate projects since 2011, with many projects set up to meet international standards."
Property prices in Mauritius continue to rise.
At Villa Valriche, property prices have risen by an average of 30% to US$1.5 million in 2013 from five years ago.
At La Balise Marina, the average resale price for two-bedroom duplexes sold off plan was US$820,000 in 2013, up 37% from US$600,000 three years ago.
At Anahita World Class Sanctuary, resale prices for residential properties are rising by about 14% to 27% every year, according to Chris Immelman of Pam Golding Properties.
In Le Parc de Mont Choisy, a golf and beach estate located near Grand Baie, residential properties are currently priced from US$570,000.
In Martello, situated near Tamarin, foreign homebuyers can buy a residential property from as low as US$271,000.
Foreigners have been attracted to the island because of its beautiful scenery and pristine beaches. Moreover, Mauritius also offers great tax benefits to foreigners, a good educational system, a low crime rate and a well-developed healthcare system.
There are currently about 15,000 to 25,000 expatriates living in Mauritius, according to Gervel.
French and South Africans snapping up Mauritian homes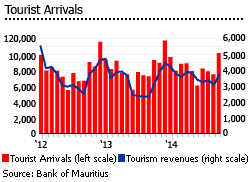 French and South Africans account for the majority of property sales to foreigners.
For IRS projects, French citizens accounted from 38% of the total property sales, followed by South Africans (25%), British (19%), Mauritians (8%), Belgians (4%), Russians (3%) and Swiss (3%), according to the Board of Investment Mauritius.
For RES projects, French citizens accounted for more than 50% of the total investments, followed by South Africans (33%), Mauritians (6%), British (4%), Indians (2%) and Belgians (2%).
From 2006 to 2013, the real estate market has attracted more than MUR35 billion (US$1.1 billion) foreign direct investment (FDI) into the country.
In the first half of 2014 the real estate market accounted for the largest part (around 40%) of the total FDI in Mauritius, at MUR3.18 billion (US$98.3 million) of MUR7.93 billion (US$245 million) FDI, according to the Bank of Mauritius.
Construction boom continues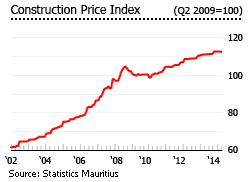 Since Mauritius opened up to foreign homebuyers, more than 60 residential projects have been approved under the RES while about 12 residential projects have been approved under the IRS.
Approved offshore residential resort developments include:
Tamarina Golf Estate and Beach Club, located on the west coast
Villas Valriche, located on the country's undeveloped south coast near Bel Ombre
La Balise Marina at Black River on the west coast
Anahita World Class Sanctuary, situated on the east coast
Azuri, situated in the north near Grand Baie
Le Parc de Mont Choisy, strategically located in the heart of Grand Baie
The construction price index, an indicator of the changes in prices of construction materials and other inputs to construct a single storey house, increased 1.4% in June 2014 from the same period last year, according to Statistics Mauritius.
Stable and progressive economy
Mauritius (pop. 1.3 million) is a small island nation in the Indian Ocean, east of Madagascar and mainland Africa. It has one of the strongest economies and one of the most stable democracies in Africa, and one of the highest standards of living in Africa, with a GDP per capita of US$9,715 in 2014, according to the International Monetary Fund (IMF).
The economy is estimated to have expanded by 3.5% in 2014, after real GDP growth rates of 3.2% in 2013, 3.4% in 2012, 3.6% in 2011 and 4.2% in 2010, according to the Bank of Mauritius.
In 2014, unemployment stood at 7.8%, slightly down from 8% in the past two years.
The budget deficit stood at 3.2% of GDP in 2014, from 3.5% in 2013, 1.8% in 2012 and 3.2% in 2011, according to the Bank of Mauritius. Inflation was 4% last year, from 3.6% in 2013, 5.1% in 2011-12, and 1.7% in 2010, according to the Bank of Mauritius.
Tourism continues to grow. Tourist arrivals rose by 5.1% y-o-y to 826,950 people during the first ten months of 2014, while tourist revenues rose by 11.5% to MUR35.94 billion (US$1.11 billion), based on figures from the Ministry of Tourism and Leisure.
Low interest rates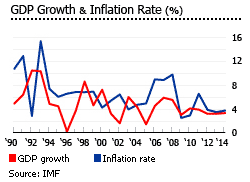 The key repo rate was kept unchanged at 4.65% in October 2014, according to the Bank of Mauritius. The interest rates for housing loans also remained unchanged at a range of 2% to 12%.
Most banks offer mortgages to foreign homebuyers at an interest rate of 5%.
Mauritius - More data and information