Mauritania: Overview
Dec 03, 2007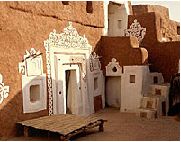 Mauritania (pop. 2,961,000; GDP/cap US$811), on West Africa's coast below Morocco, is a sparsely populated, mostly desert country. It is extremely poor, with a GDP per capita of US$526 in 2006.

It has limited agricultural resources, though the country's coastal waters boast some of the world's richest fishing grounds. Efforts at developing the tourism sector have met little success.

President Maaouiya Ould Sid Ahmed Taya ruled from 1984 to August 2005 - first as a military leader, then as a civilian. Democracy was instituted in 1992 following the ratification of the 1991 Constitution, but pluralism was a sham. Taya ran a highly centralized Islamic republic, known for political repression and lack of transparency. The recent bloodless coup in 2005 finally ousted the president who was in Saudi at that time to attend the funeral of King Fahd. Presidential elections are scheduled next year.

All land belongs to the government. Foreign nationals are not permitted to hold interest in real property.