Mali: Overview
Dec 04, 2007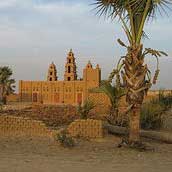 The landlocked country of Mali (pop. 13,059,000; GDP/cap US$480) is one of the poorest in the world, despite the discovery of gold, which has encouraged foreign investment. It shares borders with Mauritania, Algeria, Burkina Faso, CÃ'te d'Ivoire, Guinea, Niger, and Senegal.

Following independence from France in 1960, Mali became a one-party socialist state. But after a series of coups, a multi-party democracy was established in 1992. The country is now relatively politically stable under President Amadou Toumani Toure.

An economic adjustment program in the early 1990's had a positive effect on growth, although corruption remains endemic. Highly dependent on agricultural exports, the country is vulnerable to fluctuations in world commodity prices, and to climate change and deforestation.

Land tenure is complicated because Islamic law, local laws, and communal ownership rule coexist. Further, the purchase of real estate requires prior authorization from the Ministry of Finance.