Overview
December 02, 2007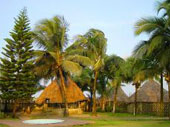 Liberia (pop. 3,442,000) is in the westernmost part of Africa, with the North Atlantic Ocean to its west. Liberia is the oldest republic in Africa, founded by freed American slaves. For over a century after independence (1847) it was peaceful.

In 1980, Master Sergeant Samuel Doe launched a coup, executing then-president William Tolbert, Jr. and 13 aides, and ending the hegemony of the ruling Afro-American minority. In 1989 another coup was organized by Charles Taylor's National Patriotic Front of Liberia (NPFL) (Doe was executed a year later).

Chaos spread under the Taylor administration. Ghana and Nigeria accused Liberia of supporting rebels in Sierra Leone, while Taylor accused Guinea of backing Liberian rebels in the North. Although a peace agreement was signed in 1995, Liberia's 14-year civil war (1989-1996) only officially ended in 2003. After Charles Taylor resigned in 2003 and went into exile elections were held In 2005 Ellen Johnson-Sirleaf was elected, the country's first woman president.

Freehold properties can only be acquired by Liberian citizens. However, foreigners may obtain long-term leases subject to government approval. But the land tenure system in Liberia is a disaster. Landowners say that if nothing is done to change the situation, the next civil war in Liberia will be caused by land ownership disputes. Illegal sale and resale of land, multiple ownership claims to the same piece of land and the absence of many landowners in Liberia for more than one decade, characterize the unstable current land tenure system.