Kenya's house prices rising sharply
October 04, 2016
Values in Kenya's residential property market continue to rise sharply, amidst robust economic growth and a sharp increase in the population of middle-class and expats. Residential property values in Kenya have risen by a staggering 4.34 times from 2000 to Q2 2016, according to Hass Consult.
During the year to end-Q2 2016, the Hass Composite Property Sales Index, a measure of asking sales prices of residential properties, rose by 16.6%, after y-o-y increases of 14.6% in Q1 2016, 9.6% in Q4 2015, and 7.5% in Q3 2015, based on a report released by HassConsult Limited. Quarter-on-quarter, residential property prices increased 4% in Q2 2016.
The Hass index is based on 4,000 to 6,000 properties tracked across Kenya, which are collected from multiple estate agencies and all publicly available house sales, including in property magazines, property websites and the national media.
The average value of a residential property in the country surged to KES31.1 million (US$307,100) in June 2016, from just KES7.1 million (US$70,110) in December 2000, according to HassConsult. The average price for a 1-3 bedroom residential property is currently KES14.1 million (US$139,233). On the other hand, the average price for a 4-6 bedroom residential property is KES47.6 million (US$470,034).
By property type, detached houses saw the highest quarterly price increase of 5.2% in Q2 2016, followed by apartments (3.6%), and semi-detached houses (0.7%), according to Hass Consult.
Langata, a suburb in Nairobi that consists of many small housing developments, recorded the biggest rise in house prices of 17.6% during the year to Q2 2016, followed by Karen (16.6%), Gigiri (12.4%), Muthaiga (11.1%), Nyari (10.9%), Runda, and Spring Valley (10.7%), and Kitisuru (10.3%). Among the capital city's suburbs, only Kilimani (-5.4%) and Donholm (1.6%) saw falling prices over the same period.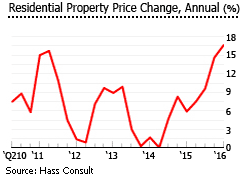 In Kenya, most property purchases are for cash. Because of this, the mortgage market remains underdeveloped.
Nevertheless, the performance of the property market could be further improved if commercial banks lowered interest rates, according to Hass Consult.
This is supported by Chetan Hayer of real estate developer Nirbhau Group, who said that financing remains very costly in Kenya, not just for buyers but for developers as well. "We need to reform the way that mortgages are structured to ensure funding can be released during construction, not just when properties are completed," said Hayer.
Kenya's economy grew by 5.6% last year and is expected to expand by more than 6% this year and in 2017, according to the International Monetary Fund (IMF), making the country one of the fastest-growing economies in Sub-Saharan Africa. The central bank cut its key interest rate by 50 basis points to 10% in September 2016, to buoy economic growth.
A shift to smaller, lower priced properties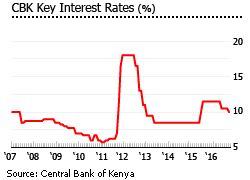 As the affordability of detached houses has deteriorated over the past 15 years, homebuyers have been shifting to lower priced property types. Demand for apartments is rising, taking up about 41% of sales in 2015, up from just 23.5% in 2001. Semi-detached houses accounted for 17% of sales in 2015 while detached houses accounted for more than 41% of the market, a significant change from 2001, when semi-detached houses made up around 25% of sales and detached houses more than half.
The increasing appetite for affordable housing is also reflected on the supply side. In 2015, the value of approved multi-unit residential building plans rose by 11.2% from a year earlier, according to the Nairobi Directorate of Planning, Compliance and Enforcement.
"With most existing standalone houses in high development areas like Lavington, Spring Valley, Loresho, and Kileleshwa having been converted to apartments, there are less standalone houses in the suburbs," said Hassanali.
Foreign demand is increasing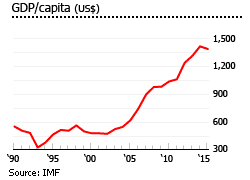 Foreigners are buying more in Kenya. Foreigners generally prefer the area within an arc from Nairobi's south west to north east. In the Parklands area of Nairobi, demand is high and property is being snapped up by moneyed Asian investors. Because of security concerns and the recent breakdowns in the provision of the basic utilities, there is increased demand for accommodations within secure compounds with their own water supply and back-up generator.
Foreigners can freely buy 'commercial class' land in Kenya.
"Kenya's property market has potential for higher rates of return compared to other jurisdictions. It is also relatively easy for foreign investors to enter Kenya's real estate sector," said Nathan Luesby of Jenga Web Ltd.
Kenya's most attractive residential areas
Some of the high-end residential neighborhoods in Kenya include Gigiri, Runda, Muthaiga, Lavington, Karen, Machakos County, Kajiado County, Nyali, and Shanzu.
Gigiri
Gigiri is home to the country's largest expatriate community and is one of the capital's poshest suburbs. It houses the UN Environmental Programme, making it the only African city to host a major UN body. Gigiri's Village Market hosts the International Civil Aviation Organization Base for Eastern and Southern Africa.
Runda, Muthaiga, Lavington, and Karen
These locations host rich Kenyans and high net worth individuals, though recently, more townhouses have been being built here rather than villas and mansions.
Machakos County (East Metro)
Because of skyrocketing house prices in the city centre, people are now moving to areas on the outskirts of Nairobi, such as Athi River in Machakos County. Under the Nairobi 2030 Master Plan, Machakos County will be developed as a dormitory town for Core Nairobi.
Konza< Techno City
Dubbed as "Africa's Silicon Valley", Konza Techno City will become the country's single largest property development. Begun in January 2013, the US$14.5 billion project is scheduled for completion by 2030.
Kiambu (North Metro)
Kiambu County has seen many developments since the road connecting it to Core Nairobi was expanded.  An example is Tatu City, begun in 2013 with an estimated cost of US$2.5 billion.
Kajiado (South Metro)
Kajiado County is home to some of the country's richest people, especially those who work in the city centre. Its poshest neighborhoods include Ngong, Kiserian, Kitengela, and Ongata Rongai.
Nyali
A popular tourist destination. Nyali, a high-end residential area in Mombasa City, has some of Kenya's most expensive homes, and numerous high-class hotels and long white sand beaches.
Shanzu
Shanzu is an affluent neighborhood in Mombasa, with high-end residential developments. It is popular for its pristine beaches, numerous hotels, bars, and restaurants.
Housing shortage remains high
Kenya faces a huge housing shortage. More than 200,000 homes need to be built a year, but only 50,000 new units are being built annually, according to Lands Cabinet Secretary Jacob Kaimenyi.
The shortfall leaves around 150,000 Kenyans un-housed every year, according to Cytonn Investments, with middle-income earners and students in urban areas the most affected. Based on a recent housing survey, the proportion of owner-occupied households in the urban areas currently stands at just 18%, compared to 82% in rural areas.
In Nairobi, more than 67% of all residents live in informal settlements.
The huge demand and supply gap is aggravated by the fact that property developers have concentrated on building houses for the high-income earners, according to Elizabeth Nkulu of Cytonn Investments.
Security remains a serious problem in Kenya. Violent criminal attacks, including burglaries, home invasions, kidnappings, and carjackings, can occur any time in any location. Only selected places are suitable for housing, especially for foreigners.
To abate the situation, the government, with the help of the private sector, is launching an ambitious housing development project. "The Ministry of Housing seeks to accelerate development and access to affordable and adequate housing through public private partnership and plans to construct 300,000 units by the year 2017," said former Cabinet Secretary for Lands, Housing and Urban Development Charity Ngilu.  Moreover to encourage building, the Kenyan government recently lowered corporate tax for real estate developers to 20%, from 30%.
Kenya is the leading property market in East Africa
Because of its strong economic growth, Kenya has the lion's share of East Africa's property developments.
The country showed impressive improvement in transparency mainly due to the increased regulation in the real estate market as Kenya aims to become an economic hub in East Africa, according to JLL. Private companies and other international advisors in Kenya increasingly provide consistent data for the real estate market. In 2013, Real Estate Investment Trust (REITs) structure and tax dispensation for companies were introduced, indicating that the country's listed property market has developed considerably over the past few years. Since the introduction of REITs, international investors, particularly from South Africa, have flocked into Kenya's property market.
Because of these positive developments, Kenya was included on the list of seven emerging real estate markets to watch for in 2016 by global real estate platform Lamudi. Two years earlier, Kenya topped the global list of most improved real estate markets in the Global Real Estate Transparency Index released by Jones Lang LaSalle (JLL).
Rents continue to rise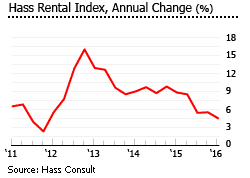 Residential rents in Kenya rose by 4.5% y-o-y in Q2 2016, to an average of KES143,557 (US$1,418) per month, according to Hass Consult. Rents have risen by around 3.73 times since 2001.
Among Nairobi suburbs, Langata recorded the highest rent increase during the year to Q2 2016 of 12.6%, followed by Karen (10%), Lavington (9.6%), Loresho (8.4%), and Spring Valley (6.3%). Only Westlands recorded an annual decline in rents of 3.4% in Q2 2016.
In Q2 2016:
The average rent for a 1-3 bedroom residential properties stood at KES74,607 (US$737)
The average rent for 4-6 bedroom residential properties was KES240,405 (US$2,374)
Economy growing strongly, but high unemployment and poverty persist
In September 2014, Kenya effectively joined the ranks of middle-income countries. This was mainly due to the 'rebasing' of the economy, which resulted to a 25.3% upward revision of Kenya's GDP in 2013 from a previous estimate of US$42.6 billion to about US$55.2 billion, according to Kenya National Bureau of Statistics (KNBS). The statistical reassessment makes it the 9th largest economy in Africa, surpassing Ghana, Tunisia and Ethiopia. The country's real GDP growth rate in 2014 was also revised upwards to a robust 5.7%, from an earlier estimate of 4.7%. In addition, Kenya's GDP per capita was also increased to US$1,246, from just US$994 in 2013. In 2015, GDP per capita stood at US$1,388.
Kenya's economy grew strongly by 5.6% last year and is expected to expand by more than 6% this year and in 2017, according to the International Monetary Fund (IMF), making it one of the fastest-growing economies in Sub-Saharan Africa.
Despite this, Kenya's poverty index remains high and the country has still the highest number of slums in Africa. In fact, almost 20 million Kenyans, about 42% of the population, live on less than 1 dollar per day.
According to a World Bank report, Kenya has been thwarted by stagnating agriculture and manufacturing industries, falling exports, and low household savings rate that can be tapped for investment in local industries and infrastructure. Worse, government corruption persists.
High youth unemployment remains a serious problem. Kenya's youth unemployment now stands at 17.3%, almost three times higher than neighboring Uganda and Tanzania. Moreover, around 80% of jobs in the country are in the low-paying, less productive informal sector.