Kenya's housing market is cooling rapidly, amidst falling demand caused by constrained credit access, coupled with the continued oversupply of high-end residential developments.

During the year to Q3 2019, the Hass Composite Property Sales Index, a measure of asking sales prices of residential properties, fell by 3.4%, in sharp contrast to a y-o-y rise of 8.1% during the same period last year, based on a report released by HassConsult Limited. It was the second consecutive quarter of y-o-y price declines after falling by 3.2% in Q2 2019.

Quarter-on-quarter, residential property prices increased slightly by 0.9% in Q3 2019.

By property type:

For detached houses, prices fell by 7% y-o-y in Q3 2019, in sharp contrast to an 8.8% rise a year ago
For semi-detached houses, prices rose by 6% y-o-y in Q3 2019, a deceleration from last year's 11.8% growth
For apartments, prices dropped 1.7% y-o-y in Q3 2019, in contrast to a 1.3% rise a year earlier

The Hass index is based on 4,000 to 6,000 properties tracked across Kenya, which are collected from multiple estate agencies and all publicly available house sales, including in property magazines, property websites and the national media.

Several Nairobi suburbs registered nominal house price rises. Nyari Estate, one of the most secured upmarket neighborhoods in Kenya and in close proximity to many diplomatic establishments, saw the biggest rise in house prices of 12.4% during the year to Q3 2019. It was followed by Ridgeways (10.6%), Loresho (9.5%), Muthaiga(8.6%), Karen (6.2%), and Gigiri (5.2%).

Modest to minimal price increases were recorded in Westlands (4.8%), Runda (4.8%), Spring Valley (4.7%), Donholm (4.3%), Kitisuru(4.1%), Lavington (3.7%), Kileleshwa (3.1%), Kilimani (0.9%), and Eastleigh (0.5%).Langata, home to many housing developments and known for its gardens and parks, was the only Nairobi suburb which registered a nominal house price decline of 3.8% during the year to Q3 2019. However when the 4.7% inflation rate in Nairobi in end-Q3 2019 is taken into consideration, real house prices have actually declined in half of Nairobi suburbs during the year to Q3 2019.

Despite the recent decline, house prices in the capital are still 4.4 times higher than in 2000. The average value of a residential property in the HassConsult database in surged to KES 31.2 million (US$304,777) in September 2019, from just KES 7.1 million (US$69,356) in December 2000. The average price for a 1-3 bedroom residential property is currently KES 14.4 million (US$140,666), while the average price for a 4-6 bedroom residential property is KES 39.1 million (US$381,948).

In Kenya, most property purchases are for cash. Because of this, the mortgage market remains underdeveloped and credit access is extremely constrained. Currently, the size of the mortgage market was equivalent to just over 3% of GDP and there were fewer than 25,000 mortgage loans outstanding - highlighting the inaccessibility of housing finance.

"The real estate sector, similar to, other segments of the economy is challenged by the lack of liquidity as a result of the amendment of the Banking Act in 2016 that introduced interest rate caps," said SakinaHassanali, Head of Research and Marketing at HassConsult. "We have seen access to credit by developers and buyers become difficult as commercial banks have become conservative at lending."

Property transactions are now falling by double-digit figures.

Moreover, the oversupply of high-end properties is expected to slow the housing market further. Some of the latest developments currently selling off-plan include: Cytonn Investments' Applewood property in Karen, selling at KES 180 million (US$ 1.76 million); EntimSidai's two-storeymaisonettes in Karen, selling at KES 120 million (US$ 1.17 million); and HassConsult'sEnaki in Gigiri, offered for KES 80 million (US$ 781,000).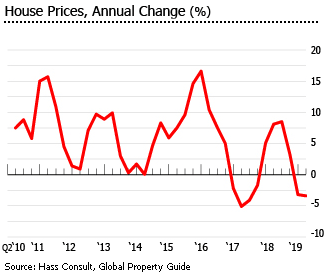 Yet Kenya's economy remains robust. In 2018, the economy expanded strongly by 6.3%, up from a 4.9% growth in 2017 and the highest growth in eight years, according to the International Monetary Fund (IMF) – making it one of the fastest-growing economies in Sub-Saharan Africa.The economy is projected to expand by a healthy 5.6% this year and by another 6% in 2020.

Foreigners can freely buy 'commercial class' land in Kenya. This type of land is for income or revenue-making purposes.