Guinea-Bissau, (pop. 1,682,000; GDP/cap US$234) between Senegal and Guinea, is one of the world's least developed nations. This small coastal country consists mainly of swamps, rainforests, wetlands, and islands. It relies on fishing and agriculture. Its oil and mineral deposits remain unexplored. The country is highly politically unstable.

Granted independence by Portugal in 1974, the country was then ruled for 24 years by military dictator President Joao Bernardo Vieira. In 1998, the army revolted and a civil war followed, displacing hundreds of thousands. GDP fell by about 28%. The military successfully ousted Vieira the following year.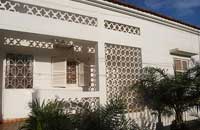 In 1999 Kumba Yala succeeded to the presidency, but was also ousted by the military in a bloodless coup in 2003. Henrique Rosa, a businessman, was sworn as interim President, and in the subsequent year Carlos Gomes Jr. became Prime Minister. In 2005, Vieira was reelected as President, but democracy remains fragile, and the economy weak.

Land laws are not clearly defined. Traditional property rights continue to prevail, though formal legislation is also in place. This is a dual system, which can cause some confusion in real estate transactions.