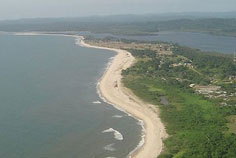 In a hot and steamy rainforest at the edge of the Congo Basin lies one of Africa's richer countries - Gabon (pop. 1,433,000; GDP/cap US$5,691). Sizeable revenues from oil are enjoyed here by a small population. The country is politically stable, with the singular distinction of having had only two national leaders since independence in 1961.

The present president, Omar Albert-Bernard Bongo, assumed power in 1967. Previously he was successively chief of staff, defense minister and vice president, having served in the French Air Force before returning to Gabon to join the Foreign Ministry. Converting to Islam, he assumed the name Omar.

He declared Gabon a one party state from 1968 until 1991. His Democratic Gabonese Party remains dominant, given that there are no national leaders among the opposition. A 2003 Constitutional amendment allows Bongo to run for office as many times as he wishes.

The relative prosperity of the country has helped harmonious relations among the 40 different tribal ethnic groups in the country. Gabon's high oil earnings have not only made the country rich, but also transformed Libreville into one of the most expensive cities in Africa.

Foreigners are allowed to purchase real estate, but all real estate transactions must be supported by appropriate documents and reported to the government.