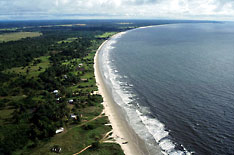 The Republic of Equatorial Guinea (pop. 1,205,000; GDP/cap US$4,127) is situated in Western Africa, between Cameroon and Gabon. It has experienced tremendous growth as a result of the discovery and exploration of oil in the late 1990s, becoming the third largest producer of oil in Sub-Saharan Africa, after Nigeria and Angola. But this success has not improved the living standards of the majority of the population.

President Obiang Nguema Mbasogo has ruled this small state for over two decades. His family has gained immense political and economic clout through corruption and repression.

The administration is guilty of widespread human rights abuses, in addition to mismanagement and inefficiency. Consequently, international aid has been withdrawn from the country.