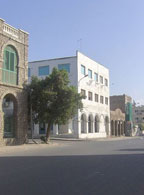 Djibouti (pop. 765,000; GDP/cap US$852) is a small independent state on the Horn of Africa, bordered by Somalia, Ethiopia, and Eritrea. A barren land, it has limited natural resources - other than salt. Dependent on the oil service sector, its free trade zone is an international transshipment and refueling center. There's also a large French and American military presence.

Up until independence from France in 1977, the principal ethnic groups of the Issas and Afars traditionally enjoyed harmonious co-existence. But Djibouti's first president, Hassan Gouled Aptidon, established a one-party state dominated by his Issas community. The ethnic tensions escalated into a full-blown civil war in 1991.

Gouled acquiesced to the establishment of a limited multi-party system in 1992, under French pressure, but banned the Afar opposition party, the Front for the Restoration of Unity and Democracy (FRUD). In 1994 Gouled's Popular Rally for Progress (PRP) finally agreed to power-sharing, but a radical opposition faction continued fighting till 2000.

Peace was only restored under a new president, Ismael Omar Guelleh, who succeeded Gouled in 1999, and won a second term in April 2005.